Do you want to surprise your 6-8 years old kids with a hoverboard but struggling to find the best one? No worries, here we are to help you through the process. Only the hoverboard that comes with excellent features and offers the ultimate hovering experience to your child will do the job.
Instead of extensive research, you need to sit back and relax because we shortlisted the top 6 hoverboards for your 6-8-year-olds. Let us present the specifications of each product so that you can decide the best one for your kid. Plus, we will end this article with a buying guide to make it easy for you.
Top 6 Hoverboards For 6-8-Year-Old Kids
1.  Hover-1 Chrome Electric Hoverboard Scooter
This hoverboard is excellent for people who want to buy a high-quality, durable product to help their kids learn how to ride a hoverboard. From Bluetooth speakers to medium-high speeds, this product has some excellent extra features. The great thing is that it comes at the best price. It is a charm!
Wheels
The Hover-1 Chrome has high-quality, 6.5-inch rubber wheels. They offer your child stability and allow smooth movements while riding the hoverboard.
Ride like the wind, and say goodbye to skidding! The wheels are small, so the hoverboard can ride on flat surfaces and not on rough terrains. The rubber smell may annoy you at first, but it fades away after a few days of use.
Safety Standards
You don't need to worry about your children may fall during the learning process, as this product is made for beginners! The floor of the hoverboard has a good grip and a perfect self-balancing mechanism that allows your child to have a comfortable ride.
Bluetooth Speakers
How cool would it be if your kids could listen to some music while riding on the hoverboard? Incredibly, this product has Bluetooth speakers installed in it. You can pair the Bluetooth with your mobile phone or tablet. So, now your child can jam to their favorite beats while riding the Hover-1 Chrome hoverboard.
Battery
Your kid will call it a bad day if the batteries of the hoverboard die while playing. But don't worry because the Hover-1 Chrome hoverboard has a battery capacity of 4.0 Ah and lasts for 3 hours. It has a quick charging time of 4 hours. You can play as long as you want to during the day, and you can put them on charge at night to ride it the next day.
Top-speed
Without some adventure, riding a hoverboard is of no use, and it isn't serving the purpose if your kid doesn't have fun. What's incredible is that this hoverboard can move at a maximum speed of 6 mph. So, your kiddo can have some extraordinary speed if you approve!
Pros
Sturdy 

Great quality.

 

Water-resistant.

 

Perfect self-balancing.
Cons
Tires have a strong odor.

2. SISIGAD Hoverboard, with Bluetooth and Colorful Lights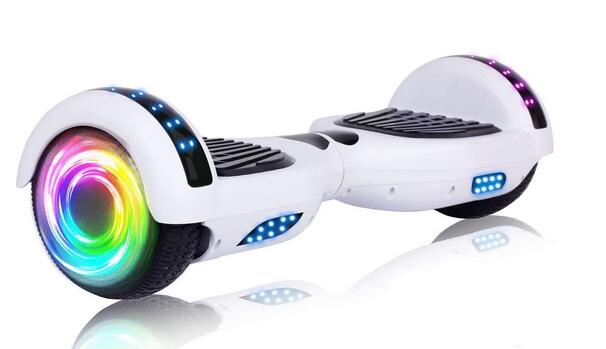 Moms and Dads, if you have a kid who always wants to be super cool, then you should buy them this hoverboard because this product is a popular choice. It comes with the best balancing system, Bluetooth speakers, speed – and all of this at an affordable price. No need to break the bank to make your children happy!
LED Lighting System
Don't let your child spend a boring summer. Yes, you will buy them a hoverboard, but kids are always looking for something more exciting. This product comes with a unique LED lighting system that will brighten up the night when your kids are out for a ride.
Safety Standards
 The self-balancing technology will help your child to mount and dismount the hoverboard quickly. While practicing on the hoverboard, the technology ensures that your child remains highly stable and secure.
Bluetooth Speakers
Cool kids love excellent features because they love bragging about them! The hoverboard has built-in speakers that will boom music. Just pair the hoverboard with your mobile phone, increase the volume and let your kid listen to their favorite music while hovering!
Battery
It is terrible when the hoverboard's battery dies, but this hoverboard will never put an end to your child's exciting ride. The SISIGAD 6.5 inch hoverboard has a fantastic battery circuit that maximizes ride time and reduces charging time to 2-3 hours.
Top-speed
 You can boast about several things regarding this hoverboard. The one thing your kid will never stop talking about is its impressive speed. This electric hoverboard has a top speed of 9mph, and it comes at the best price!
Pros
Best customer support.

Fairly durable.

 

Excellent speed.

 

Fast charging.
Cons
 

Bluetooth speakers are mid-range.

3.   Gyroor Warrior 8.5 inch Road Hoverboard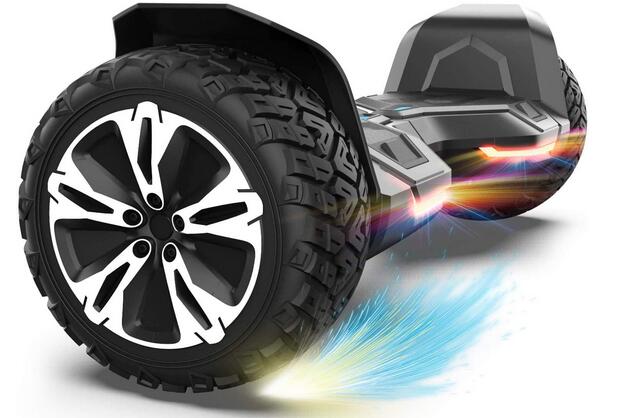 The Gyroor Warrior is a high-performance hoverboard that is speedy and sturdy. This product is suitable for kids who are already bit trained or heavy riders. However, this hoverboard is a little expensive. If you are budget concerned, then better to go with other options we have listed.
All-Terrain Rides
This hoverboard comes with exceptional features that make it the best product to use on any terrain! It has 8.5 inch solid tires and a motor of 700 watts that will make sure that your kiddos have a fun, easy ride no matter where they are.
Safety Standards
Now you can relax while your child is playing with the hoverboard. The Gyroor Warrior Off-Road hoverboard is UL 2272 certified. Even the board and electrical components are safe to use. Moreover, the bright LEDs change color to indicate to the rider what move to make at night.
Bluetooth Speakers
 This hoverboard includes built-in high-quality Bluetooth speakers. They will boom your favorite songs during the ride. Your kids will love riding this hoverboard. With some beats on, they will have a lot of fun. SO, let's make every day exciting for them!
Battery
It's time to replace that horrible hoverboard with something extra special like the Gyroor Warrior. Wondering why? Well, it comes with a removable 36-volt LG/Samsung battery that allows your children to travel 7.5 to 9.5 miles. When the battery dies, attach the cable, and they will quickly charge in 1.5 to 2 hours!
Top-speed
Rule number one: never buy a hoverboard that runs at a low speed because your kids will get bored of them soon. Rule number two: never break rule number one, or you are just wasting your cash. As you are satisfied by the product's safety certifications, you wouldn't mind them riding at a speed of 9.95 mph.
Pros
Durable.

 

All-terrain rides.

 

Suitable for heavy riders.

 

UL 2272 certified.
 

Cons

 Bit expensive.

4.   TOMOLOO Music-Rhythmed HoverBoard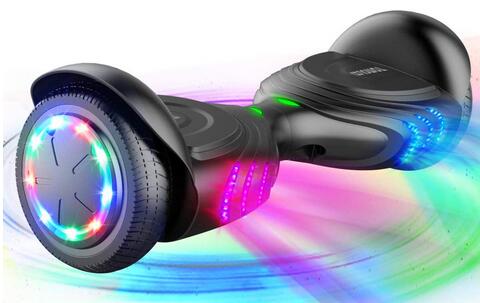 If you want to push your kid into a challenging and adventurous environment, then this product is for you. No matter what type of terrain there is, your child can safely ride on this hoverboard anywhere! 
High-temperature Resistance
If you live in an area where temperatures usually rise, you need to buy this product. It's made from Aluminum; thus, it's high-temperature and fire-resistant. People usually face issues when the hoverboard heats up, it may start to malfunction, but you'll never meet that issue with this one.
Safety Standards
 You might have heard many parents tell you that hoverboards aren't safe for children. However, some of them are UL2272 Certified, like the TOMLOOO Music-rhythmed Hoverboard. This hoverboard also has MSDS/UN38.3 and UL2271 safety of the battery. Moreover, it also provides customers with the highest safety standards reports. So nope, not all hoverboards are unsafe to use.
Bluetooth Speakers
What's better than some soothing music and a smooth ride? This hoverboard also comes with fantastic Bluetooth technology and an integrated cavity design. The speakers of this hoverboard produce stereo surround sound.
Battery
It's time that you forget about the bad, old days where you had to wait for long hours to let a hoverboard charge so you could ride on it for a short period. The TOMLOO hoverboard has a long battery life, and it quickly recharges within 2 hours.
LED Lighting System
Extra cool features always fascinate children, and what is more valuable for a parent than their smiles? This hoverboard also has a fancy lighting feature that changes color when the rhythm of the music changes.
Pros
12 months warranty.

 

Surround-sound audio system.

 

High-temperature resistance.

 

Extra safety features.
Cons

5. LIEAGLE Hoverboard, 6.5″ Self Balancing Scooter
Many customers aren't that satisfied with the top speed, and the number of miles this hoverboard can cover. However, if you have younger, adventurous ones to surprise at home – buy this for them because it is the best product in terms of safety.
Stable Control
Not all hoverboards do an excellent job at turning and rotating around when you apply some force. This hoverboard has a stable control that helps people to learn and use this product easily. After some practice, your children will turn into expert riders!
Safety Standards
This amazing hoverboard comes with an anti-slip design and flawless self-balancing technology. Thus, it makes it easy for people to mount and dismount the hoverboard. Your child will learn how to ride this without falling and hurting themself.
Bluetooth Speakers
 The Bluetooth speakers produce extraordinary high-resolution sound effects that will amaze you. When you want to enhance their riding experience, pair your hoverboard with your mobile phone to play any song that will lift their mood.
Battery
This board has a runtime of approximately one hour. Once you fully charge it, you can only travel 6 miles. However, the terrain type and weather conditions may affect the battery life. Most customers aren't a fan of this feature, but everyone has their preferences! 
Top-speed
 Allow your kids to ride and train but at medium-high speed. The top speed of this hoverboard is about 6.2mph. It's not that fast, but it's not too slow either, and your kids will enjoy riding on this. Plus, this level of speed reduces the risk of any hazards.
Pros
 

Easy to use.

Impressive stability.

Amazing LED lights.

Full battery protection.
Cons
 

Limited travel range of 6.2 miles.

6. SISIGAD Hoverboard Self Balancing Scooter
At first glance, this hoverboard looks pretty sleek because of the funky graphical design on its body. Furthermore, it also comes with extra features that will improve your childrens' riding experience. Overall, the speed and performance are decent, and that one aspect will give you value in return for the money you put in.
Smooth Rides
 This product comes with extra features that ensure that the rider is more stable and quickly moves around without help. The 6.5-inch tires and non-slip, shock-absorbing footpads will allow your children to have smooth rides.
Safety Standards
 As a parent, you need to ensure your child does not get hurt while learning to ride a hoverboard. Relax! You do not need to feel anxious because the self-balancing control system allows beginners to ride it.
Bluetooth Speakers
Do you want to make things a little more exciting? You can take advantage of the Bluetooth speakers. Pair your phone via Bluetooth to your hoverboard. Put on some music that your children would love to hear, and they won't ever want to get off that hoverboard.
Battery
 You may not want to buy a product that runs out of batteries when the fun has just started! Chill out; this product has Li-ion batteries that allow quick charging and boost battery life. Now, your kids can enjoy a ride on their hoverboard without experiencing any difficulties.
Led Lighting
No doubt that kids love it when they get their hands on something exciting! If you want to add a little more fun to their experience, get this hoverboard, as it comes with a great lighting system.
Pros
 

Non-slip footpad.

 

High-quality tires.

 

Modern outlook.

 

Great Bluetooth speakers.
Cons

How To Choose Hoverboard For 6-8-year-Old Kids?
Before you purchase a hoverboard, you must always consider the following features and aspects of the product.
Safety
Read the description to check if the hoverboard has been certified by any renowned organization. This will satisfy you in terms of safety, as you would know that the product you are buying has been tried, tested, and is safe to use.
Size
Usually, people ignore the hoverboard size, but if you buy this for your young fellow, you must look for a hoverboard that isn't too large. For younger children (6-8), the estimated wheel size must be between 5 and 6.5 inches.
Tire Type
Pay a little more attention to this feature, as this may affect your child's riding experience and safety. Firstly, if your hoverboard has plastic tires, you must ensure that your children ride them on hard surfaces.
However, the downside of plastic tires is that they wear and tear quickly. The best material for tires, though, is rubber as it keeps them long-lasting and can tolerate rugged terrains.
Is There A Minimum Hoverboard Weight For Kids?
Always check the minimum hoverboard weight because if it cannot support your weight, it may break, and your child can be injured.
There are minimum weight limits that you must take into account before you gift one to your kid. Most hoverboards have a minimum weight of 44pounds that is 20kgs. If your child weighs 20 kgs, then you must wait before you surprise them with such a gift.
Is It Safe To Use Hoverboard For 6-8-year-Old Kids?
Many people complain about how unsafe hoverboards are for children, which may be true sometimes. Still, if you carefully read the descriptions and check if they are age-appropriate, then you will never have to fear about your child's safety. You must teach your child how to use it like a motorized vehicle, not a toy.
What Are The Hoverboard Safety Tips For 6-8 Years Old Kids?
Before your child mounts the hoverboard, make sure that they wear helmets and knee pads. That way, you can prevent your child's sensitive areas from getting injured when they fall while practicing.
You should set specific timings during which your child can go out and ride the board. The ideal time for kiddos to ride is to see any obstacles in their way during the daytime.

If you lived in a hot place and kept the hoverboard outside, please make sure that you let it cool first before you start using it.

Do not overcharge the hoverboard, or it may stop working. The charging hours are always written on the user manual, so do check that before use!
Conclusion
These are the 6 best hoverboards for 6-8 years, old kids. Hopefully, you figured out which hoverboard to gift to your kids! Keep a few pointers we mentioned above in mind before purchasing a hoverboard, and we can guarantee that you will be happy with your purchase.