A pit bike is a compact on or off-road motorbike similar to a dirt bike. However, it's smaller and usually ridden by children, although adults can also enjoy the ride.
Lightweight and practical, pit bikes were initially utilized by event staff at motocross race tracks to get around the pit space. But soon, everyone realized that they were super-versatile.
A pit bike is smaller than a regular dirt bike and features smaller diameter wheels. The motor is between 50cc and 150cc, although some producers are starting to up the spec and sizes.
Yes, pit bikes are slower than full-sized off-road or dirt bikes. However, they're easier to use, lightweight, affordable, compact, and make an excellent choice for beginners and children.
Watch Video: Dirt Bikes Vs. Pit Bikes – Which Do I Prefer?
How to Choose the Best Pit Bike?
Every pit bike is different. These machines can vary significantly in build quality and price. Therefore, finding the best pit bike can be challenging. The following factors can help you make a wise choice.
What do you need your pit bike to do?
Once you know what you're looking for, finding the right pit bike that meets your needs will be more effortless. If you want a fun alternative to your regular motorbike, opt for something reliable.
If you're a newbie, focus on a user-friendly pit bike. However, if you're serious about going off-road and down the trail riding route, opt for a high-quality pit bike with higher specifications.
As a newbie, you'd better opt for a low-maintenance, compact, and lightweight pit bike. This way, you will learn how to ride a pit bike and build confidence while still having a blast.
The more serious and experienced riders could search for a specific model with extra power and greater performance. Ask your seller to ensure you get what you need when in doubt.
If you choose a model that needs some self-assembly, opt for a pit bike you can quickly put together. If you're not up for a challenge, then pick something that's already assembled.
Set a budget before you shop online. The market is full of cheap pit bikes, so you can easily find what you need. It mostly depends on your needs how much money you spend on a pit bike.
For instance, if you want more features and incredible speed, you will pay more. Weigh up the main pros and cons to ensure you're getting the right product at the right price.
Most pit bikes enter the 50-150cc range. However, you can also find a more powerful engine, usually up to 250cc. If the race track is your goal, opt for a pit bike with a bigger, stronger engine.
Kids usually use minibikes. Therefore, when shopping for a pit bike, always check the maximum weight capacity to ensure it can withstand your weight, especially if you're an adult.
10 Best Pit Bike Review for Adults & Kids
To save you time and money, I have researched and reviewed some of the best-rated pit bikes. I looked at durability, value, and reliability. That said, let's find the best pit bike for your needs.
1. SYX MOTO Kids Mini Dirt Bike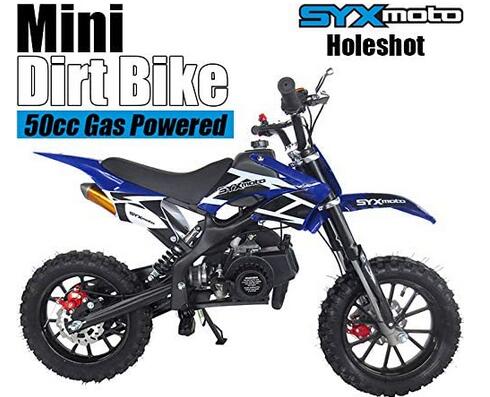 This small and fast pit bike has a 2-stroke motor that provides 50cc. It can reach speeds up to 30 mph. It also has a speed limiter so adults can control how fast their children ride.
It's a lightweight, reliable, and user-friendly pit bike. I included this bike because it's easy to move and control for smaller children and younger inexperienced people.
The SYX MOTO dirt bike has disc brakes in front and rear. They make the pit bike extra effective at stopping quickly and safely. The maximum weight capacity is 160 pounds.
Meaning, bigger children can also enjoy the ride. The worst part about this product is the assembly. It's a high-maintenance pit bike that requires an independent assembly before riding.
However, if you're looking for a gas-powered pit bike for beginners, it has a 2-stroke engine that releases an excellent sound. The design is amazingly original.
It's made to operate with a maximum speed of 25 mph. The 23-inch seat height ensures children the pit bile is the perfect fit for them. The best part? You don't need to stress about fuel.
This pit bike provides a fuel tank capacity of 0.45 gal. Also, the pit bike utilizes a fuel grade of 91 gases at a mixture ratio of 25:1. It's budget-friendly, beginner-friendly, and well-made.
Watch Video: Syx Moto 50cc 2 Stroke – Kids Dirt Bike From Amazon
Pros:
Great weight capacity
Ideal beginner pit bike choice
Easy to put together (85% assembled)
Highly-affordable and durable
Cool and unique design
Cons:
Limited use
Poor quality chains
Noisy engine

2. X-PRO Bolt 50cc Dirt Bike Gas Dirt Bike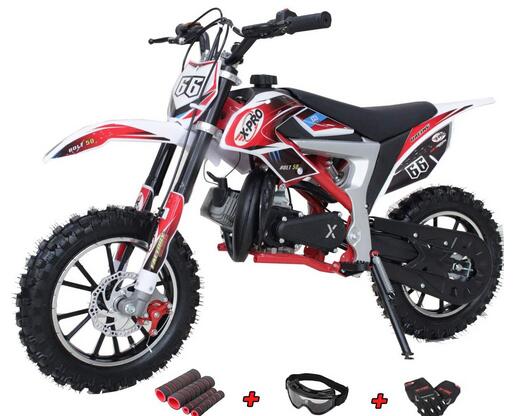 The X-PRO is a well-crafted and beautifully designed pit bike powered by a 2-stroke motor cooled by air. This model is capable of providing a maximum speed of 25 mph.
It weighs only 50 pounds. Therefore, it's lightweight and portable. The maximum weight capacity is 132 pounds. The best part? It's also equipped with front and rear disk brakes.
This bike provided quick and responsive braking and boosted handling. It's perfect for rough roads and comes with a heavy-duty frame that makes it more reliable and resilient.
Beginners and kids can utilize this pit bike without any issue. It's user-friendly and doesn't require much maintenance. The only downside is that it's not the fastest on the market.
Watch Video: X-Pro Bolt 50cc test drive
Pros:
Speed control with a safety concern
Specially designed for younger children
Anti-drop packaging for a safe and assured delivery
2-stroke powerful and air-cooled engine
Stylish with a lovely colorful design
Cons:

3. Apollo DB-X18 125cc Dirt Bike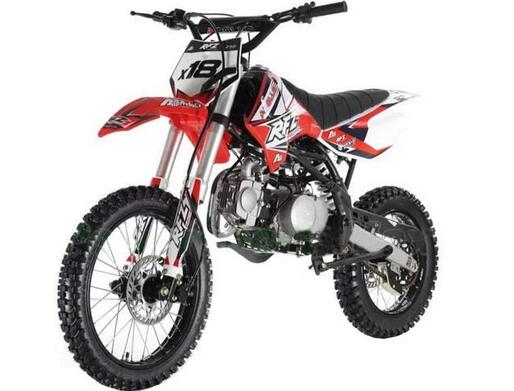 The Apollo DB-X18 is one of the most popular pit bikes on the market. It's a grown-up dirt monster with 17-inch tires for busting up the terrain and having the best time of your life.
The best part? It's loaded with a heavy frame. Therefore, it's heavier than most pit bikes and doesn't suit children. It's not made with smaller kids in mind but with more experienced riders.
The main reason why I recommend this pit bike is because it has a super responsive brake system. Also, the top speed is 90km/h. Meaning it's super fast and ensures a superb experience.
It's easy to control and makes a perfect choice for younger, more experienced riders and adults. The red, white, and black decal is cool-looking! For the price, you get a 125cc monster.
Watch Video: Apollo DB-x18 125cc pit-bike assembly video
Pros:
4-speed manual clutch
Front and rear hydraulic disc brakes
5-inch seat height and 17-inch wheels
30-days warranty for replacement of defective parts
The perfect choice for more experienced riders
Air-cooled, kick start 7500 rpm max power
4-stroke, single-cylinder
Cons:
Poorly made
Difficult to assemble
Overhyped

4. X-PRO 110cc Dirt Bike Kids Dirt Pitbike
Another pit bike that's worth your time and money is the X-PRO 110cc. It's a pit bike for kids or people learning how to ride. It's made to teach kids how to handle and use minibikes.
And since it's made with kids in mind, it's easy to utilize. It has an auto transmission. Meaning, the bike shifts the gear ratio on its own without the rider. The best part? It has super brakes.
The braking system in the front and rear brakes has hydraulic disc brakes. This means that you don't need to apply too much pressure unless you ride bikes made with rim or mechanical brakes.
It's quite efficient and performs amazingly! Powered by a singer-cylinder, 4-stroke, air-cooled motor with a max speed of 30 miles per hour, this pit bike ensures a super exciting experience.
You can use this bike for both on and off-road riding. The best part about this pit bike is that it's created with children in mind and teaches younger riders how to ride a smaller motorcycle safely.
I also like the four unique colors. Although it's not the fastest pit bike on the market, it's worth the money. The worst part? It's hard to assemble because of the poor and confusing instructions.
Pros:
Semi-automatic transmission
Made with kids and younger riders in mind
28-inch seat height and 11.4-inch ground clearance
110cc dirt bike with an excellent braking system
You will get the tools for assembly
Cons:
Limited use
Poor instructions
Expensive

5. TAO Dirt Bike DB10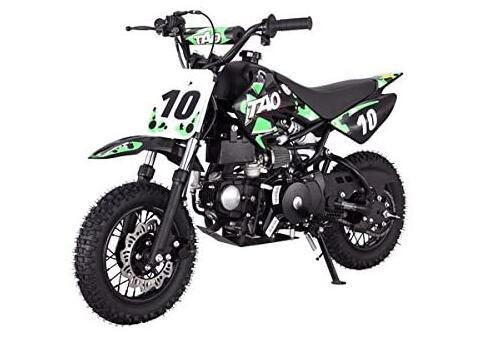 If you're a lightweight rider or looking for a pit bike for a child, TAO is perfect for you. It's flexible and fun without being too complicated or hard to handle.
It can reach top speeds of 37 miles per hour. The best part? It weighs only 120 pounds. This monster has a four-stroke, air-cooled one-cylinder engine that delivers 110cc.
It also has 4-speed gears and a kickstart transmission. The suspension is perfect for hopping across rough terrain. The high clearance keeps you free of bumping into rocks.
TAO is suitable for young adults, older teenagers, and lightweight adults. It's budget-friendly but delivers durability. However, the battery isn't that durable.
Watch Video: Db10 dirt bike for kids – 110cc full detail
Pros:
Great learner bike
Very sturdy and well-made
Top speeds of 37 miles per hour
Durable and easy to handle
Kickstart transmission
Cons:
Cheap parts
Terrible customer service
Limited use

6.
Tao Tao Dirt Bike DB14 Pit Bike
Tao Tao Dirt Bike DB14 Pit Bike is a mini dirt bike at home on trails and the track. It is the most recent innovation from Tao. This pit bike is aimed at ages 12- adult due to its taller wheels and higher seat.
DB14 Pit Bike has a 110cc air-cooled, 4-stroke engine that can provide a top speed of around 40 mph. This small pit bike uses a chain drive and a sequential transmission. The semi-automatic transmission and hydraulic disc brakes make it very easy to handle. In addition, it offers over 11 inches of ground clearance and double disc brakes.
DB14 Pit Bike is lightweight, rugged, fun, and offers a very smooth experience. The only downside to this dirt bike is that it is not as powerful as the Apollo pit bike. And it is a bit difficult to assemble and set up.
Pros:
Simple and rugged
Rock-solid tires
Easy to operate
Suitable for teenagers and young adults
Cons:
Difficult to assemble and set up

7. X-PRO 40cc Kids Dirt Bike Mini Pit Bike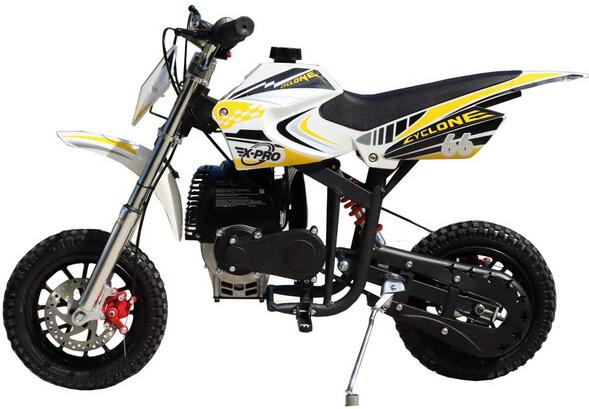 X-PRO is a great pit bike made with kids in mind. Every child would love to begin their riding experience with this bit of monster. A 4-stroke, high-performance engine power it.
It doesn't only offer reliability but also high-quality performance off-road. It's more reliable and durable than pit bikes with 2-stroke motors. It's a gas-powered pit bike with great features.
It boosts 40cc engine displacement. Therefore, it's one of the most powerful pit bikes for kids out there. You won't get it fully assembled. However, it doesn't take much time to put together.
You will receive all the necessary parts, including number plates, handlebars brackets, fenders, wheels, and brakes. The best part? It's EPA-approved and meets all the safety standards.
Watch Video: UNBOXING – Brand New High Performance 4 Stroke 40cc Black Mini Dirt Bike.
Pros:
Very low noise
Super durable and reliable
High-quality performance off-road
It doesn't take much time to put together
Suitable for kids between the ages of 4-7
Meets all the safety standards
4-stroke engine
Cons:
Not the fastest bike
The carburetor leaks
Assembly required

8. Apollo Tools Smart Deals now Pit Bike
If you're looking for a heavyweight, stylish, and affordable pit bike, look no further than Apollo. This bike provides excellent performance and high-quality construction.
It provides excellent value for money. With this pit bike, you do get what you're paying for. It's made with both younger riders and adults in mind. It thinks and acts like a dirt bike.
You will get 250cc, a top speed of 70 mph, a kick and electric start, and manual transmission. This model is the perfect introduction to going off-road. It ensures a fun experience.
It's the perfect choice for thrills, hills, and rough terrain. The best part? It doesn't take much time to put together. It's budget-friendly, beginner-friendly, and versatile.
Pros:
Fantastic bike for the price
A fairly straightforward assembly
Made with younger riders and adults in mind
If you want some fun, this bike is for you
Amazing customer service
Cons:
Limited use
Poor instructions
Carb problems

9. Coleman Powersports CT100U-B Gas Powered Trail Mini-Bike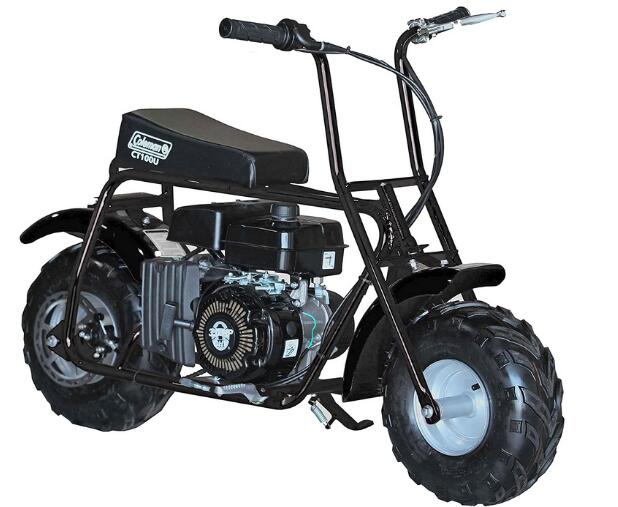 Coleman Powersports Mini Trail Bike has a four strokes OHV 1 cylinder engine that provides a maximum of 20 mph. It has excellent fuel efficiency that can travel about three hours on one gas tank.
This pit bike is designed for all-terrain to include a speedway, motocross course, and a kart track. The clutch and metal frame are solid, durable, and reliable.
In addition, this 98 cc (3 hp) pit bike weighs only 82 lbs, which is cheaper than most pit bikes. It has a clearance of 6 inches and a load capacity of 150 pounds, suited for people 13+.
The easy pull start operation makes it more suitable for children to use. Due to its durability and low price, the Coleman Minibike is one of the best pit bikes you can buy.
Pros:
Four-stroke OHV 1 cylinder engine
All-terrain
Good budget
Cons:

10. Coolster Kids Gas Mini 70cc Pit Bike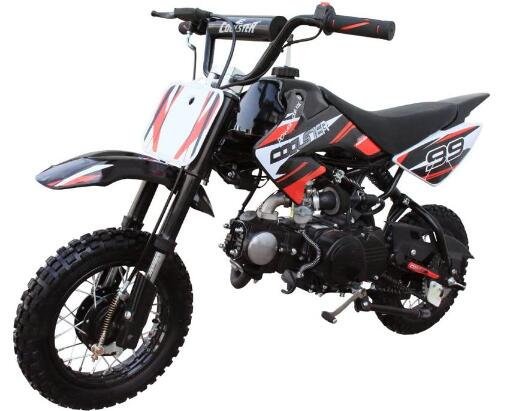 Coolster is a well-known pit bike brand in the market. This Coolster 70cc Pit Bike is excellent for 7-13 years old kids or youths. This bike is equipped with a powerful single-cylinder, 4-stroke, and air-cooled engine that provide a maximum speed of 30 miles per hour.
The Coolster 70cc Pit Bike boasts 5.44 horsepower with a load capacity of 130 lbs. It has excellent engine capacity to respond quickly to acceleration for mud playing and trail riding.
In addition, the bike also comes with a Gas-powered foot brake, kick start, four gears, and semi-automatic transmission. A large disc braking system and inverted hydraulic shock suspensions let you ride smoothly on different terrains.
The Coolster 70cc Pit Bike comes with 90% assembled; you just need to assemble the bar and tires. It is the best choice for beginners.
Pros:
Powerful 4-stroke air-cooled engine
Designed for youths and kids
All-terrain
Cons:
Plastic Body
Speed is not best

Pit Bike Related Questions
Q: Are pit bikes suitable for adults?
A: Although you can find pit bikes that can handle your adult bulk, they're often made with young riders and kids in mind. They're smaller, cheaper, and have less powerful motors.
Q: What is the difference between a pit bike and a dirt bike?
A: Although a pit bike and a dirt bike are similar, they are different. Generally speaking, pit bikes' wheel diameter and overall size are smaller than dirt bikes. In addition, the engine range of pit bikes is usually between 50cc and 150cc, which is lower than the speed of standard off-road bikes.
Q: How much weight can a pit bike hold?
A: It depends on the pit bike. Different pit bikes have various weight capacities. Pit bikes can withstand the weight of children, teenagers, and lightweight adults. Always check the maximum weight capacity of a pit bike before purchasing it to ensure it can handle your adult bulk.
Q: Can pit bikes be street legal?
A: Pit bikes aren't street legal. If you own or want a modern pit bike, you probably want to use it on the road somewhere. However, you can quickly build a street-legal pit bike.
Q: What is the common price of pit bikes?
A: Pit bike pricing usually ranges from hundreds to thousands of dollars. Usually, a pit bike under $700 is suitable for driving on the road but not high-speed racing. While a pit bike over $700 is more durable, more reliable, and faster. They can drive on almost any terrain and can participate in pit races.
Q: What is the best pit bike brand?
A: The best pit bike brand includes Apollo, Coleman Coolster, Tao, and Powersports. Coolster is an ATV, dirt bike, and go-kart company specializing in high-quality kids' minibikes. Apollo manufactures high-quality pit bikes, motorcycles, e-bikes for adults and kids. It also produces bikes built for sport and racing nowadays. At the same time, Tao is a well-established brand known for producing dirt bikes, scooters, go-karts, pit bikes, and motorcycles.
Q: What are the common types of pit bikes?

A: There are three popular types of pit bikes on the market. They are production pit bikes, children's pit bikes, and racing pit bikes.
Production pit bikes are designed for off-road. They are usually bigger and equipped with bigger displacement engines. Of course, they are also more expensive.
Children's pit bikes are smaller and lighter than production pit bikes. They have smaller engines that are built for kids. These bicycles may not be as powerful, but they are enough for kids.
A racing pit bike is designed for sporting events. They have large tires, wheels, and powerful engines. In addition, they are smaller and lighter than off-road motorcycles that make them faster.
Final Synopsis
It's essential to find the best pit bike that meets your needs but doesn't cost a fortune. If you're interested in racing, opt for something faster.
However, if you're a beginner or want to buy a pit bike for your child, SYX MOTO Kids Mini Dirt Bike, Coolster Kids Gas Mini 70cc Pit Bike, and X-PRO 110cc Dirt Bike Kids Dirt Pitbike make excellent and affordable choices.
Hopefully, this buying guide can help you find the right pit bike for you or your child. When shopping for your first pit bike, pay attention to weight capacity and braking system.
Also, don't forget about the warranty and speed. Once you determine what you need your first pit bike to do, you will find the right match in record time.