If you're here, you're probably a beginner searching for a budget-friendly electric scooter. Or you're on a tight budget and want to purchase a decent but cheap electric scooter.
Electric scooters make a green and fun transportation tool for short trips. They're considered expensive. However, you can purchase a decent electric scooter for less than $300.
A budget-friendly electric scooter can take you from A to B safely. And without breaking the bank. Cheap scooters make a perfect ride for city tours rather than a taking-off road.
If you're searching for something with a strong motor, chunky tires, and complete suspension capable of powering up rough trails, you will have to stretch your budget a bit further.
I'm here to help with a list of the 8 best cheap electric scooters available on the market. They still can deliver excitement, joy, functionality, and safety but without breaking your bank account.
I have put together a couple of excellent options with different ages of adults, teenagers, and children in mind. Without further ado, let's dive into my electric scooter reviews.
Top 8 Cheap Electric Scooter Reviews 2021
Whatever your level of experience, I have a matching electric scooter for you. It will fit both your needs and your wallet. The following models work perfectly as cheap transportation tools.
1. Xiaomi Mi Ultra-Lightweight Adult Electric Scooter – Best Overall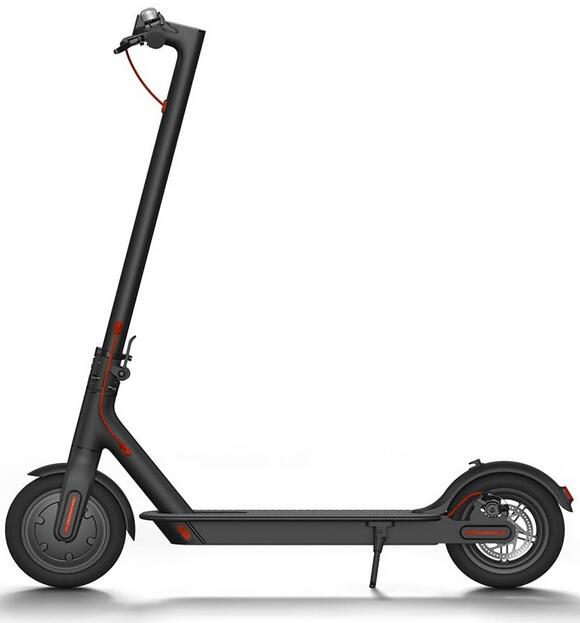 Xiaomi Mi is a super lightweight electric scooter made with adults in mind. It's not only a decent budget-friendly scooter. It's one of the best-selling models.
You can choose from many cheaper options. However, this model includes everything a budget rider can ask for. It's produced by a popular brand known for making cheap tech items.
You can't go wrong with this product. It's a high-quality electric scooter with many copycats out there. It has a great design and stiff frame with a front-attached 250W hub motor.
The motor has a top speed of 15.5 mph and 2 modes, advanced and beginner. This way, you can adapt your electric scooter to your level of experience.
If you're looking for an electric scooter with a strong and big 270Wh battery that can serve you for up to 18.6 miles per charge, look no further than Xiaomi Mi ultra-lightweight scooter.
This scooter has a user-friendly folding mechanism that allows you to fold it. The best part? Thanks to safety features such as a brake light and a bright headlight, it's perfectly safe to use.
They enable nighttime riding while electric, and the disc brake combination provides enough braking power to stop your scooter within a couple of meters while riding at the highest speeds.
It's a good option for both adults and children alike. I own this electric scooter, and I can tell you that I'm satisfied with my purchase. You will fall in love with Xiaomi on the first ride.
Pros:                                           
Budget-friendly
2 different speed modes
Amazing braking capabilities
Well-built and safe to use
Affordable spare parts
Cons:

2. Gotrax GXL V2 Commuting Electric Scooter – Runner Up
If you're looking for a cheap electric scooter that brings great value, look no further than Gotrax GXL V2. It's a reliable electric scooter that works as well as expensive units.
This is what makes this model perfect for adults. However, it's also suitable for children. You will get this electric scooter loaded with all you may need for a fun and enjoyable ride.
It's perfectly safe to use. It doesn't provide the most powerful riding experience. However, it gets the job done. Loaded with a 250W motor, this scooter has a top speed of 15.5 mph.
The maximum distance per charge is 12.4 miles. What I like most about this scooter is the smooth-riding enabled by 8.5-inch pneumatic tires. There's also a disc and electric brake combo.
Gotra is one of the most popular names on the market. It's known for producing reliable and affordable scooters. GXL V2 is one of their best works. It's cheap but functional.
Pros:
Long-lasting
Great value for money
Pneumatic tires for extra comfort
Higher ground clearance
Excellent breaks
Cons:
It doesn't handle steeper inclines well
Distance differs depending on terrain and weight

3. Swagtron Swagger 8 Folding Electric Scooter for Kids & Teens – Best for Kids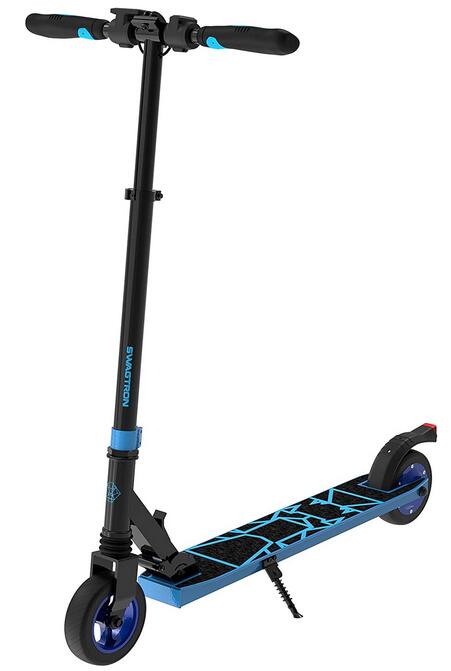 Swagtron is another popular name on the market. They're known for producing top-notch scooters. And this model isn't an exception. It has a simple but appealing design.
If you're looking for a folding electric scooter with an adjustable handlebar, look no further than this unit by Swagtron. Swagger 8 is suitable for both children and teenagers alike.
It has a top speed of 15 mph and a top range of 10 miles per charge. Therefore, it's suitable for adults as well. This is a powerful performance for an affordable electric scooter.
The best part? It's lightweight and features a rear friction brake that can be used with the foot while also relying on the push-button electric break. It's completely safe for children and teens.
Swagtron Swagger 8 packs a front suspension mechanism that can handle some of the roughest terrains without getting a flat or feeling uncomfortable. It also features 5.5-inch solid tires.
The foot brake is usually preferable for kids. The only downside of this budget-friendly, powerful electric scooter is the lack of lights. You will have to buy lights to ride after dark.
Pros:
Affordable
Lightweight and slim
Excellent braking for kids
Adjustable handlebar
Shock absorber
Cons:

4. Razor Power Core E90 Electric Scooter – Best Budget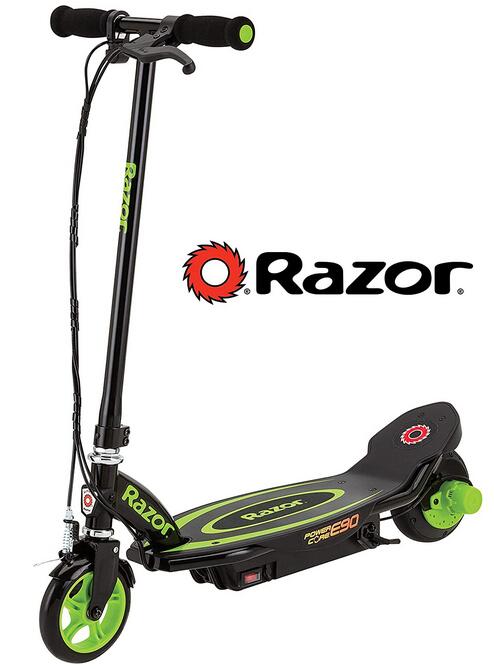 Razor Power Core E90 is one of the most popular electric scooters on the market. A famous company, Razor, makes it, which launched its first scooter back in 2003.
They have since then applied a series of changes and upgrades. But they overpassed the expectations of people when they released their E90 model. It's great for kids.
This model provides you with superior riding distance. It's well-balanced when it comes to performance and provides users with a smooth and comfortable riding experience despite the terrain.
The maximum speed of E90 is 10 mph. The best part? It has a 100% boosted riding distance from the old units, with a maximum distance of only 9-15 miles per charge.
If you're looking for a decent electric scooter for your child, look no further than Razor Power. It's one of the best rides you can purchase for children around the age of 10.
Pros:
Super powerful motor
A maximum speed of 10 mph
Kick-start option to avoid accidental take-offs
Requires no maintenance
Great value for money
Cons:
12 h charging time
Not suitable for wet surfaces
Non-variable speed control

5. MEGA WHEELS S5 Portable and Folding Electric Scooter
This is a brand I have had the pleasure to work with on a few occasions, and I can tell from experience that it's a great company with good customer support.
S5 is one of their most popular electric scooters. The reason why I included the S5 portable and a folding electric scooter is that it's discounted. I have tested this product myself.
And I can say that it works well! You can get this model for $200. It packs a 250W motor and a top speed of 15.5 mph. It's suitable for everyone, including adults, teens, and kids.
Powered by a 36v 5.8Ah lithium battery, this scooter provides a maximum distance of 12 miles per single charge. I have used it in mixed conditions, and it provided a decent 9 miles.
If you buy this model, you will get the basic features such as pneumatic tires for extra comfort, lighting, and reliable breaks. The only disadvantage is the annoying folding system.
Pros:
Original design
Top speed of 15.5 mph
Suitable for adults and kids alike
A lot of bang for your buck
Excellent performance
Cons:
No LED display
Difficult to fold

6. Razor E300 Electric Scooter – Best for Adults
A list of the best cheap electric scooters wouldn't be complete without Razor E300. It's a decent old scooter that provides a smooth and high-performing experience throughout the years.
It's a legendary model with a top speed of 15 mph. E300 provides 40 minutes of ride time per charge. If you're looking for a fast, well-built but cheap scooter, look no further than E300.
Razor  E300 packs 10-inch pneumatic tires, which makes your ride less bumpy and more enjoyable. E300 has a few downsides, including the long recharge cycle (12 h) and loud performance.
E300 is louder than most models because a chain-driven motor drives it. If this isn't a deal-breaker for you, consider E300. It's perfect for users who prefer to be seated while riding.
Pros:
High-quality
Pneumatic tires
Variable twistgrip
A seat can be added
Excellent speed
Good distance
Cons:
Heavy electric scooter
No indicator or lights included
Long charging cycle (12 h)

7. VIRO Rides Vega 2-in-1 Transforming Electric Scooter & Mini Bike
If you want something exciting and practical simultaneously, VIRO rides Vega 2-in-1 is the ideal choice for you. It transforms from a scooter into a bike in seconds.
Stand when you want to stand and sit when you want to sit. You just need to assemble the handlebars to the unit. They're height-adjustable with thumb control throttle.
What I like most about this unit is the lever-operated disc brake for optimal braking performance. It has a 100W DC motor with a chain drive that goes up to 10 mph.
Pros:
Suitable for children
Handles up to 120 pounds
Lever-operated disc brake for optimal braking performance
Height-adjustable handlebars
Thumb control throttle
2-in-1 transportation
Cons:

8. Hover-1 Rally Folding Electric Scooter
Lastly, I have a model by Hover that makes a great choice for consumers on a budget. It's an affordable, foldable scooter with an inbuilt suspension and inbuilt wheel reflector.
If you're looking for sleek folding transportation with LED light and LCD, look no further than Hover-1. It features an electronic brake and throttle. Ride in style with the Hover-1 scooter.
The motor output is 300W. It's a self-powered scooter that reaches up to 12 mph on a UL certified 4.4Ah lithium polymer battery. Charge the battery in less than 3 hours and hit the road.
Hover-1 is both practical and recreational with 5-inch solid tires with a collapsible frame and electric braking mechanism. The maximum speed of this scooter is 13 mph (21 km/h).
Pros:
Budget-friendly
Digital braking system
Quick and rides well on smooth surfaces
Motor output of 300W
LED light and LCD
Cons:
When riding over uneven roads, the wheels vibrate.

How to Choose the Best Electric Scooter?
If you're thinking about buying a scooter, consider your expectations first.
What do you expect from a scooter? Other factors you need to consider include maximum range, speed, output, design, weight limit, breaks, necessary accessories such as lights, etc.
Let's take a closer look at other traits you need to consider when buying a scooter.
First of all, ask yourself how often you plan to utilize the scooter. If you need a reliable scoot ride to school or work, opt for a simple model with a higher battery capacity.
Also, choose a scooter with better motor output. If you're searching for transport for occasional and fun tips, choose a model that doesn't cost much but offers good performance.
The sturdiness of the frame determines the weight of a scooter. All scooters will endure the weight of a grown-up person. However, some scooters are stronger than others.
The scooter in this guide can handle between 100 and 150kg, depending on who you're purchasing them for. Most scooters feature a folding frame, making them easier to travel with.
Opt for an easily foldable scooter. Also, pay close attention to how much it weighs. Make sure you select a scooter that doesn't require maintenance. Also, pick a lightweight model.
Another key factor you need to consider when shopping for a scooter is the maximum range per battery charge. Compare the parameters of different electric scooters on the market.
Opt for a scooter with a range that meets your needs and requirements, but lower your expectations if you're on a budget. The longest range is offered by the most expensive scooters.
The maximum range of a scooter goes hand in hand with battery capacity. The maximum range is often somewhere between 40 minutes and a few hours. However, it also depends on the weight, terrain, and riding style. You can keep track of your battery level on your scooter's display.
With most scooters, you decelerate and accelerate via levers on the handlebars. The number of speeds is different, but the way the speed is adjusted stays the same.
If you have a child that will utilize the scooter, it's useful to have speeds to choose from. Also, make sure that the model has speed control, making the scooter keep a certain pace while riding.
Some scooters have a gyroscopic mechanism that allows you to move them by pressing your handlebars forward or pulling them back. This prevents sudden braking.
You can pick from a few options for a braking system. Often, there's a foot brake on the rear mudguard. This allows you to stop your electric scooter immediately, which is amazing.
There's also an electric brake to make braking smoother. You can also select a classic rear brake (either disc brake or drum brake) manipulated by a lever on the handlebars. With electric scooters using a gyroscopic mechanism, you stop by pulling the handlebars in your direction.
There are tubeless wheels and inflatable wheels. Some scooters use a mix of both: the rear one tubeless and the front one inflatable. Tubeless wheels are made of durable material.
Therefore, you don't have to worry about getting a flat. Inflatable wheels, on the other hand, will adjust to the terrain. They're also better at absorbing shocks caused by rough terrain.
Some electric scooters can also feature a shock absorber on the front wheel to reduce the impacts even more. Wheel sizes matter too! The bigger the wheels, the more stable the ride.
The more powerful the motor, the greater the riding experience. The output goes from 250 and 500W. Units with a higher output make a better choice for riding uphill or heavier users.
How Much Electric Scooter Cost?
Electric scooters cost between $125 and $400. However, you can find a good scooter for less than $125. Cheap electric scooters for both adults and children cost between $125 and $280.
Are Cheap Electric Scooters Safe?
Cheap models are as safe as expensive models. However, make sure that you pick a product that comes from a trusted brand such as Razor.
They provide both safe and budget-friendly scooters. All electric scooters feature regular safety features (for instance, a good braking system).
Final Verdict
Hopefully, this buyer's guide has helped you find a cheap electric scooter that meets your expectations.  Maybe you've already narrowed it down to one or two favorites.
Purchasing a budget-friendly electric scooter doesn't mean that you're cheap. It means that you want to invest your money in a cheaper alternative that provides optimum results.
Using a scooter makes your life a lot simpler. It's a modern transportation tool that saves both time and money. If you have any questions, feel free to drop a comment below.