Are you looking for the coolest hoverboards on the market? With more and more advancements in technology, highly advanced equipment and gadgets have emerged. One such gadget that is extremely popular among the youth especially teenagers is the 'Hoverboard'. For those who are oblivious of it, a hoverboard is a recreational vehicle similar to a skateboard in size and shape.
The word hoverboard was first introduced to the world by novelist M.K. Joseph in 1967 when it appeared in a science fiction novel. In that novel, the hoverboard was shown to be hovering a few meters above the surface of the earth.
However, a  hoverboard does not actually hover or float above the surface. Instead, it contains two large wheels that are separated by a board. It usually derives power through an installed battery. It enables the riders to smoothly glide across the ground without pedaling or pushing off with their feet. They are controlled by shifting the weight forward and backward.
Most hoverboards are not recommended for use for children below the age of 7. The reason is that small kid is too naive and spontaneous, their judgment and decision-making skills aren't fully developed. Hoverboards can be especially useful for kids who like rides, teenagers who prefer to stay outdoors, office workers, and dog/catwalkers.
In this article, I have attempted to rate and review the 6 coolest and most funky looking hoverboards that can provide recreational rides as well as have atṭractive looks. These cool hoverboards can be best suitable for teenagers who like to be hippie and funky.
Top 6 Coolest Hoverboards You Should Check Out
Here is a look at some of the coolest hoverboards that you can make it to your shopping list.
1. SISIGAD Hoverboard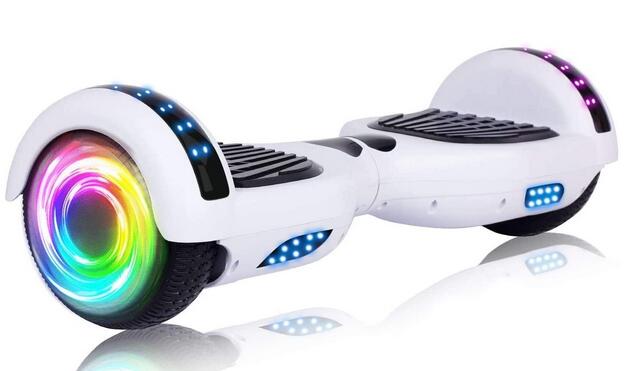 When it comes to cool hoverboards, 'Sisigad' hoverboard tops the list. Quality and performance-wise, Sisigad's two-wheel self-balancing scooter is definitely one of the best hoverboards that you can think of. Further, when it comes to cool looks, this hoverboard is second to none.
It's high-quality 6.5″ premium rubber tires ensure a safe and smooth riding experience. It also comes with comfortable foot pedals that make sure that your feet rest comfortably while riding.
Sisigad hoverboard comes with a built-in Bluetooth wireless speaker that can be easily connected to portable devices instantly. Hence it enables you to enjoy your favorite music or books even while taking a ride.
Sisigad self-balancing scooter uses the latest technology Li-ion batteries that enable fast charging and longer usage time.
However among all its features, the most prominent and noteworthy is its LED lighting system. Sisigad hoverboard comes with a built-in LED lighting system that makes it the most attractive hoverboard for teens who love colors. These LEDs glow in vibrant and bold colors providing a unique aesthetic beauty to the hoverboard.
One more plus-point of Sisigad hoverboard is the rich choice it provides to the customers when it comes to color variations. Sisigad hoverboards are available in twenty different colors and designs. Hence you can select the hoverboard that suits your taste and personality the best.
Pros and Cons 
Standard quality tires
Bluetooth connectivity
Beautiful LED lighting system
Not available in sober colors
User reviews
Overall Sisigad hoverboard has accumulated positive reviews and ratings on Amazon. Customers have specifically praised its LED lighting system. However, some customers have complained that with time its battery life reduces.

2. Swagtron Self-Balancing Scooter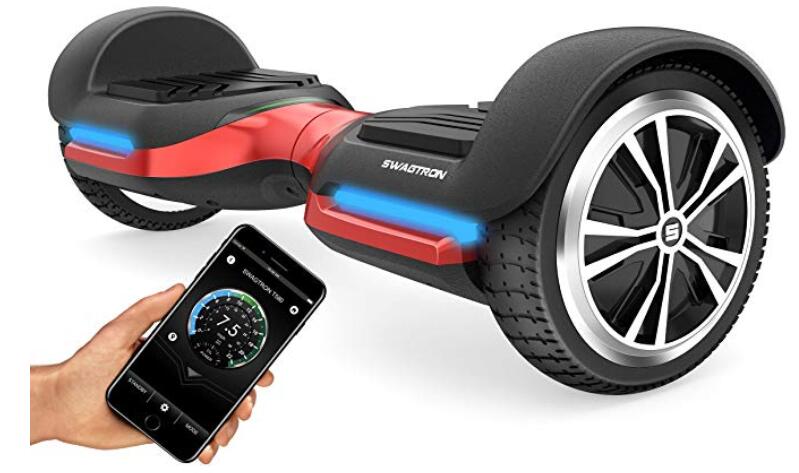 Another product that stands high in the list of cool hoverboards is Swagtron. If you want to cruise with full swag, then this is the product you need. Swagtron hoverboard weighs up to 220 lbs and is available in three variant colors- Maroon, Blue, and Black.
The best feature of this product is its unbelievable high speed of 8 miles per hour. You will literally appear to be gliding and floating on the ground while riding it. Moreover, it comes with a range of 11 miles. This speaks volumes about its excellent battery back-up.
Swagtron is a UL 2272 certified hoverboard which implies that it is fully safe to ride on even for kids.  It contains two LED headlights at the front, rubber bumpers, and a battery indicator. Its bright and glowing energy-efficient LEDs light the path when your adventure outlasts the sun.
Further, it has got two riding modes- learning and standard mode. Learning mode allows you to control the speed until you are ready to glide at maximum speeds.
When it comes to safety no hoverboard can match what swagtron offers. Apart from UL certification, it also features an upgraded 250 Watt motor and gear stabilization for tighter control and downhill traction.
Another safety feature of this product is its 'safe stop technology'. This unique technology guides you to a balanced rolling stop if you suddenly lose power when daring to push the battery charge limits.
Pros and Cons
Best safety measures
8 miles per hour high speed and 11 miles range
2 riding modes
250-watt motor
No Bluetooth connectivity
Difficult to control for small kids
User reviews 
Just like the above product, this one has also received positive reviews overall. Most of the customers have vouched for this product. However, some of the buyers complained that the product is not suitable for kids below the age of 10.

3. Gyroor Warrior Hoverboard
Gyroor warrior hoverboard is an all-terrain self-balancing scooter that comes with 8.5 " tires. It is available in three different color variants- Black, Blue, and Red. Gyroor warrior hoverboard is one of the coolest looking off-road hoverboards on the market.
The manufacturers of Gayoor hoverboards have prioritized user safety hence the product has been strictly tested for safety. Gayoor has attained UL certification, making it absolutely safe and harmless for all levels of riders.
The manufacturing material of this product is high-quality aluminum and certain ABS parts to ensure a pretty rigid body that is sure to stand the test of time. This makes the product durable and strong, which also gives this model a very cool look.
It comes with booming dual motors of 350 watts each. Its maximum speed is a whopping 9.95 miles per hour. You can ride around 8 miles after a full charge.
To increase its beauty it has got lovely LED lights. However, the unique selling point of the Gyroor hoverboard is that it can handle all types of terrain be it bumpy pavements, gravel, grass, sand, and dirt paths, allowing you to enjoy a smooth ride irrespective of the terrain.
Further, like a cherry on top, it has Bluetooth connectivity that enables you to listen to your favorite music while riding.
Pros and Cons 
Water-resistant IP54
Powerful dual motors
Suitable for all terrains
Makes noise when starting
Bluetooth not stable
User reviews
Buyers are all praise for the balance this hoverboard offers especially on difficult terrains.

4. Hover-1 Hoverboard Scooter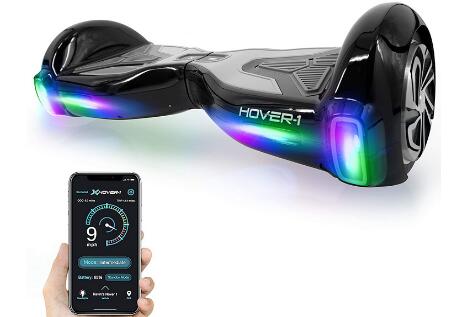 Hover-1 self-balancing scooter is extremely popular on Amazon. Its cool looks and quality design make it difficult to ignore products for hoverboard lovers. It is made from aluminum and plastic and is available in 4 colors- Blue, Gun-metal, Pink, and Rose-gold.
The product weighs around 25 lbs and can tolerate rider with a maximum weight of 265 lbs. It uses a 4 Ah li-ion battery that runs up to an 8.4-mile range when fully charged.
It goes one step ahead of the previous product as it provides not two but three different riding modes- beginner, intermediate, and expert. You can choose your riding mode based on your expertise.
Moreover, it comes with unique LED lights that are customizable according to your taste. You can adjust the color of these lights due to which the product always remains fresh. It uses the latest technology such as Bluetooth connectivity and GPS tracking. It is powered by a beast 500 watts motor.
Coming to the safety aspect of it, just like the above-mentioned products, it is also UL certified. You can get an idea about the quality and durability of this product by the 90-day warranty that it provides.
To monitor its battery life, range, plan routes, and more you can download its mobile application.
Pros and Cons 
3 riding modes
Customizable LED lights
Bluetooth and GPS tracking
500 watts super powerful motor
90-day warranty
Not suitable for kids under 15 years
User reviews
Hover-1 has managed to receive excellent user reviews. Users have specifically highlighted its durability and easy to operate features.

5. Tomoloo Hoverboard
Tomoloo is yet another trusted brand that deserves a mention in any list regarding hoverboards. This is also one of the coolest looking hoverboards for kids on the market.
The product weighs 17.6 lbs and is available in five different color variants. It is UL certified and hence safe even for small kids.
Its advanced 6.5 " tires come with five different LED lights that can be highly attractive especially for kids. These lights switch colors randomly while riding. It also offers stable Bluetooth connectivity thanks to its Bluetooth 4.0 technology. It has also got a built-in permanent magnet speaker to provide stereo surround sound. Further, its Bluetooth range is up to 33 ft.
Tomoloo self-balance scooters can tolerate a load of up to 165 lbs. While riding it can attain a top speed of 12 kilometers per hour. It can climb terrain with a maximum angle of 15 degrees and a maximum turning radius of 10 degrees.
One more attractive feature of this product is that a hoverboard bag is complimentary with this product. Also, 24/7 customer service is provided for this product in case of any issue.
Pros and Cons 
Unique tires with multiple LEDs
Highly advanced Bluetooth technology
Stereo sound speakers
Complimentary bag for carrying
Not very durable
User reviews
People who have purchased this product have mostly reviewed it positively. Buyers have praised its Bluetooth technology and its stereo sound the most. Also, they have expressed their appreciation for the product because it is easy to use even for first-timers.

6. Flying Ant Self-Balancing Hoverboard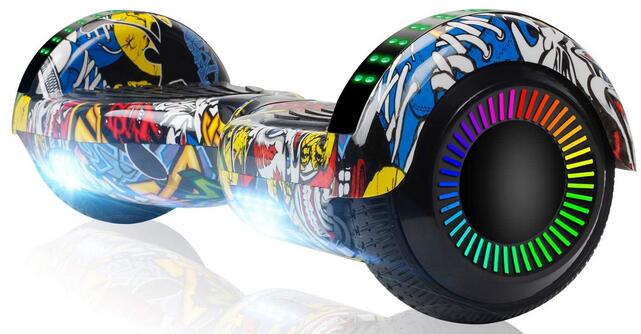 Last but certainly not the least product that finds a mention in this list is 'flying ant'.
This product can be a perfect gift for kids on occasions like birthdays or festivals. The product weight is around 15 lbs. Flying Ant hoverboard possesses premium-quality tires of 6.5 " each. These tires are fitted with glowing LED lights. Further, it has two LED headlights at the front that make travel easier and more fun.
This product fully complies with U.S safety regulations and is UL certified. It uses high capacity lithium batteries of 36 Volts battery voltage. It takes around 3 hours to get the battery fully charged. When fully charged, Flying Ant Hoverboard can run for up to 15 kilometers at a stretch. Moreover, it can attain a top speed of 12 kilometers per hour.
You can pair up the hoverboard with your phone through Bluetooth and add rhythm to your ride with the built-in speaker that delivers superior crisp sound. Riding with your favorite music is definitely a fun activity. It can take a maximum weight of 200 lbs.
The most prominent feature of Flying Ant Hoverboard is the plethora of choices it offers when it comes to colors. This product can be purchased in twenty different colors. Kids, youth, and adults, all can choose their favorite color.
The product comes with a 3-month free return guarantee.
Pros and Cons 
Can run for 15 kilometers
A plethora of color choices
Suitable for kids, youth and adults
3-month free return guarantee
No battery charge indicator
User reviews
Flying Ant hoverboard has accumulated excellent customer reviews on Amazon. Users are impressed by the fact that it can be used even by adults. However, some customers do not like the fact that the hoverboard does contain a battery indicator.

Things to Keep in Mind While Looking for a Cool Hoverboard
1. The Design
By this, we do not simply mean the decals of your choice, but the structure of the board; its sensors, and the configuration of the motherboard. If even a single element is out-of-place or flawed, the entire machinery will break down.
Obviously you cannot take the board apart and look into all the elements, the best you can do is buy one from a renowned brand and a trustworthy site that ensures a guarantee for the product. Look at all the specs of the hoverboard before you choose one.
The other component to look at is the wheels. Ensure that the manufacturing of the wheels lends them strength and their rubber can endure some rough terrain. The hoverboard is not meant for all parts of the city, but you should not have to worry about keeping it intact every time it touches a rough surface.
2. The Weight
The weight of the hoverboard affects its portability. Try lugging a 150-pound device that ironically is supposed to transport you around. The problem is that your hoverboard can not replace other modes of commutation, especially in places of high traffic and along steep inclines.
That is when you will have to carry it under your arm. Choose one that you can carry in case of any unprecedented occurrence.
The carrying capacity of the board also has to be kept in mind. Check carefully for the maximum weight it can carry before going ahead with the purchase. It should be able to carry your weight and that of any regular bag that you carry, but don't expect it to bear the burden equal to a mule. It is a device that has more technological value than an actual functional one.
3. Speed
Don't expect to race past everything and try crazy stunts. A) That is not what these hoverboards can do and B) Who are you? A frugal Ghost Rider, minus an actual bike?
The maximum a hoverboard can accelerate to is 12 mph and that is if you can maneuver it properly. Otherwise, you literally just hover around small spaces and click Instagram-worthy boomerangs.
4. Range
The distance you can cover in one charge depends on the surface on which you are riding it. The steeper the incline, the more rugged the terrain, the less the board will be able to cover without using up all its power.
Also, since its ability is pretty limited, you will have to give up the idea of taking it on a hike or along a rough path. But on average the distance can be around 15 miles.
5. Battery and Charging Time
The best hoverboards have a minimum charging time of around 2-3 hours and the battery lasts around 3-4 hours. The battery you choose is everything for your hoverboard experience.
This kind of life is only available if you choose the better kinds of hoverboard. If you are trying to spice up your style, do so with the reassurance of quality and a guarantee. Invest only in a brand that gives you good battery life.
Hoverboards use Lithium-ion batteries that are also used in laptops and cellphones; meaning you have to observe the same precautions as with the latter electronics. Do not leave the board charging overnight and ensure that you do not place it near fire or any kind of heat. Safety first!
6. Laws in your State
While it may sound like a chore to peruse tough legal documents in a bid to scour the 'hoverboard laws', it will behoove you to do so. Find any guidelines or prohibition with regard to hoverboards in your state. It might not do to pour your hard-earned money into a fetish only to realize that your state laws do not permit its use. Don't get on the wrong side of the law due to your eagerness. Plan and buy.
7. Original Products
Why would you help fake companies make money hand over fist? Do adequate research and only buy from trusted merchant sites online. If you do find a hoverboard that is significantly cheaper, look into its specifications to see if and (definitely) what is missing. Do not compromise on the batteries. That is like asking for a mishap. Pay a little more and get a better product, if not the most high-end one.
8. Cost
The best ones in the market are going to cost you. If you are just starting out, is it wise to shell out so much? Keep in mind that apart from the quality of the gyroscope, motor, battery, and tires, the pricier ones generally only have some knick-knacks thrown in to attract the buyer.
If all you want to do is zoom around on the machine, the most expensive hoverboard may not be necessary. Carpe diem might be your motto, but it is also wise to save for a rainy day.
Conclusion
In this article, I have attempted to rate and review the six best hoverboards that are of superior quality and look cool as well. This list can act as a buying guide for those people who want to purchase a hoverboard. You must go through the list objectively, consider the pros and cons of each product, and then exercise your decision.
You should also check out all the variant colors and designs available for each product listed above as most of them have got a lot of colors and designs to choose from.
Lastly, all the products mentioned in the list are tested and certified by authorities. Hence all of them are safe to use even for kids. However, I would suggest parental supervision in case the user is a kid below the age of 12 years.
Like it? Please share with your friends! Thanks!