An electric trike is fast gaining popularity as a mode of transportation in the world. It combine the security of a tricycle and the speed and simplicity of an electric-powered motor drive train has attracted different users from the middle-aged and adult category.
Whether you are an adult who wants to roam around the neighborhood or a senior citizen who wants to go to the supermarket to buy some groceries, the electric trike is one of the best modes of transportation that you can use.
But what is an electric trike? How is it different from the regular tricycle? What are the factors to consider when choosing the best electric trike? Some other related information will be answered and discussed in this article about the best electric trikes for adults. We want to provide a platform to help our readers choose a suitable electric trike for their usage.
What is an Electric Trike?
When we talk about an electric bike, we should not forget its origin, the traditional tricycle. This tricycle comes with one front wheel and two rear wheels, which assist in making the balancing easy for the rider. Some tricycle also comes with a basket at the back, which serves as storage for anyone.
However, tricycles are naturally heavy, and their weight can significantly impact the pedaling of the bike. The situation will also be more difficult if you put other things on the trike while navigating on hilly and uneven roads. The rider will need to exert more effort and use more leg power which means more challenge to him during the ride.
Because of this situation, manufacturers conveniently add an electric motor to the drivetrain of a traditional tricycle to modify it into an electric tricycle. The result is an electric trike that provides more convenience to the user but still offers the same usage, albeit more comfortably.
How does an Electric Trike Works?
One of the advantages of using an electric trike is that it gives you the versatility to choose how you want to ride it. You can pedal your way while getting assistance from the motor to increase your speed. Meaning, the motor will give an additional burst of power to your stroke every time you pedal. Another option is for you to ride without pedaling, as the electric trike can work in the same way as the scooter.
Convenience and comfort are what the electric trike gives to the riders, especially those who are uncomfortable with the constant pedaling, including the old one. Maybe, it is the reason why the electric trike is more prevalent among adults and senior citizens. After all, the journey of using an electric bike is still the same but with less effort and more speed.
How to Choose Electric Trike for Adults
Apart from the benefits you are getting, there are other factors which you may need to consider in choosing an electric trike. Please check on the list below:
The Bike's Battery
I consider the battery as one of the essential factors to consider when choosing an electric trike. The battery is regarded as a significant factor that determines how long the ride will take.
Depending on the battery's capacity, some electric trike can ride a maximum of 45 miles per single charge using a pedal-assist mode. Other trikes offer a lesser distance, but it will depend on your needs and usage of the electric trike.
The Speed and the Motor
The motor attached to your electronic tricycle largely determines the speed of your trike. However, the speed of the trike is also affected by the overall weight of the vehicle, which means putting more things on the tricycle will make it slow.
You need to choose an electric tricycle where the motor offers the speed of your preference. Whether it's a 1200 watts motor and 30mph of speed or something slower will all depend on your needs as a rider.
Storage Capacity
If you need an electric trike as a mode of transportation when going to the supermarket and buying groceries, you need to have an external trike basket and an outside compartment.
Some electronic tricycles do not offer a lot of storage, but others can be customized to increase their storage capacity. The most important thing is to find the right one that satisfies your needs when storing items on the electronic tricycle.
Dimensions
The dimension of your electronic trike will play a significant role in parking and storing your electronic trike. It can also affect the quality of the ride, especially in navigating obstacles and narrow roads.
Some models can be folded or collapsed, making it easy to park or store in the house. Other models in which the fittings can be adjusted and customized to get the desired dimensions.
3 Best Electric Trike for Adults Review(Editor choice)
1. Emojo Caddy Proelectric Trike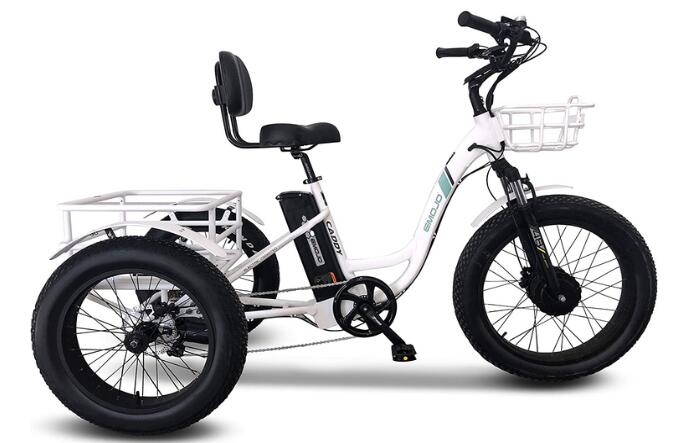 When looking for the best electric trikes for adults, I want the trike to be versatile enough for different activities and tasks. A tricycle that will not limit your coverage in terms of going to any destinations that you want. And this is what this electric trike from Emojo is offering, a flexible and versatile tricycle that will take you to every place you like.
What impressed me the most about this vehicle is its ability to go to different places. Thanks to its three special fat tires that enable you to go not only to your neighborhood and city but also to different roads.
If you like riding on challenging trails or spending some time on the beach, this electric tricycle can do the job easily because it was built for it. You can even use it on the golf course, which means there is no limitation to your adventure and experience.
I also like how this electric trike provides comfort and security to the rider at the same time. My hats off to its 7-speed transmission and hydraulic brakes, which ensure your safety during the ride. Not only that, this electronic tricycle is equipped with a large seat and comfy backrest support to ensure that you will have a cozy and enjoyable ride.
This electric trike for adults by a 48V battery and a 500W motor enables you to ride at a maximum speed of 20 mph and travel up to 35 miles in the distance on one single charge. Furthermore, the frame comprises an aluminum alloy frame that only weighs around 70 lbs. together with the battery.
This electric trike is equipped with a substantial rear cargo and a front basket to carry different things as a bonus. So, if you like to go shopping or buying some groceries at the nearest supermarket, this is the perfect trike for you.
Pros:
7-speed transmission, hydraulic brakes, large seat, and backseat provides safety and convenience during the ride
Provides flexibility with its ability to be used on different types of roads
500W motor and 48V battery offers excellent range and speed on a single charge
Huge rear cargo and front basket offers extensive storage options
Cons:
The aluminum frame is less durable compared to other high-grade materials
This electric tricycle is one of the best in providing many benefits to its users, especially adults. I highly recommended it to anyone looking for a flexible and versatile trike that can be used to do different activities and tasks in your home.

2. Addmotor Motan Electric Tricycle
This electric tricycle from Addmotor is all about durability, meaning it was designed to carry heavy loads and is built to last. There are not many motors in the industry that offers the same durability and sturdiness similar to this electric trike. A high-end trike that also can go on off-roading adventures if you want to.
I was impressed by its sturdy design and its ability to carry heavy objects with ease. Thanks to its 7075 alloy frame, an adjustable step-thru frame provide a different range of rider sizes.
It also comes with a folding-style stem and an adjustable handlebar which will be beneficial among taller riders. So, whether you have a large frame or someone taller, this electric trike can easily adjust to your frame and adapt to your physical features.
This electric trike also features a powerful motor, a 750-watt front motor that can speed up to 22 MPH speed. You can use two options during the ride; you can do pedal-assist or go in full throttle mode if you do not like to pedal your way into the destination. Whatever your choice is, this electric tricycle can give you so much fun and convenience during the ride.
The battery of this electric trike is also exceptional, a 48V 16 Ah Panasonic Lithium battery which comes with a USB charging port. With this feature, you can charge your mobile phones and other electrical devices while you are riding. Also, there is an LCD with a night mode feature that enables you to see the speed and mileage of the trike during the night.
Meanwhile, this electric tricycle is also equipped with a durable front basket and a huge rear basket. These two storage option offers enough space for groceries, supplies, and other things you want to carry into the trike. You can go shopping or do some errands every day and still get comfortable with this top-of-the-line electric trike for adults.
Pros:
With a powerful motor to provide convenience and comfort to the rider
Built to carry heavy loads with its alloy frame and durable stem
Provides two huge storage options
With USB charging port
Foldable frame
Cons:
This electric trike is one of the best out there, and having this in your position will bring a lot of benefits to you. Its durability and sturdiness will truly impress, and its ability to carry heavy loads will be a big help to anyone.

3.  EWheels Electric Trike
This electric tricycle from Ewheels is best suited if you like to go anywhere in your neighborhood. Whether it's buying some groceries, bringing important documents, or other types of errands, this trike is an excellent model of transportation that you can use. It offers comfort and convenience with its step-thru frame and oversized seats.
I like this electric trike for adults because its 500W motor enables you to ride at a maximum speed of up 15 mph and travel up to 20 miles in the distance on one single charge.
Furthermore, the frame comprises a step-thru stainless steel frame that provides an easy-seating arrangement to the rider. All in all, this electric trike has a weight capacity of up to 400 lbs.
This electric trike is also a great fit for doing other tasks such as shopping and commuting. It features a large rear storage basket and an additional front storage basket perfect for shopping and running errands.
Also, the LED light on the handlebars offers added security options when driving in the dark. There is also an electric horn that gives additional signals to pedestrians blocking your way.
In terms of the ride, the quality is comfortable. The oversized seat and the front fork offer comfort and convenience during the ride. Meanwhile, the electric battery indicator will be a great guide to your speed and mileage while traveling. This electric trike is one of the best in the market, and its features bring a lot of upsides to the rides.
Pros:   
Shock-absorbing front fork and oversized seat provides comfort to the user
Two modes to operate: full throttle and pedal-assist
It offers a great range and speed in a single charge
With great storage capacity
Cons:
Does not do well on hills
Despite the minor issue, I can still recommend this electric trike to anyone. The comfort and convenience it brings outweigh whatever minor issues it has. I recommend it to anyone for commuting, running errands, or any other related tasks requiring reliable transport.

4 Other Great Electric Trike for Adults Review
1. ​ RMB EV Libert-E Adult Electric Tricycle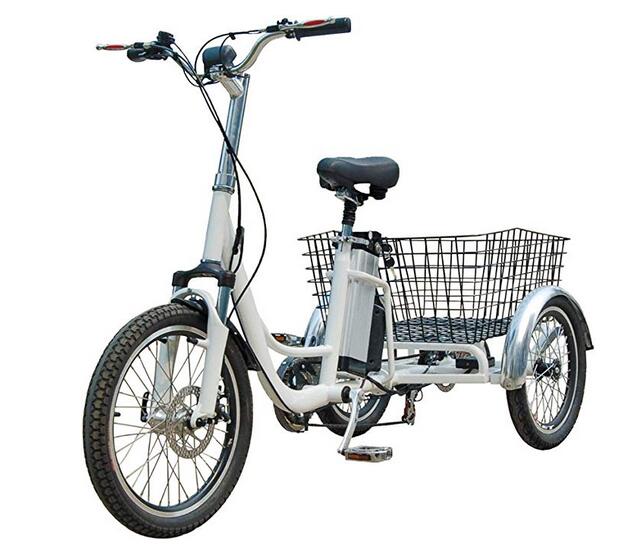 If you look for a stylish and good-looking option, the ​​ RMB EV Libert-E Adult Electric Tricycle is a product you should place your bet on. The outlook of this product is urban and makes one splurge on it as soon as one places one's eyes on it. It is considered one of the most well-designed electric trikes that are available in the market.
The ride offered by the ​​ RMB EV Libert-E Adult Electric Tricycle is extremely smooth and easy. This adds to the points which make it a worth-having product. The making of this electric tricycle is solid enough to stay with you for many years to come.
For a person opting for a product that would keep him physically active, this option is good. It lets the user stay mobile, and that too in the easiest possible manner. The turn radius of this trike is quite tight, thanks to the rear wheel being double, which makes this trike much safer. Through this, all the difficult twists and turns are covered in the safest manner possible.
The battery used in the making of this trike is lithium and comes with a pack. Being quite heavy and powerful in its working makes it possible for the user to keep riding the trike for many hours. The working of the pedals is also quite interesting.
The assistance mechanism of these pedals makes the movement of the trike smooth and easy. Not only this, but the handlebars are suave enough to keep the rider's grip intact no matter how hard the path be. With the availability of many choices for gear operation, the user can tread through the path safely.
Features:
Dimensions: 71L x 26W x 45H
Easily rechargeable
Stylish design
Can hold the capacity of 286 LBS
Charging time is six hours
36V 10Ah battery type
Pros:
Enough cargo space
A comfortable ride to opt for
Efficient brakes make it a safe option 286 LBS
Cons:

2. Razor Power Rider 360 Electric Tricycle
The Razor Power Rider 360 Electric Tricycle is a reliable product that is liked by the customers owing to being efficient enough to move to large distances smoothly. With the overall frame made of steel, the tires made of rubber, and the seat made with high-quality plastic, the product is surely a long-lasting one.
Riders look for speedier distance covering opt for the Razor Power Rider 360 Electric Tricycle, owing to its ability to move to 9mph smoothly. Along with this, its battery is powerful enough to move for thirty minutes without having to be recharged time and again.
Another special feature that sets this trike apart from its competitors is its 360 degrees spin, making it easier for the tricycle to spin and drift. However, at the same time, it is extremely safe and reliable.
Features:
The body is made of a high-quality steel
Speed to 9mph
It can be used for thirty minutes on a single time charge
Spins to 360 degrees
It has a 12V battery system
Hi-impact pneumatic wheels in the front
Pros:
Extremely safe and reliable
The motor is chain driven
The push-button throttle makes the movement easier
No peddling is required
Cons:

3. Emojo Caddy Electric Tricycle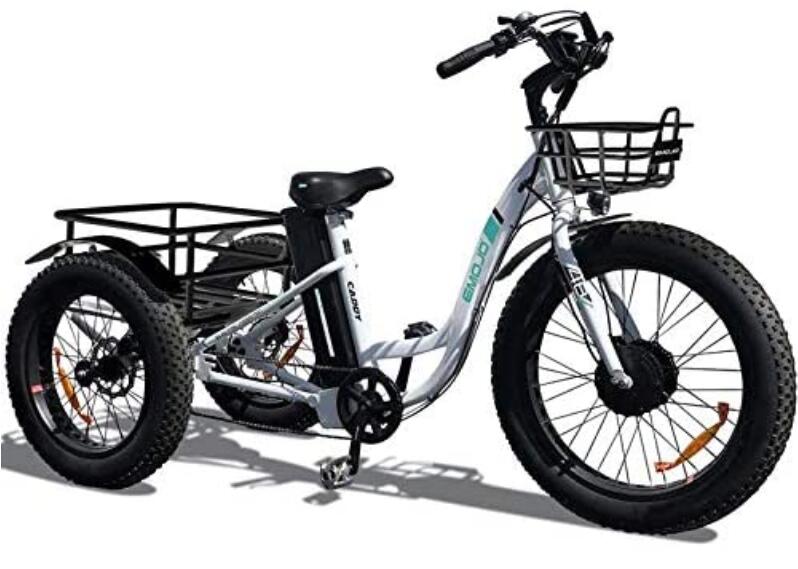 Emojo Caddy Electric Tricycles are well designed and quite stylish in their looks. With steel and aluminum frames, these trikes are considered one of the best options to opt for.
Along with being quite sturdy, they are practical as well. This is manifested in their ability to carry huge weights, both in the form of people and material.
The large basket that is a part of these trikes can transfer large-sized items from one place to another. Thus, for people who have to take quick rides for daily shopping, this is quite a reliable option to opt for.
By providing an option to return the product within thirty days of purchase, the company can enhance its trustworthiness.
The wheels are well wrapped, which makes it possible for the user to clean them quite swiftly. Alongside, the speed of 7 allows the user to adjust the speed according to his comfort.
Features:
Wrapped wheels
Padded seats
26'' wheels size
Support 350 lbs
Charging Time is 6 Hours
Pros:
Well designed
Long-lasting and sturdy
Cana move on slopes easier
It comes with a large basket
Cons: Assembling is required

4. Culver Bikes Pro Electric Tricycle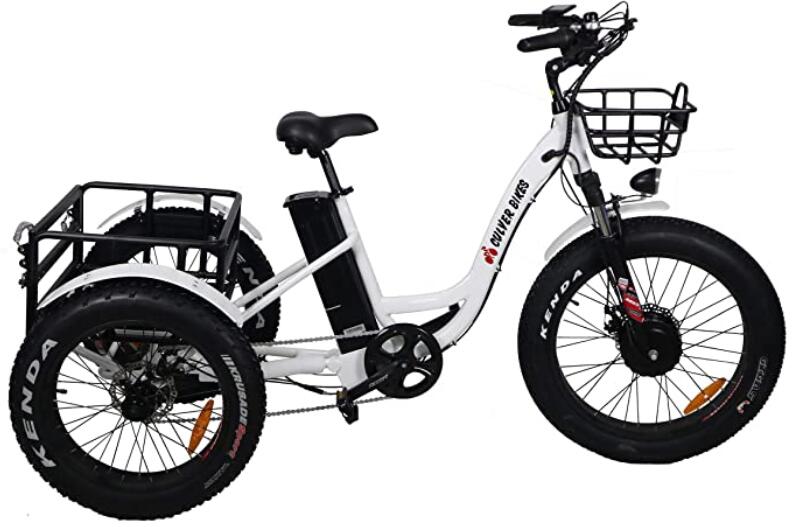 The Culver Bikes Pro Electric Tricycle is quite famous amongst the riders. A single charge can make it work for 35 miles. This trike is a convenient option for a quick ride for shopping, a hospital visit, or a picnic.
With the baskets being spacious enough to hold items, they can transport products from one place to another. Alongside, the weight of 320 lbs., which this trike holds efficiently, makes it a must-have product.
The efficiency of this trike can be manifested through its motor, which is 500W and can make the speed reach 23 MPH. The overall frame made of durable aluminum alloy also adds to its reliability.
Features:
Motor's efficiency is 500W
The capacity of the battery is 48V/15.6Ah
Front and rear brakes
Pros:
Can carry heavyweight
A safe option
Efficient working
Cons:

FAQ – Electric Trike for Adults
Is it still safe to use an electric trike even if it is wet?
Almost all electric trikes contain housing that protects the battery and the motor from outside elements, including water and moisture. Which means it is still safe to use an electric trike even if it's wet or driving under rainy condition.
How long does it take to charge an electric trike battery?
My rough estimate is about 3 to 6 hours to do a complete charge. However, if you charge a battery with a partial charge, it may take less time to charge it fully.
Are electric trikes heavy?
Yes, compared to a standard trike, electric trikes are heavier. But, the weight of the trike usually felt when climbing steep inclines and hills. This situation will not be a problem with the electric trike with each motor-assisted pedal, and full-throttle features enable the rider to get assistance in terms of speed and pedaling.
Conclusion
When buying an electric trike, making the right decision is necessary as it is a one-time investment, and the money needs to be spent wisely. Thus, keep in mind the above-mentioned reviews before splurging on them. Happy shopping!