Electric scooters have become the new trend these days. This new mode of transportation has attracted tons of people. Every age group wants to enjoy a fun-trilled electric scooter ride. No pedals, no gas refilling, and no license needed; charge your scooter, and you are all set to roam around the town.
If you are looking for the best electric scooter, this is the right place for you. Here you will find the top-rated electric scooters in the market with a comprehensive buying guide.
What is an Electric Scooter?
If you are new to this electric scooter world, you should know what it is. It is commonly known as an e-scooter. This highly-hyped vehicle has a step-through frame with two wheels at each end and can be used indoors and outdoors. The middle part of the scooter is where the rider stands and handles the front to balance you. Some e-scooters also come with a seat.  As the name suggests, an electric scooter is a plug-in electric vehicle (PEV) charged from an external electricity source. The motor is powered by batteries which you have to recharge every time before using.
It is very similar to regular scooters but has more controllability and maneuverability. An electric scooter is faster and lighter than a standard scooter and can be folded, making it very compact and portable.
Things to Consider When Buying an Electric Scooter-Buying Guide
Choosing the best e-scooter for you is not an easy task. Before you make a final decision, there are a few things to consider for getting your hands on the best e-scooter in the market. Make sure you look for the following features:
1. Motor power
More motor power means a more powerful scooter with better performance. Remember that every e-scooter differs in motor power (wattage). 200 watts is the minimum motor power for scooters and goes up to 6270 watts. For daily travel to work or home, looking for more than 250 watts for motor power is recommended. It will be sufficient for travel on flat surfaces and low hills. If your daily commute involves steeper hills, go for motor power of about 350-500 watts. A 1000 watts motor will give you faster speed and performance.
If you prefer a steady-speed ride, then a high-torque motor is a good choice for you. But if you want a powerful e-scooter, then look for a brushless motor.
2. Tires and suspension
Choosing the right tire size and type is very important when buying any vehicle. It all depends on the area where you want to ride your scooter. Tires come in two types; airless and pneumatic those are air-filled. The pneumatic tires have better traction and offer a bump-free and smoother ride with their shock-absorbing ability. They need maintenance from time to time; you have to refill them with air when the air pressure is low.
Larger wheels work best on roads and flat surfaces, providing better control. If you wish to ride on grass or other terrains, look for smaller tires with enhanced traction. Traveling through rough terrains definitely requires a scooter with front or rear suspension to smooth out all the bumps.
3. Battery
The battery life of an e-scooter is a significant factor when you want to travel larger distances. You wouldn't want a scooter with 30-mins battery life. Make sure to check the charging time and battery life. A longer battery life with high mileage and speed is something we all need. Don't go for a scooter with more than 4 hours of charging time and gives only 40 to 60 minutes of riding time. The types of rechargeable batteries used for e-scooters include Li-ion, Ni-MH, and sealed lead-acid batteries.
4. Construction and portability
Durable and sturdy construction should be your focus when looking at the scooter frame. A rugged and tough frame will last for years, and try to look for a lightweight scooter that is easy to carry. A lighter, durable frame model offers more speed and a long lifetime. Most of the e-scooters in a market that offers a range of 15 miles weigh around 25 lbs. Weighing 30 lbs or more can be difficult to carry around. An aluminum frame is lightweight and resistant to rust and scratches than a plastic frame body.
5. Brakes
When it comes to e-scooter brakes, regenerative and electric brakes are weak and ineffective if you travel at 15+mph. Disc and drum brakes have more stopping power than a foot and electric brakes. They also show consistent performance even in slippery rainy conditions. The brakes are installed on the front, rear, or both wheels. Disc brakes are found in high-performance e-scooters.
6. Lights
Lighting depends on the time of the day you want to ride the scooter. If you want to travel at night, opt for the electric scooter that comes with both front and backlight. Most e-scooters don't have an obvious bright rear light, so make sure you wear a helmet with a red rear flashlight.
7 Fastest Electric Scooter Reviews
Table could not be displayed.
If you are looking for an electric scooter for your kids, Razor E100 is the perfect and safest choice. E100 offers a maximum speed of 10 mph with 40 minutes of ride time. This 10 mph max speed is safer for your child.
A twist-grip acceleration system that maintains the speed and front hand brakes provide good stopping power for more safety. It has a 100W high-torque chain-driven super-quiet motor that is powered by two 12V sealed lead-acid batteries. It takes about 8 hours to charge this stylish e-scooter completely.
Talking about the weight limit, it can bear up to 120 pounds and weighs 25.3 pounds. A smooth and bump-free ride is guaranteed with the front pneumatic 8 inches tire and a smaller rear urethane wheel.
E100 has a 7.75 inches wide foot deck. The standard handlebars have rubber grips to prevent hand slipping. The twist throttle on the right side controls the speed. E100 constructed with a durable steel frame and fun colors like blue, pink, red, purple, and silver makes it the best kid e-scooter.
Pros
Pros
Smooth, easy start with kick start motor
Front pneumatic tire
High-torque motor
Retractable kickstand
Great for 8+ kids
Cons
Cons
It can't be folded
No seat
12 hours charging time
The most advanced e-scooter that is fully loaded with features is the Xiaomi Mi. No matter if you have a long work commute, this scooter comes with the longest battery time. The 18650 lithium-ion batteries offer a mileage range of 18.6 miles on a single charge. Enjoy the fastest 15.5 mph speed with a powerful motor of 250 Watts.
There is no need to worry about carrying this scooter to work; it is ultra-portable, weighing only 26.9 lbs. Apart from being lightweight, the Mi scooter can only be folded in 3 simple steps to carry on pavements and stairs.
Constructed from high strength aerospace-grade aluminum frame that is corrosion resistant and has excellent thermal conductivity, the Xiaomi scooter is built to last for years.
Be ready to experience a smooth and safe ride with great 8.5 inches front and rear tires having anti-slip treads. It has an effective double braking system featuring disc and anti-lock regenerative brakes. The Mi e-scooter has been awarded many prestigious design awards.
Pros
Pros
Long-range battery
The double safety braking system
Foldable; light-weight
Sturdy high-grade aluminum frame
Ultra-bright headlights
Red flashing tail light
Equipped with a statistics Smartphone app
Cons
Cons
Weight capacity of 220 lbs only
It doesn't have any seat
Charge time is 5 hours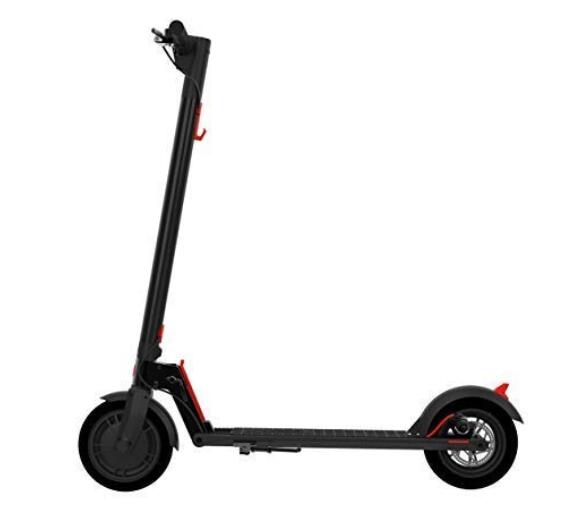 Keeping your travel to work and home in mind, this GXL V2 scooter features 8.5 inches pneumatic air-filled tires that effectively absorb shocks.
With a maximum speed of 15.5 mph and long-range 12 miles on a single charge, the GXL is the ideal solution to your daily commute. This V2 comes with a hybrid disc/electric hand-operated brake giving you more control over your scooter ride.
The folding frame measures 15 x 44 x 6 inches that making it ultra-portable. It weighs 27 lbs only and supports a weight load up to 220 lbs. Having a smart LED display allows you to view the speed settings and battery life. The charge time is about 3 to 4 hours. Make your traveling a lot easier with this GXL e-scooter by Gotrax.
Pros
Pros
Easy to use handbrake
Ultra-portable with folding frame
Smart LED display
High speed and range
Large pneumatic wheels
Cons
Cons
Noisy motor
Not suitable for people above 220 lbs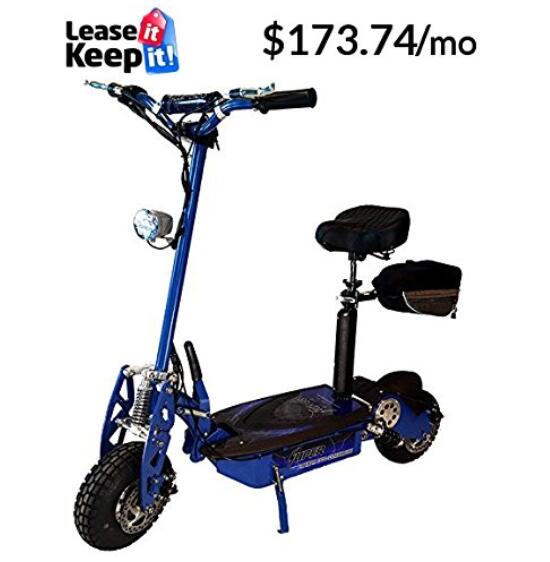 The most powerful electric scooter is the Super Turbo Elite. This scooter stands out because of its 1000W brushless DC motor. The lead deep cell 32V battery charges in 6-8 hours and allows a high-speed range of 26mph per charge.
Ride it on any terrain; the super turbo features wide air-filled 10.5 inches rubber tires with front and rear suspension. Say bye to bumps and shocks while you ride, thanks to shock absorbers. This heavy-duty scooter is constructed from a high-strength steel frame that speaks up for its durability.
Want a steady speed? The elite scooter comes with 2-speed options: Econo with 18 mph and turbo mode with a max speed of 26 mph. Turbo can be folded (12 x 17 x 46 inches) for easy carrying and storage. Drive this scooter while seated on a wide comfy seat. It has a bright front LED headlight. No danger of stealing; it starts with a key ignition.
Pros
Pros
Long battery life
Large 10'' rubber tires
Fast speed
Foldable; compact design
1000 W powerful motor
Front light for safety
Suspension on both wheels
Accessories included
1-year motor warranty
Cons
Cons
Very heavy
No Smartphone app
Not waterproof
Splash guard fenders sold separately
The Q1hummer scooter is something you need for traveling as it offers ultra-long battery life with a 5C powered lithium battery that allows a maximum speed of 37 mph. It is a perfect solution for your everyday commute with an 800W powerful motor and 100 km range.
An amazing feature is that it can hold up to 550 lbs. No shocks and bumpy ride, the Q1hummer has large 10 inches pneumatic PVC rubber tires with a carcass steel wire layer and three-legged plastic. The front and rear suspension give you a safe and smooth ride on all kinds of terrain with 3 different speed settings.
No worries if it's raining; this e-scooter is completely IP66 waterproof. It has a double disk brake system and an electric instrument gauge. Carry it easily as it folds in simple 2 steps. You can also charge your phone while riding with the USB port.
Pros
Pros
3 different speed settings
Powerful 800W motor
High weight capacity (550 lbs)
Fast speed
Large pneumatic rubber tires
A USB port for charging the phone
Mudflap
Kickstand
Foldable
Side, tail, and headlights
Horn
Cons
Cons
Charge time is 8 to 12 hours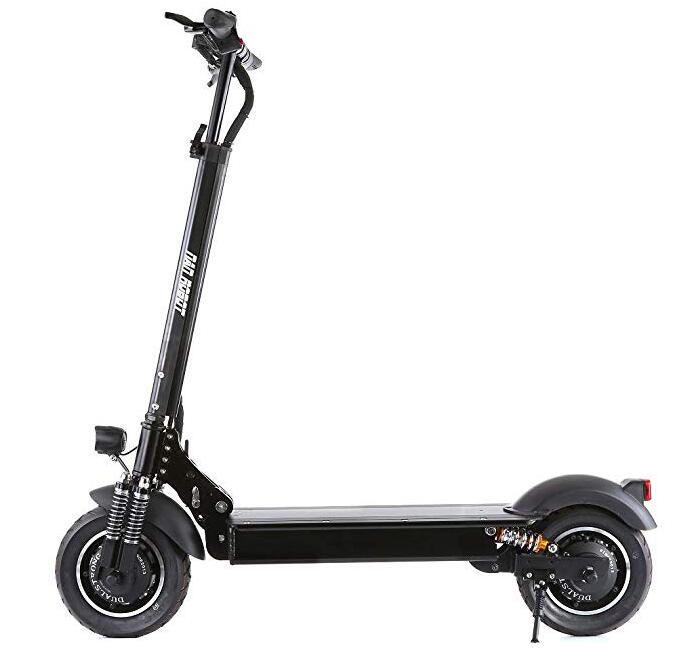 This high-speed electric scooter is made to perform outstanding when it comes to controlling speed and range. It has the most powerful high-torque motor of 2000 W, allowing you to ride at the max speed of 40 mph. The 52V23.4AH lithium battery takes up to 5 to 8 hours for complete charging.
No issue if you weigh more than 250 lbs; D4+ has a weight capacity of 330 lbs. You will experience an extremely smooth ride as D4+ features 6 shock absorbers. Ride freely on different terrains; the tires are 10" pneumatic with front and rear wheel suspension and independent traction.
D4+ is well-suited for emergency braking because of an EBS front back disc brake mechanism. Travel with anywhere; the design is highly portable because of its easy folding ability in seconds. You will ride safely at night with a bright front light.
Pros
Pros
Powerful 2000W motor
Highest speed
LCD
USB interface
Energy-saving mode
Gear shift button
10'' air-filled tires
EBS disc braking
Foldable
Cons
Cons
Heavy; weigh 70 pounds
Expensive
Another potent e-scooter by Nanorobot! The RS7 has the most powerful brushless two independent motors of 1600 W that allow you to ride at the max speed of 55 mph. It also features a high-powered lithium battery that charges in 6-10 hours.
RS7 offers a climbing angle of 65 degrees and has large 11'' air-filled tires that make your ride smooth on all surfaces. You don't have to worry about load when you buy RS7; it can support a weight of 370 lbs. This electric scooter is safe to ride with the double front and rear wheel disc brakes and dual shock absorbers. Charge your phone anywhere with the charging port. It is a great commuter scooter for adults.
Pros
Pros
Powerful brushless gear 2 motors
High-powered lithium battery
Fastest speed range
Double disc brakes
Foldable; easy to carry
No assembly required
USB charge port
65° climbing angle
Cons
Cons
Heavy (88.2 lbs)
Charging time is 10 hours
Conclusion
Choose from the best fastest electric scooters reviewed above and make your everyday commute a lot easier, comfortable, and safer. No fuel-burning or fumes will from e-scooter also save the environment. Save your time and thousands of dollars by buying this cost-effective, compact size, fast and portable vehicle to arrive at your destination speedily.