Hoverboards are a fun item to own, but they cannot be used in the long run if you do not buy the necessary accessories with them. Many people might think that just going shopping for a nice hoverboard and then buying it is the end of the process. This could not be far from the truth.
There are various new items available in the market designed to provide you comfort when riding the hoverboard or add a little extra dose of fun to make your experience even better. Either way, hoverboard accessories are a must to have now.
When you go to buy the accessories, you will find tons of options to choose from. Various brands have excelled in producing high-quality items and enabling users to get a better deal for their money. As the choices increases, it gets tough for a new customer to know what to look for in those accessories. Multiple things should be your priority and some things which you can ignore as well.
A Few Things to Look Out For Are:
1. The things needed to enhance your board's performance include stability and better functioning options. So whenever you enter a shop, you must be aware of these two things. Many small items play a huge role in making these things better, so do not just go with the size but focus on products.
2. The budget is crucial to consider when you are buying hoverboard accessories. One might get overboard when they enter a shop because everything seems super cool, and you want to get it all. Budget yourself properly and spend money wisely.
8 Best Hoverboard Accessories of 2021 Reviews
1. Eco-Fused Waterproof Hoverboard Backpack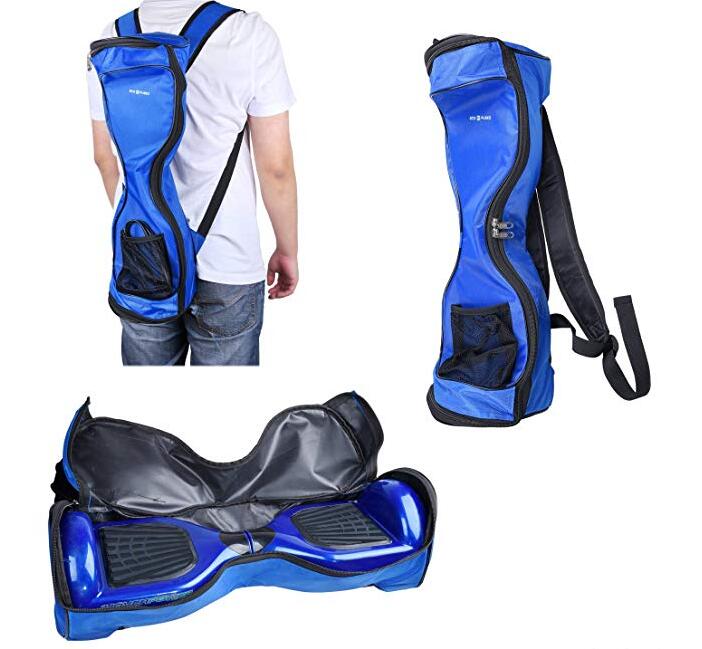 The Eco-Fused waterproof backpack for your hoverboard is the perfect storage option for two-wheel boards. It includes a heavy nylon construction that does not wear and tear as you use it. The two zippers placed at the sides are perfect for easy access to the board, and there is no chance of the bag opening. There is also a small mesh pocket on the front side to keep your water bottle in it and any other small items that you want.
The main aim of this bag is to ease your shoulders and your arms and make carrying the hoverboard a comfortable experience. For relaxed carrying, it includes adaptable shoulder straps. Also, you can use the carry handle to dangle the backpack on any hook or coat rack. All these features make it a good item to own.
The one downside of this backpack is that your shoulders will get tired after carrying it for long, and there is no option to drag the back. However, you can install a handle on it and some wheels and easily push the bag around.
2. Michael Josh Hover Board Waterproof Backpack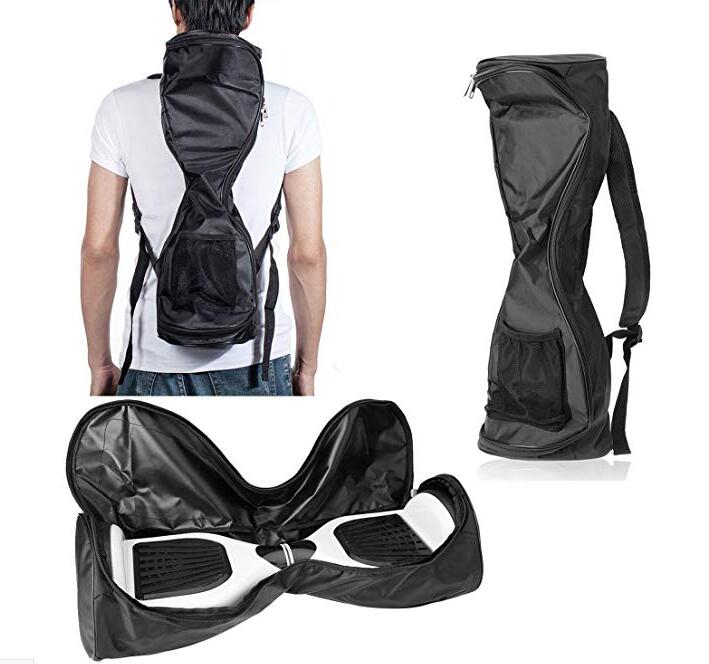 Another good quality hoverboard bag backpack is the Michael Josh product. The company has been producing some high-quality stuff in the past few years and with the increase their supplies you can find this item anywhere in the market. The bag includes a strong and long-lasting nylon construction which will be able to sustain more weight. Inside the bag, you will find a lining. This is waterproof and protects the board from rain and snow. So on snowy days, you will not have to worry about your hoverboard getting wet.
You can keep your hands free with this bag as it is adjusted easily on the shoulders. The straps will cater to any sized shoulder. The mesh pocket in the front is made to keep any extra hoverboard items, for example, a charger and other emergency tools.
The best thing about this hoverboard bag is that you feel very comfortable when you are wearing it. The weight of the items inside is distributed all over the body, and no one place might hurt or bother you. For young children as well, this item is a must-have.
3. Swagtron Hands-Free Smart Board Backpack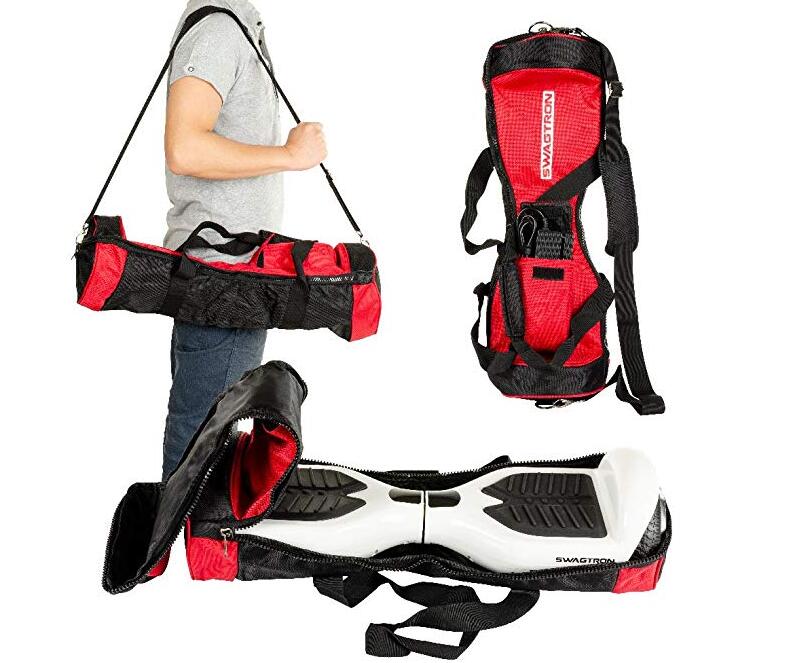 A hoverboard bag that takes everything up a notch, the Swagtron bag is made especially for hoverboards that might be too heavy or have a different shape than the usual ones. It is compatible with most luxury boards, which makes it a unique item in the market. When you have to go out in the rain or snow, your board will be dry, and you can maintain its worth. There is a sling strap on this bag so that when your shoulders get tired, you can take it off and carry it in your hands instead.
The durable nylon material made for this bag is unique. The red color will also stand out, and you will not lose sight of your bag in a crowd. This board is made for two-wheel hoverboards only. Sometimes there is no space to put anything else inside, which can be a bit bothersome. But if you are smart enough, you will work your way around these little things and still use the bag efficiently. It gives you a lot of room to be responsible and take care of your board all the time.
4. GameXcel Hoverboard Sticker
To enhance your hoverboard and make it more stylish and unique, the sticker by this company is one of the best options you have. It includes a 3M Vinyl construction and uses Premium HP Eco Solvent Inks for printing. These links do not lose their shine and charm as time goes on and keep the colors intact. The ink is of superior quality and is also durable and waterproof. The best thing about this sticker is that you need to put it on your hoverboard yourself. This is a learning experience for the kids. The skin fits the boards very neatly easily. You can cut the sticker according to the size you require and paste it in all the needed places.
The thing about this sticker is that it will protect your board from scratches as well. As the material is tough, the inside of the hoverboard is safe at all times. So for people who have to travel on rough surfaces with rocks and edges popping out, a sticker is a good way to keep the surface nice and clean. You will be the envy of all the neighborhood kids.
5. FBSPORT 6.5inch Silicone Scratch Protector Cover Case
Taking care of your hoverboard should be your priority. No matter where you live and how rough your terrain is, there are many items that you can use to keep your hoverboard running for a long time. One of these items is the protector cover case. It is a shock-absorbing design item that will protect the outer layer of the board by adding a layer of silicon skin. The technology used is very new and modern, so it will definitely work for your product too.
The best part about this item is that you do not have to use glue to install it. It is a simple procedure of sliding on the cover. The grip allows the cover to stay firmly attached to the board. The item comes in many different colors.
You can choose the one that goes with your board. This item is perfect for all kinds of products and sizes. It also comes with a warranty, so if something is not working correctly, you can contact the company and assist you.
6. WorryFree Gadgets New Hovercart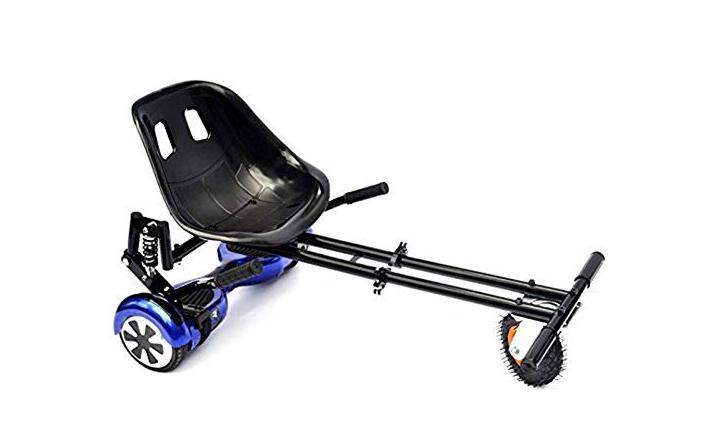 Not many people know this, but you can use your hoverboard for more than just the normal way of riding. You can do a lot that will increase the amount of fun you have and make your day more vibrant. You can now sit down on the hoverboard and ride it like a normal cart with the hover cart. The self-balancing scooter will fit into the cart seat perfectly. You can adjust the details according to your wishes.
With the added hand grips, it is easy to stand up and be safe when the hoverboard increases speed. The ideal fit is the 6.5″, 8″, and 10-inch Hoverboards. To get a more perfect and real karting experience try this on the grass and a bumpy road. Some people often get confused about attaching this on the hoverboard, but this will not be a tough task if you follow the instructions manual. It might take some time to get familiar with the handles and the buttons that control speed, but there is no other issue once you know them. You will have a great time riding.
7. Swagtron Hoverboard Carrying Bag & Case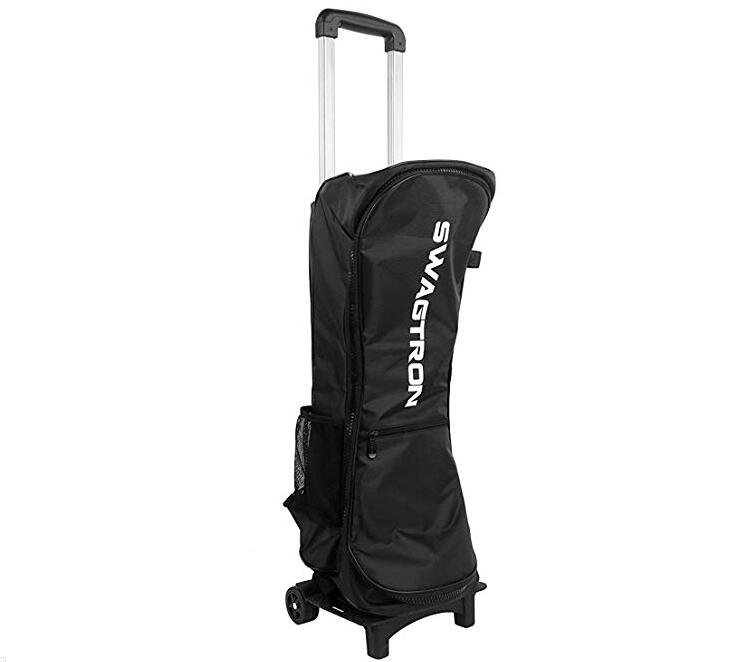 A carrying bag and a case are a must-have when you own a hoverboard. That is why these products are abundantly available in the market. The hoverboard carrying bag and case is unique because it stores many things in very little space. You can roll out or backpack it. The carry straps are also very durable. The suitcase-like handle and wheels make the process of dragging much easier while your board remains safe inside.
For people who have back issues and cannot carry heavy-weight items, this bag is perfect. They will feel relaxed and will also know that their hoverboard is safe with them. The dimensions are 25.19" x 10.23" x 9.44" (64 x 26 x 24 cm), which means you can fit this bag anywhere in your car. It will not take up a lot of space either. A carrying bag also gives you the choice of keeping more items in it. You can use different pockets for keeping bottles, chargers, and various small items. Make the most out of this bag, and it will not let you down.
8. HoverSeat Hoverboard Sitting Attachment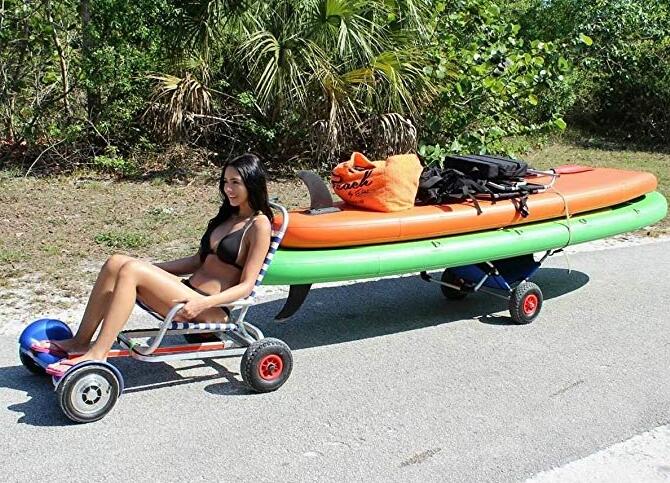 Last but not least, we have the sitting attachment for the hoverboard. This is a product for people who want to have fun but are too tired to exert their legs. This product makes your rides safer fun, and even small kids can use them without putting themselves in danger. Your hoverboard becomes a mini electric vehicle with the advanced settings that are available in this attachment.
You can have a grand time with your friends and enjoy every moment. A lot of people fear that they will fall off the hoverboard when they first buy the item. Soon, however, you will get rid of this fear. When the hoverboard hits a crack or bumps in the pavement, you will be sitting safely.
The basic idea in this board is to use your feet to navigate through the path. There are some technical aspects to this board that you have to keep in mind when buying it. Make sure the board is compatible with the attachment. You can keep your storage bag and other items on the back of the seat. It perfectly caters to all your needs.
Conclusion
You can never be sure about what you want to buy until you search for the products yourself. However, this list will cover all the basic things a person might need. You can choose the must-have accessories from these. This way, when you are shopping, you waste no time determining the quality of the products. Make sure you pick the items which promote safety while also making you and your family have a good time.