Hoverboard riding is a thrilling and exciting sport, though it might be risky for kids and beginners. If they are not properly supervised, it becomes difficult and they might injure themselves or someone else.
For beginners, you need to choose the right hoverboard. These hoverboards need to have self-balancing technology so that beginners can easily control speed and balance. In addition, it must have a riding mode suitable for beginners, which can easily adjust the speed. The most important thing is to pass the UL 2272 certification to ensure the safety of riders.
If you are just starting to learn to ride a hoverboard, you need to know how to control it. This guide can help you learn in detail how to ride a hoverboard. There are so many hoverboards on the market, it is often difficult to choose. After careful research, we have selected the 6 best hoverboards for beginners. But before that, let's take a look at what factors should be considered first.
Factors to Consider in Selecting the Best Hoverboards for Beginners
1.Quality
Hoverboards do not hover, only the added features like; tires, fenders, chassis, LED lights, and remote control makes it seem so.
However, all these features must be made from high-quality components, to guarantee efficiency and durability. This is one of the things to look out for before buying any hoverboard. Also, the battery of the board must be UL rated, and the hoverboard itself must have a UL 2272 certification.
2. Speed
Here is another good factor to consider. Most beginners go for hoverboards because they want to feel the thrill of riding one. Most people do not care about the destination or the pace at which the hoverboard is going.
However, the speed should also be put into consideration. This would help match the price of the product to the functionality it offers. Most hoverboards have a regular speed between 7 and 10 mph. Very fast products are not suitable for beginners, and ordinary hoverboards with speeds between 7 and 10 mph can meet the needs.
There are some exceptional cases where the hoverboard might go as fast as 12 mph. What determines the speed of the hoverboard is the road, weight, gradient of the terrain. These also determine how far the hoverboard would go.
3. Convenience
This factor has other things embedded in it. Some of them are how easy the hoverboard is to use, the weight, and portability. The lighter the hoverboard, the better. This means that the board would be easy to carry around, but it could also mean that it would not carry a rider with a heavyweight.
This is true, but some brands have been able to produce lightweight hoverboards that can carry a lot of weight (some of these brands would be reviewed later)
4. Price
Regardless of what you are buying, you should always have a stipulated budget in mind that you cannot exceed. This would make you cautious about what you buy. It would also allow you to study the different models available, so you would pick the best your money can buy.
Some pocket-friendly products with amazing features would be reviewed on the list. However, if you want the best quality, you should be ready to spend more.
5. Efficiency
If you don't want a hoverboard that takes forever to charge, and only use it for 10 minutes after charging. You should buy an efficient, long-lasting hoverboard. You would have to carefully read the features of the hoverboard before making your decision whether to buy or not.
6. Bluetooth Speaker
Bluetooth technology is usually not required for beginners. But it can increase the fun of riding and make children happy to learn. You can connect your phone to the hoverboards and enjoy music while riding.
7. LED lights
The flashing LED lights on the wheels can make the hoverboard look very stylish, which is attractive to children and beginners. In addition, the front LED lights can help beginners to ride at night and provide a safe riding experience.
8. Legal Issues
In places like New York, Duke University, Hong Kong, hoverboards have been banned because they would cause commotion in crowded areas.
So, you would have to be certain that it is legal to ride a hoverboard in your locale before cruising your boards on the streets. However, this does not mean you cannot own a hoverboard, you can own one, and ride it in the comfort of your home.
It is not harmful to anyone, and you can ride your hoverboard safely. You can make your findings from your local police department, to remain safe.
6 Best Hoverboard for Beginners and Kids
1.  TOMOLOO Hoverboard
TOMOLOO is a popular hoverboard brand for beginners. This brand has a beautiful design, and it is one of the most expensive Hoverboards available. There are different reasons why this product is among the most expensive.
It is easy to control, and it can be done using a smartphone. The TOMOLOO hoverboard provides a smooth and memorable riding experience. You can use your smartphone to configure speed and sensitivity. This would help ensure a safe ride.
It also has foot pedals with a tight grip, they make it easy and safe for beginners to ride the TOMOLOO hoverboard. The thick tires provide agility and accurate rotation. The brake system also helps provide an amazing user experience.
It can go as fast as 6.5 mph for up to 12 miles. Charging might take up to 2 hours, and the battery life is 60 minutes. When you exhaust the battery, you can always switch to an extra pair. For beginners without a trainer, this hoverboard goes slower in training mode for an easier and smoother riding experience.
Features
Fast charging.
It is made using the latest technology.
User-friendly design.
Pros
Easy to use.
Compatible with a smartphone.
Beautiful design.
Cons
It is expensive.
Scratches easily.
Not great for rough terrain
Verdict
All beginners fall in love with this product and the reason for this is not far-fetched. It is simple and easy to use. It does not require any instructor, and its training mode would make it more encouraging for beginners. It's smartphone control and quality speakers make it thrilling to use.

2.  JOLEGE Hoverboard
This hoverboard works great for both kids and adults. It is fun and easy to use. It is a stylish mode of transport within and outside the home. There are different colors available for you to select from, and this family hoverboard would meet up with your expectations. It can rotate anywhere using its self-balancing mechanism.
This hoverboard is suitable for traveling, and it has an average speed of 6MPH. There are 2 LED lights that come in handy at night. It illuminates the road and creates an exciting sight while riding at night. The top-notch wheels offer amazing traction on different surfaces.
You can test the battery and performance of this model before you make the purchase. Its lightweight design can handle as much as 260 pounds. There are other amazing features you would enjoy when you buy this product, some of them are; inbuilt Bluetooth speakers and sturdy construction.
Features
Bluetooth speakers.
UL certification for safety and performance.
Durable construction.
Pros
Easy to use.
Anti-skid traction wheels.
Cons
The battery does not last.
Verdict
This is a great hoverboard for beginners, and it is pocket-friendly. It is suitable for different road tractions. its sturdy and fashionable design makes everyone want to go for the product.

3.  Flying Ant hoverboards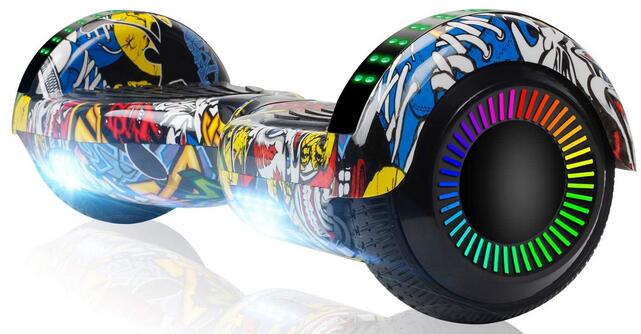 This two-wheel self-balancing hoverboard is safe for beginners, and it has successfully passed all prerequisite tests, and this makes it suitable for beginners. It is made from fireproof materials, so it works well during high temperatures and it does not burn from overriding.
Its wireless Bluetooth technology would help beginners remain safe, and it can also connect to mobile phones. This makes the hoverboard more desirable. It is fun and easy to use. Its stylish layout also includes LED lights that ensure safe rides at night.
Its self-balancing design is among other unique factors that this hoverboard boasts of. It has a full charging time of 2-3 hours, and it can go up to a maximum of 12 miles per hour. The battery life of this product depends on the weight of the rider and the size of the wheels.
Features
Long battery life.
Fast charging.
Manual for beginners.
Pros
It is very safe.
Pocket-friendly.
Easy to learn.
Cons
Poor Bluetooth connectivity.
Verdict
This hoverboard makes use of the latest technology to help provide effectiveness and efficiency. For, most technology inclined riders, this is the best hoverboard to go with. It is also easy to use.
4.  Spadger SS1 Jr Hoverboards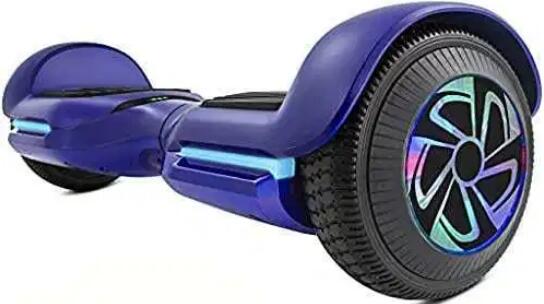 This is another safe hoverboard for beginners, it has passed all safety and security requirements. It's UL 2272 certification and is made using only the best of anti-inflammable materials available. During overriding or high temperatures, the body of this hoverboard would not burn. With this product. The safety of the rider is never compromised.
This hoverboard supports Bluetooth technology, and it also ensures that the amateur riders have a safe ride, and you can easily connect to the hoverboard using your smartphones. The stylish and unique design of this product engages its self-balancing feature while riding. It has a strong shell structure, and the scooter would balance well even when on top speed.
Spadger SS1 Jr is made using thick 6.5 inches tires that ride well in muddy, rough, and grassy terrains. It is lightweight and can handle up to a maximum weight of 260 pounds, and is suitable for beginners.
Features
High battery capacity.
5 inches rubber tires.
Pros
Easy to use for beginners.
Fast charging.
Pocket-friendly.
Cons
The motor is only 250 watts.
Feeble case, and prone to easy damage.
Verdict
The fast charging of this battery makes it suitable for most riders and it can go a maximum of 7.5 miles per hour. The battery efficiency depends on the rider's weight and wheel size. It is suitable for beginners and can handle any type of terrain.

5. TPS 6.5-inch Electric Hoverboards
This is a self-balancing scooter, and it offers a smooth and safe ride for all beginners. The wheel is made from aluminum and rubber, and they are fire-resistant. They can support up to 200 pounds, and it also has an upgraded Bluetooth technology that provides music for a more pleasurable journey, so there is no need for headphones.
This product has passed UL 2272 and UL 2271 security tests. It is made using anti-fire materials, so it does not burn due to high weather temperatures or overriding. The stylish design has attractive LED lights on the front, back, and wheel of the hoverboard.
The dual-motor power is up to 300 watts, and it has a lithium-ion battery capacity. This rechargeable hoverboard has a fast charger, and it can charge up to 2 hours and can go up to 6 miles per hour. The battery life depends on wheel size and the rider's weight.
Features
It has a carrying bag.
Manual for beginners.
A maximum speed of 6 MPH.
Pros
Easy to use and balance.
It comes with a fast charger.
UL 2272 and 2271 certification.
Cons
Available in a single color.
Verdict
The dual-motor power of this hoverboard makes it strong and safe enough for beginners. It is easy to charge and can last for a long time depending on the weight of the rider.

6.  MEGA WHEELS: Self Balancing Scooter
Part of the thrills a beginner enjoys from hoverboard riding is the stylishness that comes with it. This compact board is perfect for beginners and is pocket-friendly. It was made using quality materials that make the ride a lot of fun, and it also keeps the rider properly entertained during the rides.
The built-in LED lights would make the ride a rollercoaster. The powerful battery takes 3 hours to charge fully, and you can go 7 miles per hour, this hoverboard weighs 26.5 pounds, and its wheels are up to 6.5 inches.
Features
Fancy LED lights.
Bluetooth speaker.
Simple learning system.
Pros
Easy to use.
Supports heavyweight.
Suitable for smooth surfaces.
Supports Bluetooth connectivity.
Cons
Not suitable for rough terrains.
Difficult to move around.
Verdict
Though this hoverboard is not easy to move around, it is suitable for those that are on a tight budget. It is safe and easy to use for beginners.

Final Verdict
After reading this article, hoverboard lovers should be aware of the factors they have to put into consideration when they want to buy any hoverboard. Also, all beginners would be properly guided to ensure that they have a safe and pleasurable experience while riding hoverboards.
All the important features have been discussed, and all the hoverboards on this list are safe, secure, easy to use, and control, this would help make it easier for a beginner to own and use a hoverboard.
Like it? Please share with your friends! Thanks!