Although the hoverboard has been one of the most popular toys for children and adults now, many people still remember the story of the fire and explosion of the hoverboard. The core of the problem is the hoverboard batteries. They are also mainly why hoverboards were banned by over 60 airlines, cities, and college campuses. However, NOT every hoverboard batteries are dangerous. Some of them are high quality and very safe. But with so many products on the market, how should we choose the best ones? This article will discuss some reliable and highly rated hoverboard batteries.
What type of battery does a hoverboard use?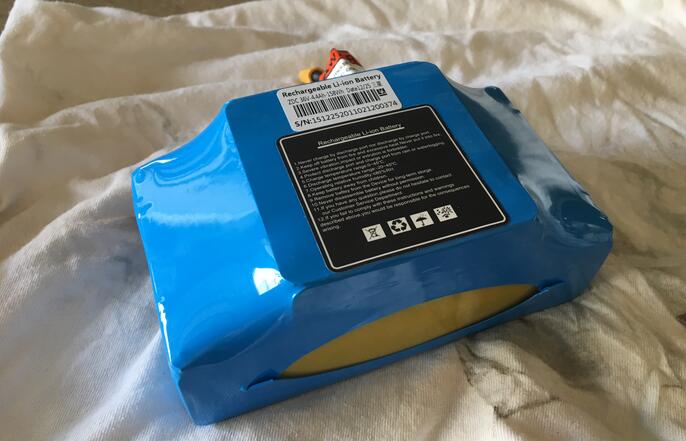 Hoverboards typically use Lithium-ion batteries due to their high power output, efficiency, and long lifespan. Lithium-ion batteries are lightweight and can store a lot of energy, making them ideal for hoverboards. They also have a high cycle life, so they can be charged and discharged many times before losing capacity.
While some low-end models or specialized applications may use Nickel-cadmium or Lead-acid batteries, Lithium-ion batteries are the most commonly used and recommended type for hoverboards.
Importance of choosing the right battery
Choosing the correct battery for a hoverboard is crucial because it directly affects the performance and safety of the device. The battery is the primary power source for the hoverboard, and it determines how long the device can operate on a single charge and how fast it can go.
If the battery is too weak or of poor quality, it may not be able to provide the required power to the motor, resulting in slow speed or reduced range. A weak battery can also cause the hoverboard to overheat, which can be dangerous for the rider and the device.
On the other hand, if the battery is too powerful, it may damage the motor or cause the hoverboard to accelerate too quickly, which can also be unsafe. Additionally, an improperly sized or incompatible battery can damage the hoverboard's circuitry.
To ensure the safety and optimal performance of the hoverboard, it is essential to choose a battery that is compatible with the device's specifications and requirements. The battery should also be of high quality and from a reputable manufacturer to minimize the risk of malfunction or safety hazards.
Understanding Battery Specifications
Understanding battery specifications is essential when choosing the correct battery for your hoverboard. Here are some of the critical specifications you should be familiar with:
Voltage: Voltage measures the electrical potential difference between the positive and negative terminals of the battery. Hoverboards typically use batteries with a voltage ranging from 36V to 48V. A higher voltage means the battery can provide more power, faster speed, and longer range.
Capacity: Capacity refers to the amount of electrical energy a battery can store and is measured in Ampere-hours (Ah). Hoverboard batteries typically have a total of 2Ah to 5Ah. A higher capacity means the battery can provide more power for a longer time, resulting in a longer range.
Watt-hours: Watt-hours (Wh) is another measure of a battery's energy capacity and is calculated by multiplying the voltage and the Ampere-hours. It is a more accurate measure of the battery's capacity than Ampere-hours alone.
Charging time: Charging time refers to the time it takes for the battery to recharge fully. It is affected by the battery capacity, charger output, and other factors. Hoverboard batteries typically take 2 to 3 hours to charge fully.
Cycle life: Cycle life refers to the number of times a battery can be charged and discharged before it starts to lose its capacity. Li-ion batteries typically have a cycle life of 500 to 1000 cycles, while NiCad batteries have a cycle life of 1000 to 2000 cycles.
Chemistry: Battery chemistry refers to the type of materials used to make the battery, such as Lithium-ion, Nickel-cadmium, or Lead Acid. Different battery chemistries have different performance characteristics, advantages, and disadvantages.
Factors to Consider When Choosing a Hoverboard Battery
Choosing the correct battery for your hoverboard is crucial for its performance and safety. Here are some factors to consider when selecting a hoverboard battery:
Battery type: The type of battery you choose will affect the hoverboard's performance, weight, and cost. Lithium-ion batteries are the most commonly used and recommended type for hoverboards due to their high power output, efficiency, and long lifespan. Nickel-cadmium and Lead-acid batteries can also be used in low-end models or specialized applications.
Capacity: The battery's capacity will determine how long your hoverboard can run before needing a recharge. A higher-capacity battery will provide longer ride times but will be heavier and more expensive. Consider your typical usage and choose a battery with a capacity that suits your needs.
Voltage: Voltage measures the electrical potential difference between the positive and negative terminals of the battery. Higher voltage batteries can provide more power, resulting in faster speed and longer range. However, higher-voltage batteries can be more expensive and heavier.
Charging time: Consider how long it takes to charge the battery fully. Some batteries can be fully charged in as little as two hours, while others may take longer.
Cycle life: The number of times a battery can be charged and discharged before it starts to lose its capacity is known as cycle life. Consider the battery's cycle life and ensure it is suitable for your typical usage.
Safety: Safety is a critical consideration when choosing a hoverboard battery. Select a battery with proper certifications and safety features, such as overcharge and short-circuit protection.
Brand reputation: Choose a battery from a reputable brand with a good record of producing quality batteries. This can help ensure that the battery you choose is reliable and performs as advertised.
6 Best Hoverboard Batteries Worth Your Money
Alatilo 100% New 36V 6.0ah Lithium Battery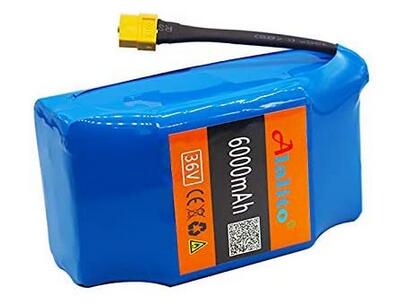 You must have already known the fact that hoverboards don't hover! But you can make them run faster and smoother once equipped with genuine and powerful batteries! One such battery is Alatilo 36V which offers about 6000mAh charging capacity to last longer than usual. A large charging capacity powers these self-balancing scooters for a day or two.
This 6.0-ah battery hovers like a jet and improves stability with its lightweight feature. Additionally, hoverboard users will ride safely and smoothly with its short circuit protection feature.
Are you busy during the day and don't want your battery to drain out all its charges to enhance battery life? Don't worry; the automatic discharging option helps with safety and security since it cuts off the charge when you're not using the board to prolong its lifespan.
Specifications:
Rated voltage: 36 V

Capacity: 6000mAh

Size: 135*65*85mm

Maximum discharge current: 10A
Standard charging: DC 0.2C
Weight: less than 1 KG
Notable Features
: UL Certified, long life cycle, short circuit protection, prevent discharge,
fast delivery within 3-7 days.
Pros:
High safety standards
36V and 6000 mAh
Perfect for hoverboards and two wheels scooter
Prevents current discharge
Cons:

FREEDOH 2-Wheel Electric Scooter Lithium Battery
FREEDOH has a 36V 4.4Ah battery with optimum power and builds quality to survive longer than the traditional ones. Premium build quality offers you an easy run on the streets and a safe ride experience back to your home. You can apply it to multiple electric bicycles, motors, notebook power supplies, electric vehicles, etc.
The rate at which this battery charges and discharges are considerably improved over Alatilo. The heavy-duty, unique line configuration makes it perfect for hoverboards, self-balancing scooters, and more. Overall, it'll be an environmentally friendly choice to conserve the surroundings.
Furthermore, the FREEDOH 2 Wheel Battery includes eight protective features, including overload protection and overcurrent protection. The 8800 mAh battery capacity enables you to ride the hoverboard for days. Additionally, the automatic switching along with short-circuiting protection. Ensure not to put the battery in the water or mix new batteries with used batteries.
Specifications:
Battery type: lithium-ion battery

Rated voltage:36V

Capacity: 4400mAh

size: 130* 72 * 55mm
Notable Features: UL Certified, High quality, charging times reach more than 500 times, overload protection, overcurrent protection, temperature protection, pre-discharge function, and short-circuit protection.
Pros:
High build quality
Environmentally friendly
Eight protection features
4400 mAh capacity
Cons:

MeiMeiDa 36V 4.4 Ah Lithium Ion-battery
Hoverboard riders often encounter difficulties with the hoverboard's battery. They mustn't end their fun mid-way due to a dead battery. But worry not; the MeiMeida 36V battery is designed specifically for hoverboards. MeiMeiDA falls in the list of best hoverboard batteries as it has plenty of advanced features.
If you're out on the streets, the long-lasting MeiMeiDa 36V battery will keep you safe and protected regardless of the weather conditions. Moreover, gone are the days when overcharging and higher voltages might ruin the circuits of the battery. Not anymore with this MeiMeida 36V, as it has overcharging protection built onboard.
The hoverboard will still perform in winter and summer because the battery circuits have higher temperatures to withstand the heat from -85 to 392°F.
Pros:
Safety performance
Aging resistance battery
1.5 to 2 hours of backup
Weighs only 2.1 lbs.
Cons:

Yosoo 123 Balanced Scooter Battery
Large batteries can solve power issues but can ruin your hoverboard and mini scooter's balance point or center of gravity. That's where the Yosoo 123 battery comes into play!
These rugged 1 kg batteries boast premium quality solid and rugged material that can survive the roughest rides on the streets. It is safe for street boys on multi-wheeled scooters and hoverboards but offers a long operating life ideal for professional riders.
The large battery capacity of 4400 mAh and the continuous power supply make it an excellent replacement for your old and traditional battery. An additional bonus is the 1.5 hours of charging time and 15 km range, which is the cherry on top!
Specifications:
Battery type: lithium-ion battery

Rated voltage:36V

Capacity: 4.4 AH

Output current: 15-20A
Size: 5.2x3x2.3inch

Power: 158.4wh
Input voltage: 100-240V
Battery charging limit voltage: 42V
Charging time: 1.5-2 hours
Notable Features: UL Certified, High quality, premium material, long-life battery, Large capacity battery, short charging time.
Pros:
Maintains the balance
It weighs only 1 Kg
4.4 Ah battery capacity
Stable power supply
Cons:
Suitable for balance scooters only

25. 2V JETECH Hoverboard Battery
If your hoverboard doesn't charge or keep its charge, you'll need to look for a new battery! Whether your hoverboard stops randomly or the charging light never goes out completely, you can replace your battery with 25V JETECH and solve all your problems.
You can buy JETECH 25V in two sizes. The latest battery is a 4000mAh capacity and is equipped with the latest Lithium-ion conduction technology, the same as Tesla car models.
There is enough power in the JETECH to run a 250V hoverboard motor with a steady, steady amount of power. The hoverboard battery is compatible with the standard 25.2% hoverboard charger, so you don't need to buy a new charger.
Pros:
25.2V DC power
100.8 Wh
Lithium-Ion power
4000 mAh battery capacity
Cons:
Not a replacement for 36V battery

Samsung Battery Replacement for Hoverboards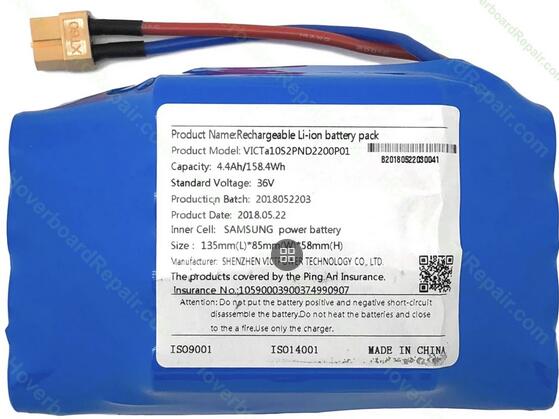 Buying an expensive hoverboard battery is not obligatory, as not everyone can afford one. Worry not, though, as we've covered you with our best Samsung replacement battery at an affordable price.
These Lithium-Ion batteries have a 4.4 Ah capacity and can retain the charge to run the hoverboard for hours. The 36V battery is equipped with a Samsung Inner Cell, backed by a genuine manufacturer's warranty.
Pros:
Perfect replacement for 36V scooter batteries
4.4Ah charging capacity
158.4W power
Cons:
Hard to install for some users

How to Maintain Hoverboard Batteries?
Proper maintenance of your hoverboard battery can prolong its lifespan and ensure optimal performance. Here are some tips for maintaining your hoverboard battery:
Charge the battery correctly: Follow the manufacturer's instructions on charging the battery. Do not overcharge the battery or leave it on the charger for an extended period, as this can damage the battery. Avoid charging the battery in extreme temperatures, such as in direct sunlight or freezing.
Store the battery correctly: Store the battery in a cool, dry place away from direct sunlight or extreme temperatures. Do not store the battery fully charged or depleted for extended periods, as this can damage the battery's capacity.
Avoid water damage: Hoverboard batteries are not waterproof, and exposure to water can damage the battery. Avoid riding your hoverboard in wet conditions or exposing the battery to water.
Inspect the battery regularly: Check the battery for any signs of damage, such as cracks, bulges, or leaks. If you notice any damage, stop using the battery immediately and seek professional help.
Use the hoverboard correctly: Avoid overloading it with excessive weight or riding on rough terrain, as this can strain the battery and damage it.
How to Test if Your Hoverboard Battery Needs Replacement?
If you doubt that your hoverboard battery needs replacement, follow these few steps and find out. First, plug the charger into the wall plug and notice the light. It should turn green, and once you're sure the charger is functional, plug in your toy.
However, ensure you align the three prongs to the divot at the end. If your battery doesn't need replacement, the light on the charger will turn red. The red light suggests everything works correctly, and your hoverboard battery is charging.
However, if the light does not turn red but stays green, it's probably because your battery is full. Or it would help if you had a new battery. If you're unsure if your battery is full, follow these simple steps to check.
Step 1: First of all, unplug the charger from your toy. Next, please turn it on. If your hoverboard shows red blinking in the center, your battery is faulty, so you must purchase a new one.
Step 2: If your toy doesn't turn on after full charge time, you should replace your battery or motherboard. I would contact a pro who can detect the main problem.
Step 3: If your toy turns on and you play with it for hours, nothing is wrong with it or your battery. If this is your first time buying a hoverboard and you do not know how to charge the battery, this is how you do it safely. Follow these tips, and you will do just fine.
How do you charge the battery on a hoverboard?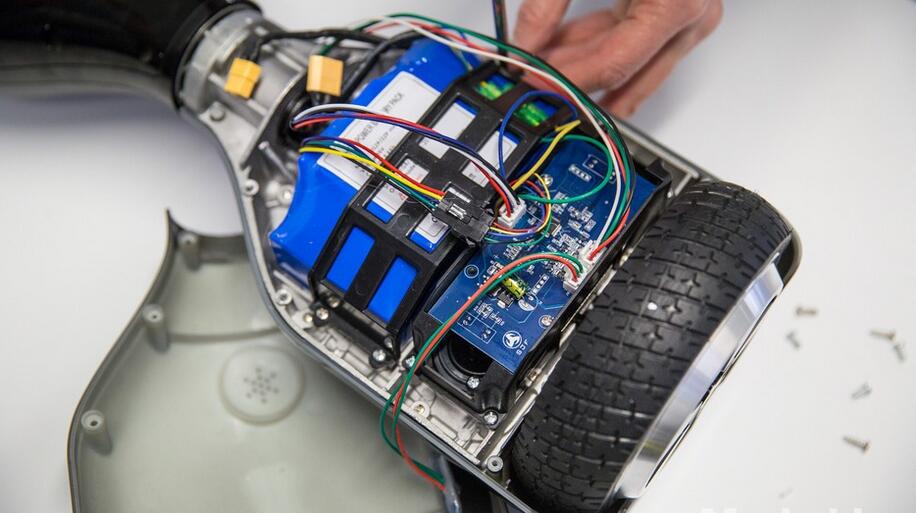 Legitime hoverboards require a standard charge. If this is your first time charging a hoverboard, follow these simple tips and do it correctly.
Tip 1: First, you should charge your hoverboard with the proper charger. And make sure that the voltage is suitable for your toy. Aside from that, electric razor products ask for 24 or 36-voltage chargers, depending on the type of hoverboard. Next, plug in the charger.
Tip 2: Plug the charger into the correct power outlet. And when you insert the charger of your toy, pay attention to the charger's light, as mentioned before. It should appear green. After, plug the charger into the charger port of your toy.
Tip 3: The light should appear red once you plug the charger into your toy. And after it's fully charged, the charger should turn green again. The final step is to unplug it from the wall and charger port. And that's it! You can now ride your hoverboard for the first time.
Common Hoverboard Battery Problems and Solutions
Hoverboard batteries can encounter several common problems. Here are some of the issues and solutions to consider:
Battery not charging: If the battery is not charging, ensure the charger is functioning correctly and compatible with your hoverboard. Check the battery's connections to make sure they are clean and secure. If these solutions do not work, it could be a problem with the battery, and you may need to replace it.
Battery draining quickly: If the battery is draining quickly, check for any battery-consuming activities, such as riding uphill or at high speeds, and adjust accordingly. It could also be a sign of an aging or damaged battery, in which case you may need to replace it.
Overheating battery: An overheating battery can be a severe safety hazard. Avoid charging the battery in high-temperature environments or for extended periods. If you notice the battery becoming too hot, disconnect it from the charger immediately and allow it to cool before resuming use.
Frequently Asked Questions
1. What is the average lifespan of a hoverboard battery?
The average lifespan of a hoverboard battery can vary depending on the type of battery, usage, and maintenance. Typically, a high-quality Lithium-ion battery can last 2-3 years with proper care and maintenance.
2. How do I know when it's time to replace my battery?
You may notice a decrease in battery life or power output, or the battery may not hold a charge as well as it used to. Additionally, if you notice any signs of damage, such as cracks, bulges, or leaks, it's time to replace the battery.
3. Can I use any battery in my hoverboard?
No, you should always use the recommended battery type and model specified by the manufacturer. Using a different battery can damage the hoverboard and pose a safety hazard.
4. How do I maximize the lifespan of my hoverboard battery?
Proper maintenance, including charging and storing the battery correctly, avoiding water damage, and using the hoverboard correctly, can help maximize the lifespan of your hoverboard battery. Additionally, avoid overloading the hoverboard with excessive weight or riding on rough terrain, which can put extra strain on the battery.
5. How long does it take to charge a hoverboard battery?
The charging time can vary depending on the battery capacity and the charger's power output. Typically, it can take 2-4 hours to charge a hoverboard battery fully.
6. Are hoverboard batteries safe?
Hoverboard batteries can be safe if used and maintained correctly. However, there have been battery-related safety incidents, such as fires and explosions, due to poor quality or faulty batteries. It's essential to purchase high-quality hoverboards from reputable manufacturers and follow the manufacturer's instructions for battery use and maintenance to ensure safety.