Hoverboards, also known as self-balancing scooters, are a new and popular vehicle. These self-balancing scooters are not only fun to ride, but also cool and easy to master. Moreover, they do not require assembly and are safe to use, making them ideal for children. Many people ask how much do hoverboards cost for popular models in 2020? This is not easy to answer, but its price typically ranges from $ 100 to $ 700.
Many people are interested in hoverboard cost but aren't sure how to choose the right one that is still a great price. This guide will help you find the right hoverboard for you by not only comparing the price but also making it simple for you to find functionalities and features offered by different hoverboards.
Different Price Ranges in the Marketplace
Just like with everything else, you get what you pay for when it comes to hoverboards. The newest and most feature-packed models in the market are a bit more expensive, whereas the ones with just the basic features will be more affordable.
However, that does not mean that acquiring the most expensive models in the market is a wise choice for everyone. Sure, they are packed with features and technologies (including being water resistance, having a smartphone app integration, Bluetooth speakers, LED lights, and much more) but they are not necessary for everyone.
With that explanation in mind, here is a breakdown of the different price ranges in the marketplace.
This is the lowest range for dependable hoverboards in the marketplace. For $100 – $200, you can get yourself a reliable, but quite a basic hoverboard. The gadgets in this price range are also great for both new and seasoned hoverboard rides, but the latter probably will not be enticed.
After all, they are used to premium models and a basic one means they will have to sacrifice some of the most important features to them, including, longer traveling range, a higher speed, and maybe even a quicker charging time.
For seasoned riders like me, this is what is usually regarded to as the "sweet spot" for hoverboards. In this price range, you will now encounter "almost-basic" hoverboards that have been packed with premium qualities and technologies such as higher speed, Bluetooth speakers, off-road capabilities, LED lights, a longer warranty, and much more.
Better yet, the build quality of gadgets in this range is also a bit better compared to the one you would find in devices in the $100 – $200 price range. This, in turn, awards you a more durable and rugged hoverboard.
The range and battery charging time also get better at this level.
If you're an avid hoverboard rider who would like to acquire some of the best hoverboards in the marketplace, this is the price range that you should be looking at. If you're wondering how this level differs from the second range we just touched on, I have a short answer for you; It gets you everything.
All the extras you have ever heard of in the realm of hoverboards will be included in gadgets of this range. Astounding durability, the fastest riding speed, and the longest range are all features you should also expect to find in such hoverboards.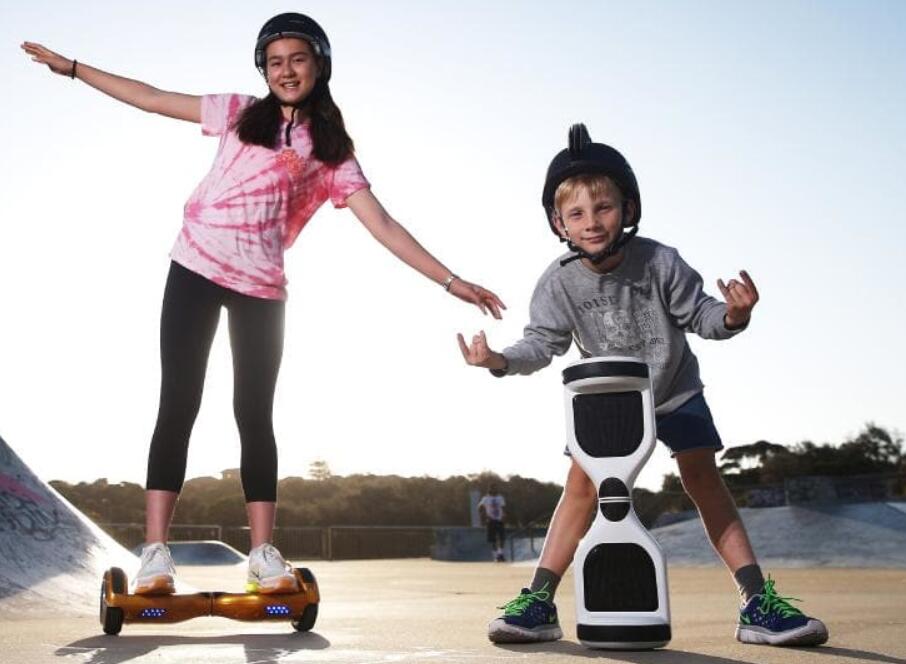 Should You Avoid Cheap Hoverboards?
There is an old story about a poor man and a rich man. They both needed a pair of boots. The poor man could afford the $10 per pair of shoes that could only last a year. The rich man, on the other hand, could afford the $30 per pair of shoes that had the potential to last up to five years. Because the rich guy spent more cash upfront, he had less to spend on shoes in the long run.
Things work the same way when it comes to hoverboards. If you buy the cheapest one in the market, expect it to break down in the near future, which will, in turn, require you to get a new one. If you buy a nicely priced one, however, you can expect it to last a long time if you take good care of it.
How to Choose the Best Self-balancing Scooters?
Before delving into "how much is hoverboard", you should prioritize how to choose the best self-balancing scooters? When choosing the right hoverboards, in addition to the price, the following factors should also be considered. These factors include maximum speed,wheel size, building quality, battery life, energy efficiency,  charging time, weight capacity and safety guidelines.

1. Speed Range
Most hoverboards have a speed range of 2 mph to 10 mph. Some brand models can reach 12 mph. However, this is the standard speed because there are many factors that affect speed. These factors include the incline, the terrain, the weight of the rider, etc.
2. Wheel Size
The hoverboards mainly include three wheel sizes: 6.5 inches, 8 inches, and 10 inches. Smaller wheels (6.5 inches) are generally lighter and easier to carry around. However, they are often limited to areas with smooth, wide and flat surfaces.
Larger wheels (10 inches) drive more smoothly, even on rugged terrain. But they are heavy and not easy to carry. So if you want to do more cool hoverboard tricks, you can choose a smaller wheel size. If you want to use your hoverboard as a means of transportation, 10-inch wheels will be a better choice. Besides, the 8-inch model is a compromise balance in between.
3. Building Quality
The manufacturing quality of hoverboards usually varies widely. These differences include the materials of the frame, wheels, and housing as well as internal motors, sensors, and electronics. So when you're ordering online, you'd better read the online customer reviews carefully. Try to choose popular brands and generous return platforms such as Amazon.
4. Charging Time
Charging time is also an important factor when you are buying a hoverboard. The average charging time may vary for different brands. The battery type and type can also affect the charging time.
The charging time usually depends on the size of the hoverboard. The smaller the hoverboard, the less time it takes to charge. Conversely, the larger the hoverboard, the more time it takes to charge. On average, most hoverboards take about 2-3 hours to get fully charged.
5. Weight Limit
The weight limit of the hoverboard is another important factor. In general, a 4.5-inch hoverboard is limited to 120 pounds(55 KG). The 6.5-inch hoverboard weight limit is 220 pounds(100 KG). The 8-inch hoverboard weight limit is 265 pounds(120 KG). All manufacturers have stated minimum and maximum weight limits for their hoverboards. It is recommended that you choose carefully when you buy it.
5. Safety
When you choose a hoverboard, safety should always be the most important factor. Make sure that the hoverboard you buy has the proper UL 2272 certification.
Read the instruction manual carefully before you use it. Follow the manufacturer's recommended charging time and do not overcharge. Keep Hoverboard away from flammable materials when charging. Always wear personal protective gear when you ride a hoverboard.
List of Hoverboard Prices with Specification
Check out the list of recommended hoverboards below for the top rankings in the market.
| Picture | Product | Rating | Current Price | |
| --- | --- | --- | --- | --- |
| | XtremePowerUS Hoverboard | 3.7/5 296 customer reviews | $149.95 | |
| | Swagtron Swagboard Pro T1 | 3.8/5 946 customer reviews | $259.17 | |
| | WorryFree Gadgets Certified Smart Self Balancing Hoverboard | 3.5/5 32 customer reviews | $159.99 | |
| | OTTO Hoverboard with Bluetooth Speaker | 4.2/5 18 customer reviews | $173.99 | |
| | Swagtron Swagboard Vibe T580 | 4.0/5 505 customer reviews | $199.99 | |
| | Razor Hovertrax 2.0 | 4.2/5 532 customer reviews | $350.00 | |
| | EPIKGO Self Balancing Scooter | 4.1/5 152 customer reviews | $599.99 | |
| | CHO 6.5" Smart Self Balancing Scooter Hoverboard | 3.9/5 205 customer reviews | $135.00 | |
| | NHT 6.5" Aurora Hoverboard | 3.9/5 184 customer reviews | $148.00 | |
| | Lamborghini 8.5" Hoverboard | 4.3/5 15 customer reviews | $369.00 | |
| | Hoverstar Hoverboard 6.5" UL 2272 | 4.2/5 93 customer reviews | $125.00 | |
12 Popular Hoverboards Reviews in 2020 with Prices
There are a lot of models in the market that offer diverse materials and characteristics. This increase confusion and makes it difficult for you to make a pick. We have investigated these products and customer feedback carefully. Here are some best models with top of features and appropriate price and more.
1.

XtremepowerUS 6.5″ Hoverboard Self-Balancing Scooter
Sale
XtremepowerUS 6" inch Hoverboard Self-Balancing LED...
Fun for All Rider - Self balancing technology of the hover board makes it easier and safer for beginners & amateurs
Music Speaker and Smart System- Connect to the music speaker with phone, enjoy favorite music with high quality speaker
SGS Certified Lithium-ion Hoverboard Battery - Hoover board is SGS 800573 tested & certified for electrical, battery, & crafted shell to...
It's Almost Too Easy - It designed for fun loving thrill seeker like you with it self-balancing technology, with a 30 minutes extended lift...
Non-slip Foot Pads - Kids won't lose balance while riding because there are anti-slip foot pads that ensure a safe and adequate grip
It can be really difficult to find a high-quality hoverboard for sale for around $100, but this one from XtremePowerUS is currently available for just $119.95, which is part of the reason why it is so popular.
The XtremepowerUS self-balancing scooter features 6.5-inch filled tires to ensure a smoother driving on all terrains. According to the manufacturer, it can work on the rough stuff, mud, grass and even sand.
A two-hub 350-W motors ensure that XtremepowerUS can fly along at just under 10mph. Although it is recommended to keep its load below 170lbs for best performance, the maximum capacity can hold up to 176 lbs. XtremepowerUS is fully UL 2272 certified, that means it is very safe.
It features a very powerful lithium-ion battery that is designed to charge in two to three hours and provide plenty of use. One charge is enough to enable XtremepowerUS to travel 12 to 15 miles. This hoverboard offers the power that most people need to get used to how a hoverboard works without overspending.
The built-in speaker is bigger and more powerful than the average. Super bright LED lights allow you to ride safely in dark nights. As long as the battery isn't accidentally overcharged, this hoverboard will last for a long time and will continue to provide plenty of entertainment.

2. Swagtron Swagboard Vibe T580
Swagtron T580 App-Enabled Bluetooth Hoverboard...
BLUETOOTH ENABLED – Change modes, access map function, check batteries, And play music during rides via the app And speakers
POWERFUL PERFORMANCE -Race up to 7. 5 mph and climb inclines of up to 30 Degree with the electric smart hover board's 200W dual motors
FOR ALL RIDERS – Using 3 modes, this hover board travels up to 8 miles per charge And carries riders between 44 - 220 lbs. Before riding,...
TACKLES ALL ADVENTURES – UL-approved materials And 6. 5" hard rubber tires deliver increased durability and ensure smooth rides
SAFETY CERTIFIED – The UL certified hover board has passed strict electrical and safety test to ensure customer peace of mind
Currently listed at $188, a savings of $50, this hoverboard is packed with some really neat features. Enjoy a map function, being able to play music, the ability to check batteries, and quickly change modes via the powerful and easy to use the app.
This hoverboard allow users the ability to travel at speeds up to 7.5 mph and to climb 30 degree inclines without any problems. The 6.5-inch hard rubber tires and non-slip footpads will increase the durability, stability and strength.
A smart battery management system can effectively extend the attery life. And fully charge the battery within two hours. Additionally, unlike some boards that have lower weight limits, this board can easily handle riders that weigh between 44 and 220 pounds. Thanks to the self-balancing feature, it's easy to learn how to ride on this hoverboard.
Although Swagtron T580 has classy design, coolness factor and excellent performance. It still have some disadvantage.The motor power is alittle low compared to others. And the color are only blue, red and black.

3.

Razor Hovertrax 2.0 Hoverboard Self-Balancing Smart Scooter
Razor Hovertrax 2.0 Hoverboard Self-Balancing Smart...
The world's original patented self-balancing Smart scooter
The new and improved Razor Hovertax 2.0 reacts to your every move to provide superior stabilization
Features silent, dual hub motors with gyro sensor Technology for a Super smooth, hover-board-like ride
Reaches speeds up to 6 mph with a Run time of up to 115 minutes of continuous use
Ul approved, safe 36V Rechargeable Lithium battery system
Unlike prior models of this hoverboard and ones released by other companies, Razor Hovertrax 2.0 Hoverboard is a self-balancing smart scooter. This smart scooter can spin 360 degrees and has a super smooth riding feel.
The smart scooter will starts self-balancing as soon as a rider steps on the hoverboard. Thanks to gyro-sensor technology, it can balance you magically and function in every place where people can walk. This is a great choice for urban commuters.
Razor Hovertrax 2.0 covers a new material called polycarbonate, which can protects against fire, short-circuiting and all potential hazards. Weighing around 12kg, Hovertrax 2.0 can easily and quickly climb inclines of more than 30 degrees without the rider being at risk.
Razor Hovertrax 2.0 offer a 36-volt battery and 350-watt motor, that can provide strong power. The smart battery management system can extent battery life and prevents short-circuiting when overcharging.
With a full charge, it can run for about 115 minutes at a top speed of 6 mph. In addition, it can carry riders with a maximum weight of about 100 kg.The wheels are durable and designed to offer you the ability to travel even on rough terrain without any problems.
The only drawback is the lack of waterproof certification. And the price $350 is much more expensive than some other models. Overall, it is very safe, easy to use, and offers plenty of power, making it a great option for users who want a little bit more out of their hoverboards.

4. Swagtron Swagboard Pro T1
Swagtron Swagboard Pro T1 UL 2272 Certified Hoverboard...
Cruise with swag on your hoverboard boasting an 8 mph top speed and 7-12 mile range - weight up to 220 lbs
UL 2272 certified - the SWAGTRON 2-wheel self-balancing scooter excelled in all electrical safety tests
This swag motorized scooter's new features include: LED headlights, battery indicators, rubber bumpers, and two riding modes
Patented SWAGTRON SentryShield smart battery management system provides multi layered hover skate-board protection
This balance scooter features an upgraded 250 Watt motor and gear stabilization for tighter control and downhill traction
If you are willing to pay a little more for your hoverboard, then you can opt for a slightly more powerful board. With a price of $299, but currently on sale for $249.99, you can get a great hoverboard that is packed with upgrades.
The Swagboard Pro T1 weighs only 23.6 lbs and has a maximum load of 220 pounds, which is 9.3 times its weight! This is one of the fastest charging hoverboards, only takes 1 hour to fully charge. It can travel up to 11-12 miles before needing to be recharged.
Not only is the battery leak-proof and designed for lots of use, but this hoverboard has LED headlines, rubber bumpers, and battery indicators. The 250-W motor is a little lower than what other hoverboards have, but it does have enough power to help you get around town.
Swagtron takes security seriously on all their products. Swagtron Swagboard Pro T1 is one of the first UL 2272 compliant hoverboard on the market. The safe stop technology and flame resistant outer shell further improve safety.

5. Swagtron T6 Terrain Hoverboard
Sale
Swagtron Swagboard Outlaw T6 Off-Road Hoverboard -...
NOTE: Kindly refer to the user manual provided as a PDF manual in the product description section
FOR ALL RIDERS – The T6 can handle up to 420 lbs, making it the best choice for riders of all shapes and sizes! Read instructions fully...
ALL TERRAIN - Roll over bumps and inclines up to 30° as you travel through mud, grass, rain, and even gravel.
12 MILE RANGE - The T6 off road hover board has a 12-mile range, and the capability to reach powered speeds of up to 12 MPH.
10" RUGGED TIRES - Dual rugged, 10" tubeless tires designed for all terrain exploration. 300 Watt Dual Motor. Charger voltage Input...
Swagtron T6 Terrain Hoverboard is another great self-balancing board from Swagtron. It provides almost all the new features of the self-balancing board.
This hoverboard has inflatable 10-inch rugged tires, perfect for running on rough terrain. It is one of the fastest hoverboards on the market, with a top speed of 12 mph. Swagtron T6 Terrain Hoverboard has very good control functions, making rotation, acceleration, and smooth running easier. It can easily climb up a slope of 30 degrees.
Swagtron T6 has built-in Bluetooth function, allowing music lovers to listen to their favorite music anytime. The LED lights can emit up to 6.5 feet of light in two different directions, making the night bright. In addition, legitimate UL 2272 certification ensures safer use. The only disadvantage is that it is not waterproof, but overall it has a high cost performance.

6. WorryFree Gadgets Certified Smart Self Balancing Hoverboard
It can be hard to find a compact and lighter hoverboard, but if you aren't interested in a really heavy board, then this one is a great option.
At only $159.99, it offers self-balancing, as well as durable alloy metal components that are designed to withstand a lot of wear without breaking.
Unlike other hoverboards on the market, this lightweight model will actually slow you down when the battery charge falls below 10% to help prevent the battery from draining completely and becoming ruined. This is a great feature, especially for people who are new to hoverboards and aren't sure how to take care of their new equipment.

7. OTTO Hoverboard with Bluetooth Speaker
There's something really cool about being able to listen to music while you are on your hoverboard. The bright pink skin of this hoverboard combined with the LED flashing light and Bluetooth speaker makes this hoverboard a really neat one to ride.
While it doesn't have the most powerful motor, as it is a less expensive model, it's perfect for younger riders or for people who are interested in just getting started riding a hoverboard. Thanks to the 6.5" wheels, this hoverboard can generally handle most any terrain, making it a great option for this lower hoverboard price of $173.99.

8.

EPIKGO Self Balancing Scooter Hover Self-Balance Board
EPIKGO Self Balancing Scooter Hover Self-Balance Board...
GO SAFER - UL 2272 Certified balance board with UL2271 Certified Smart Battery. Underwent and passed 159 tests regarding safety regulations,...
MORE POWER - EPIKGO has 400W Dual Motors that help it climb slopes as steep as 18 degree and last over 1 hour and over 10mile range on a...
GO ANYWHERE - Solid rubber tires for all- terrain purposes. Rated IP56 for solidness and water resistance. Easily maneuver through grass,...
BIGER & BETTER - EPIKGO is nearly 2x more powerful and 30% larger than the leading competitor meaning more foot space, a more stable ride...
Maximum weight limit- 240 pounds. Minimum weight limit- 44 pounds
With 400W dual motors, a 10-mile range on just one charge, and the certification of 159 safety tests, you can ride this hoverboard easily and with peace of mind.
The tires are made of solid rubber and will allow you to easily go off the road through sand, grass, and mud without problems. Since this hoverboard is 30% larger than other boards on the market, it's easy for a user to spread out their feet, enjoying more control and a more stable ride. At $599.99, you will love the one-year limited warranty, as well as the fact that this hoverboard is semi-submersible and waterproof certified.

9. CHO 6.5" Smart Self Balancing Scooter Hoverboard
cho 6.5" inch Hoverboard Electric Smart Self Balancing...
The safty certified hoverboard meets safty standards for quality charging and electrical performance. Charger included.
High intensity LED headlights provide you safer ride at night, now you can ride it to anywhere at any time.
The Self balancing technology of the hoverboard makes it easier and safer for beginners and amateurs. It is easy to learn and maintain...
Built-in wireless speaker can be easily connected to portable devices in second, just enjoy your favorite music or books without wearing...
Buy with Confidence, Cho Power Sports Provides Professional Services, Our Goal is your satisfaction.
At $135, this hoverboard is a great budget option for people who don't have a lot to spend on a new hoverboard, but who are still looking for a hoverboard that has a few additional features.
This hoverboard includes a stereo speaker that will allow you to easily connect to any Bluetooth enabled electronics so that you can take your music with you on the go.
Additionally, while the charge time is a little longer at three to five hours, it's easy to recalibrate the hoverboard if you have problems with a smooth ride and to get started riding for the first time.

10. NHT 6.5" Aurora Hoverboard Self Balancing Scooter

NHT Electric Hoverboard Self Balancing Scooter with...
Safety Certified Hoverboard, It comes with Built-in wireless speaker can be easily connected to portable devices, enjoy your favorite music...
The LED lights flash randomly make you the eye-catcher in crowds and the travel more fun, they are also can be signals at night to protect...
The Self balancing technology of the hoverboard makes it easier and safer for beginners and amateurs. It is easy to learn and maintain...
high quality rubber tires, non-slip footpads allow you to keep stability and traction. Easy to maintain balance.
Buy with Confidence, NEW HIGH TECH Provides Professional Services, Our Goal is your satisfaction. Any problem just don't hesitate to...
While this hoverboard only reaches speeds of up to six mph for 7.5 miles, it offers a number of other benefits that make it very attractive to buyers. It's not only Bluetooth enabled and certified, but this hoverboard has futuristic LED lighting all around the board, making riding in the dark incredibly fun and a lot safer.
The strong shell is designed to withstand plenty of falls and accidents without being damaged, so you don't need to worry about accidentally breaking your new hoverboard. At just $148, it's a great option for buyers on a budget who still want a high-quality board.

11. Lamborghini 8.5" Hoverboard
Twodots Lamborghini Hoverboard (Orange)
Officially authorized by Lamborghini, the king of the hoverboard desired by everyone. You're worth having.
THE NEW MUSIC STEREO SPEAKER, SMART APP & LED LIGHT - Built-in wireless speaker with Bluetooth 4.0 technology and seamless integrated cavity...
SMOOTH RIDES - 8.5" high-quality rubber racing tires, non-slip and shock-absorbing pedals, can travel through mud, grass, rain, and even...
SAFETY CERTIFIED - To ensure your safety, our products have pass UL2272 safety and hundreds of thousands of tests electric test with our...
DREAM GIFT - The hoverboard is only needed 3 minutes for everyone to learn. This hoverboard should be a great choice as a birthday or...
All-terrain hoverboards provide riders with a lot more power and control, especially when they want to go off the beaten path. The 8.5" tires on this hoverboard, the 400W motor, and fast charging time make this hoverboard from Lamborghini worth $369.
Not only is this hoverboard self-balancing, making it easy to ride, but it has Bluetooth speakers that are built-in, powerful LEDs to light up your way, and intelligent ride sensors to make riding this board incredibly easy for anyone to do.
Perfect for people up to 264 lbs, you can travel 9.32 miles on a full charge. Additionally, the 36V li-ion power battery offers you all of the power that you need for playing loud music and enjoying incredible lights when riding.

12. Hoverstar Hoverboard 6.5" UL 2272
HOVERSTAR All-New HS2.0 Hoverboard 6.5" Two-Wheel Self...
NEW HOVER BOARD SKINS: Made with durable Material
HOVERBOARD PATINETAS ELECTRICAS FEATURES: Electronic Based Hoverboard, Very sturdy- Supporting up to 165 lbs., Impeccable Speed Controlled...
CERTIFICATION: Certificated Hoverboard Stable
ACCESSORIES INCLUDE: Charger and Help Manual for Reference
FUN FOR ALL RIDERS: Perfect Scooters for Kids and Adults.
Choose from new hoverboard skins that are designed to be fire-resistant and enjoy front LED lights, support up to 165 lbs, and great speed control when you buy this $98 hoverboard.
It has safety certifications to help you rest easy knowing that you will be safe when riding and allows riders to hit a maximum speed of 10 mph.
Thanks to the self-balancing feature, this hoverboard is easy to learn how to ride, and most riders will be able to travel between six and eight miles, depending on both the condition of the road and the weight of the rider. It's a great choice for beginners or for kids, as the 6.5" wheels are standard and will provide plenty of support.

Conclusion:
Buying a hoverboard will allow you a really fun way to get around town, but you have to make sure that you choose one that is in your price range.
As you can see, hoverboards can vary widely in price, making it important that you consider not only the budget that you have to work with, but also what type of features you are interested in.
By taking into consideration the size of the motor and the wheels, if there are lights or Bluetooth features, and how quickly the hoverboard charges, you can find one that will offer you the speed and ability to go the distance that you want.
Like it? Please share with your friends! Thanks!