Hoverkart: a new and safer way to ride hoverboards! If you or your kid owns a hoverboard, it's time to double the fun by buying a hoverkart. Adding a hoverkart to your hoverboard will totally reshape the hoverboard handling into a more enjoyable and amazing experience. Bring back the old cart riding days by turning the hoverboard into a controlled motor driven cart in a couple of seconds.
What is Hoverkart?
You may be wondering what a hoverkart is. A hoverkart is a special type of attachment for you self-balancing scooter that converts it into an electric power-driven go-kart. The attachment straps connect the hoverboard to kart that comes with a seat and handle that move and down for the cart movement and speed control.
These hoverboard carts are essentially made up of 3 wheels, foldable handles, and a comfy seat. It is very easy to use because you don't need any skills to ride a hoverkart. Hard pneumatic tires and shock absorbers make them suitable for a rough bumpy trail ride.
You can turn, accelerate and apply brakes easily on a hoverkart. The word 'Hoverkart' is a trademark name for the kart attachment by the HoverPowered Company but there are many other brands in the markets that manufacture hoverboard accessories.
How Fast is a Hoverkart?
The go-kart will have the same maximum speed as the hoverboard but the rider's driver style, weight, and height affect the kart's speed. The maximum speed offered by most of the hoverboards is 5 to 25 miles per hour. You can ride a hoverkart faster than a hoverboard for about 12 mph with a zero turning radius on a full charge as the third wheels help to move on uneven rough terrains where a hoverboard alone is not easy to ride.
How Much does a Hoverkart Cost?
A hoverkart is sold separately. First, you need to own a two-wheeled hoverboard that costs around $100 to $800. When it comes to the cost of hoverboard cart attachment, the prices vary from $50 to $150. Amazon offers a wide variety of hover karts to buy from different brands.
Do Hoverkarts Fit all Sized Hoverboards?
Many of the hover kart manufacturers say that it fits almost every hoverboard size with any wheel size, but this is not the true case.
A standard size hoverboard that measures 6 to 10 inches is generally suitable for a hover kart but make sure to check the model's specification that might be well-suited for 8" hoverboard. A hoverkart may be suitable to attach to a kid-sized hoverboard model.
Does a Hoverkart Damage a Hoverboard?
Nobody would want a damaged hoverboard by adding a kart attachment to it. No worries! A hoverkart easily attaches to your hoverboard by using straps that also detaches without any trouble within seconds when desired. The strap installation design does not damage your hoverboard. Feel free to purchase a hoverboard add-on kart. To provide extra protection to your hoverboard, make sure to buy a cover or silicone skin to prevent scratches and damage.
How to Choose the Best Hoverkart?
When you look for a hoverkart, there are some few things to consider for choosing the best one.
Material: Stability is determined by the materials used for construction. The add-on kart that is made from best materials for tires, handles, and seat are the sturdiest and stable. Durability is always the top most requirement when buying a hoverkart for an outdoor and off-road drive.
Size: Look for a perfect fit size for your hoverboard. Prefer to buy a cart with an adjustable seat height that is suitable for different people even kids.
Weight capacity: If you weigh more than 100 pounds, you better check-up for the maximum weight carrying capacity of the go-kart for better functionality with a hoverboard.
Safety: Safety comes first; the hoverkart should be easy to maneuver preventing any damage risks to the user. Make sure the cartwheels are not able to overturn.
8 Best Hoverkarts in 2019 Reviews with Comparison
To make it easy for you, here is the comparison guide for you to choose the best hoverkart.

Name
HoovyKart - Go Kart Conversion Kit for Hoverboards -...
Cool Mini Kart Hoverboard Accessories for Adjustable...
New with Shock Absorber & Pneumatic Tyre for Off-Road...
AUBESTKER Hoverboard Go Kart - Compatible with All UL...
Hiboy HC-02 Hoverboard Seat Attachment with Rear...
HoverSeat Sitting Attachment for Hoverboard
Picture
Frame
Air Craft Grade Aluminum Frame
Name
HoovyKart - Go Kart Conversion Kit for Hoverboards -...
Picture
Frame
Air Craft Grade Aluminum Frame
Name
Cool Mini Kart Hoverboard Accessories for Adjustable...
Picture
Name
New with Shock Absorber & Pneumatic Tyre for Off-Road...
Picture
Name
AUBESTKER Hoverboard Go Kart - Compatible with All UL...
Picture
Name
Hiboy HC-02 Hoverboard Seat Attachment with Rear...
Picture
Name
HoverSeat Sitting Attachment for Hoverboard
Picture
1. HoovyKart – Go Kart Conversion Kit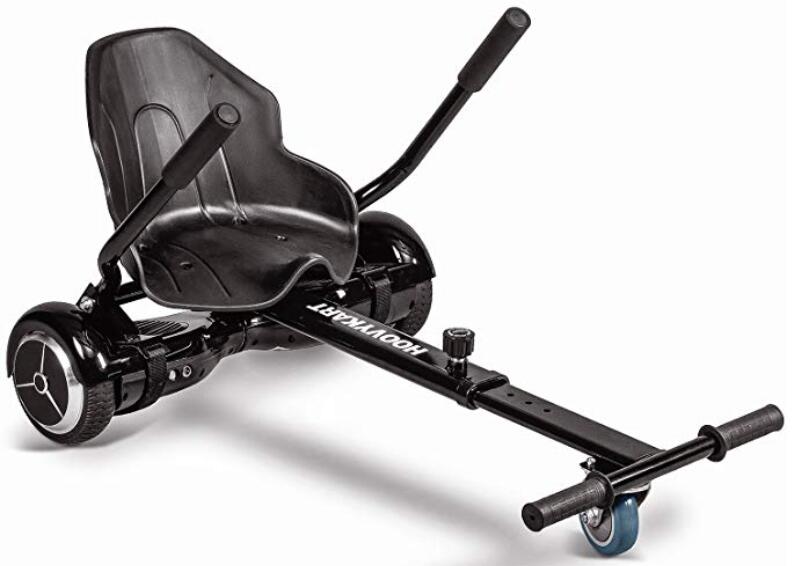 Discover the new hoverboard add-on and have fun everywhere at any time with this go-kart by HoovyKart. This hoverkart will attach to any hoverboard size for a new fun-filled cart riding experience. No more worries about kids and adults falling off the hoverboards.
It is suitable to by all age groups including kids as it is totally safe and free from any accidental risks because it is easier to control with a stable seating position than standing on a hoverboard at high speed.
It offers you more control and more fun. The good thing is that this kart comes 90% assembled; all you have to do is screw the seat to the frame using 4 screws and a tool provided. Then attach your hoverboard to hoovykart with straps and you are all set to go on an enjoyable ride.
The patent-pending design guarantees you utmost safety and powerful control. The comfortable rotating grip handles bars allow easy speed control, turning, direction, acceleration, and braking. The adjustable frame and foot pedals make it usable by users of different height.
This easy-to-control kart moves forward when both grip handles are moved down. Moving up the two handles will make your kart go backward. To turn left, move the right handle down and left up, and vice versa for the right turn.
You will surely have a very super comfy ride as hoovykart comes with a comfortable form-made seat with lumbar rest area that is adjustable to provide you ultimate comfort. The frame is constructed from aircraft-grade aluminum that is light-weight yet so sturdy and durable.
The best thing about hoovykart is 100% money guarantee with an extended warranty of 1-year. Turn your hoverboard into a Go-kart by adding hoovykart to it for a more adventurous experience.
Pros
Easy assembly
Safer than hoverboard
Excellent customer service
Ultra light-weight aluminum frame
4 extra straps included
Adjustable frame length and foot pedals
Full control with easy moving grip handles
Cons
The small seat is not comfortable for large adults
No shock absorber springs
2. Pilan Cool Mini-Kart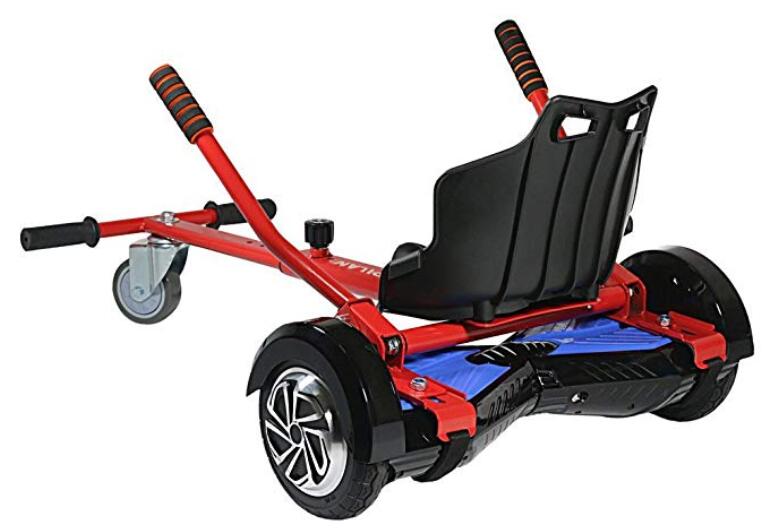 A fun hoverboard experience converting it into a go-kart! Pilan's mini kart with a seat offers you to ride in a safer sitting position than standing on a self-balancing scooter. This red-colored cool kart didn't compromise on safety.
You are all secure with the 16'' rod having two steering handles on the front to provide better control over the hoverkart. Enhance your motor skills by practicing on the steering handles and it's a good method for muscle building. The solid sturdy steel frame design with a comfortable seat allows a perfect kart ride with strong control.
It fits almost all standard size hoverboards ranging from 6.5'', 8'' and 10''. Moreover, it offers a weight capacity of 250 pounds. The add-on kart by Pilan is suitable for people of all ages and sizes as it comes with a frame length that is adjustable to four different lengths with an easy turn knob to provide room for tall users.
The minimum size without any length adjustments is 31x24x12 inches and can reach a maximum size of 35x24x16 inches. Offering a very smooth ride, this kart is really easy and quick to install to your hoverboard within few seconds. It offers 30-days money-back guarantee and lifetime technical support for free.
Pros
Weight load of 250 lbs
Suitable for all age groups
Adjustable frame length
Two steering handles
Solid frame
30-day full refund
Sturdy construction
Cons
Seat bolts have no washers
Velcro straps start to wear out after some time
No shock absorbers
3. WorryFree Gadgets Go-karting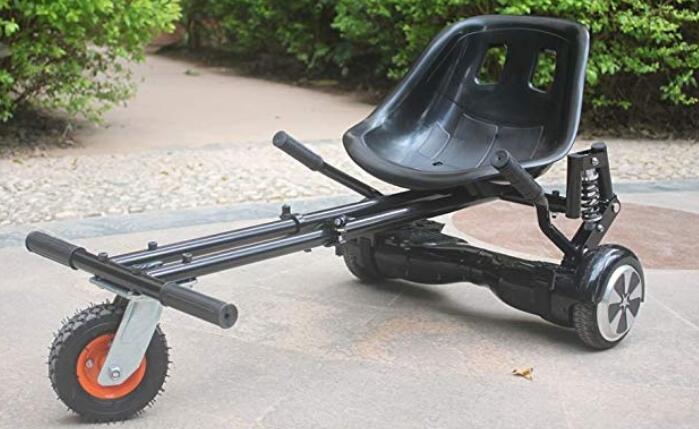 Transform your hoverboard into a heavy-duty hoverkart that is set to ride on all kinds of terrains. No matter if you want to have go-karting experience on grass, roads, uneven off-road trails, the pneumatic tire on the front will make it possible.
For better control, a front rod is there so you can direct the kart speed and safety. This adjustable in length kart by WorryFree gadgets is for all age groups having different sizes including kids. It fits most of the hoverboard models in the market that vary between 6.5", 8" and 10". The sturdy titanium steel design speaks for its durability. The balance car frame helps in achieving the maximum hoverboard speed.
Enjoy a fast ride with strong controls by easy moving two rubber grip handles near the seat to turn left or right, forward and backward and two steering handles on the front for a secure and freely moving ride. Easy acceleration, turning and good braking power on full speed!
It has a maximum weight load capacity of 200 lbs and a person with 6 feet or above height can easily ride on this electric go-kart. The comfy seat is large enough to hold users of all sizes. The frame length is adjusted with the help of levers. This off-road hover kart comes with the Shock absorber springs under the seat to have a bump-free ride.  Take your karting experience to a new level.
Pros
Shock absorbing springs for a smooth ride
Sturdy titanium steel frame
Perfect for all age groups
Larger seat for tall people
Pneumatic large tire
Easy to install
Fits all standard size hoverboards
Cons
The assembly and installation
Instructions are not clear to some buyers
It scratches the hoverboard
4. AUBESTKER Kart for Hoverboard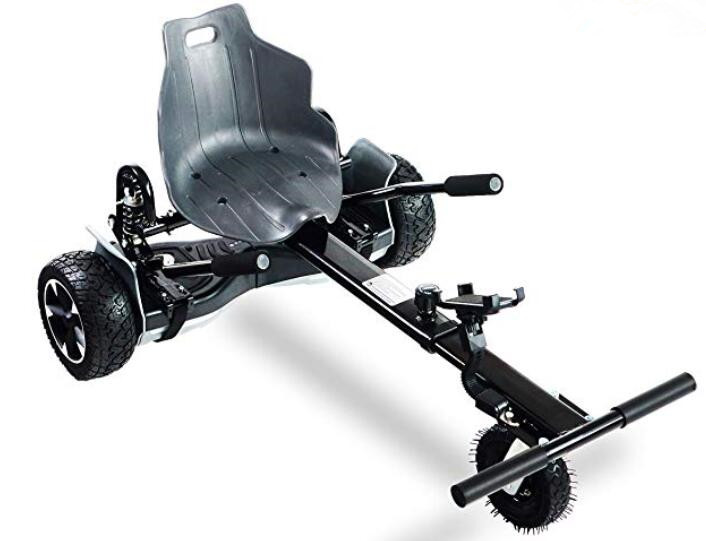 The best off-road hover seat that you'll see in the market! This hoverboard kart by AUBESTKER is a special version of the seat that fits all hoverboard sizes; 6.5", 8" and 10". A perfect hoverboard and cart combination that is more secure to drive for beginners and senior riders.
Ride safety is a sure thing! This hoverkart comes with U-shock absorber and screw-mounted shoulder strap to avoid falling off during driving a hoverboard cart. This only not provides protection and safety, it makes sure that you feel no shocks, vibrations or body discomfort.
This all-terrain hoverboard accessory allows a safe and smooth ride on mud, grass, sand and rugged landscapes. No more self-balancing on a hoverboard! The seat offers a weight load-bearing capacity of 100-270lbs that is safe for almost all individuals of every age.
This easy to use and secure hoverseat is suitable to ride from 3-year old child to a 60-year old person.  Rider safety is most important, that is why the double-layered webbing is strongly screwed so there is no chance of kart and hoverboard separation.
The inflatable 41.5 inches tire with 360 rotation makes and large wheelbase makes it the choice for all-terrain driving. It is very easy to control with 2 movable handles that have a high-quality sponge covering for better gripping on both hands. The shock absorber reduces the risk of the rider's body directly colliding with the road surface.
You'll have great fun in this hoverseat, keep your phone secured in top position by placing it in an eagle claw phone holder in the front and you can easily keep track of the calls and messages or play music during driving a hoverkart. This kart is constructed from high-grade hard steel making it sturdy and long-lasting. The acceleration brake-drift makes it safe. A barrier-free kart with adjustable pedals and lumbar rest region for all size of individuals!
Pros
Shock absorber springs
The strap is screw mounted for secure fitting
Large base front inflatable tire
270 lbs of weight load capacity
Sturdy high-hardness steel
Safe ride that prevents falling
Eagle claw holder for a phone on the front
5. Hiboy HC-02 Hoverboard Go Kart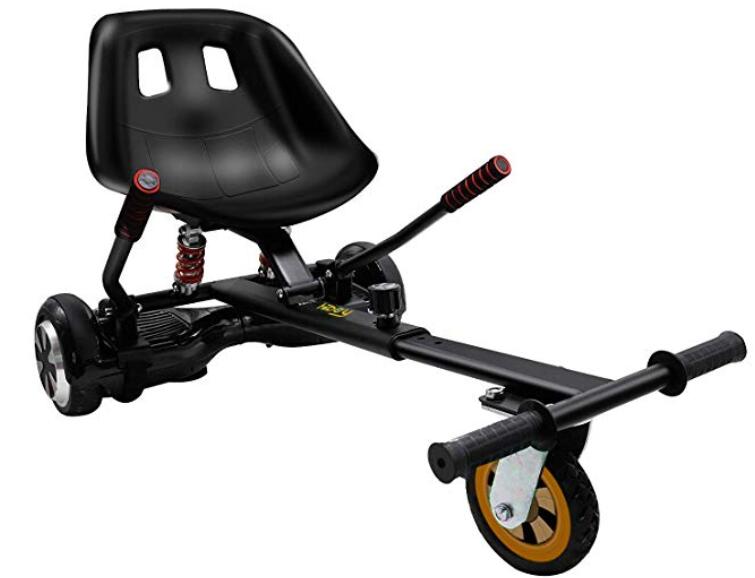 Are you having trouble balancing on a hoverboard? Try converting your hoverboard into a more fun go-kart with Hiboy HC-02. It is compatible with all hoverboard of sizes ranging from 6'' to 10''. Get ready for a more comfortable and safe ride with the power of shock absorber springs underneath the seat. It offers a high weight-carrying capacity of 270 lbs, suitable for all age of people.
It is made from strong and durable material yet light-weight to carry, adding to its stability. Hiboy provides you almost fully assembled hoverkart that requires only 15 minutes for installation.
The enhancing steering power and two grip handles allow a smooth control over brakes, speed and turning. HC-02 is so simple to control that even a 4-year kid can easily ride it safely. This cart measures 31.5 x 16.9 x 19.7 inches and weighs only 18.3 lbs.
The ergonomic design of the large seat and adjustable leg length from 27.5 to 35.3 inches makes it possible for everyone to use it trouble-free. The rear suspension and 6'' wide front inflatable wheel allows great control.
Pros
Free accessories replacement
Fits 6 to 10 inches hoverboards
Easy to control
Adjustable footrest
Rear Suspension
Comfortable with shock absorbing spring
Cons
Installation requires time
Not compatible with Hover-1 Beast 10inch wheel, Swagtron T6 and TW01S-1 by Mega wheels
6.HoverSeat – Sitting Attachment for Hoverboard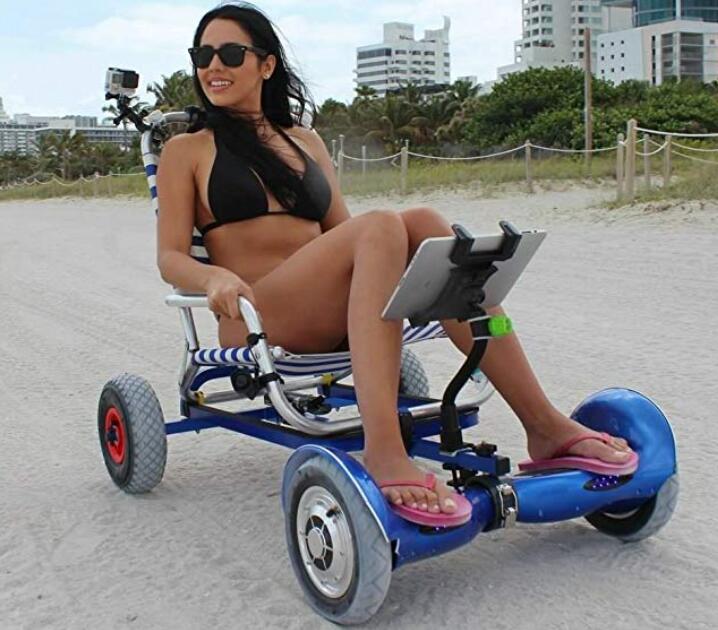 The perfect hoverboard accessory for seat attachment by Hoverseat that measures 31″x15″x4″.  The attachment is made from high-grade aluminum and weighs only 11 pounds. Just like all other hoverkarts, this attachment comes with 2 ball bearing large wheels and a plastic cover clamp for a secure fitting to your hoverboard.
Attach your beach chair or other comfy chairs like cycle seat, fishing chair, cushion box to it for a fun hover-karting experience. This sitting attachment has 4 velcro tie straps and 2 self-adhesive rubber strips to attach on the frame when needed.
You can customize your hoverseats with different seating options. It offers a weight load of 230 lbs, so you can carry other stuff with yourself. Use two or more hoverseats to make a train to carry, load and transport goods. Use your hoverboard to drive a cart with wheels! It only fits round center 6'' and 10'' inches hoverboards.
The installation is quite simple, attach it with hoverboard's round center using a clamp provided and make sure the latch is locked. Then attach any chair type and you are already set to drive hoverkart by placing your feet on hoverboard and use front feet part to move forward and back to move backward.
The re-enforced steel axles and T-handle attached to the frame's front allows easy and simple towing of the hovercart. This hoverboard attachment is very versatile when it comes to practical uses. Drive the hoverboard with safety and comfort while sitting.
Pros
Light-weight aluminum frame
2 ball-bearing wheels
Plastic clamp for attachment to hoverboard
Easy installation
Versatile use
Max load of 230 lbs
Compatibility with all seat types
Cons
Not compatible with 8'' hoverboards or off-road Epikgo-style having non-round or handle in the center
7. Kraulwell Hoverboard Hover Kart
This hoverkart by Kraulwell measures 21 x 8 x 17 inches and fits all standard sizes of hoverboards that include 6.5'', 8''and 10''.  It is available in appealing black and cool red color, a good seating attachment to your hoverboard.
This stable hoverkart is totally safe and secure to use by kids, teens and all adults due to its stability and strong driving control. It is very easy to use with two grip hand controls; handle up for reverse, original handle position to stop and handle down to move forward. It has the ability to support weight up to 240 lbs and has adjustable footrest pedal length.
The simple basic mechanism and ergonomic design make it a lot easier to operate. Kraulwell offers free accessories replacement. It requires no constant maintenance and doesn't damage your hoverboard. The sturdy, long-lasting heavy-duty metal frame enhances the durable.
Kraulwell's kart allows you to have fun outdoors in a unique way!
Pros
Heavy-duty metal frame
Easy driving control
Free accessories replacement
Comfortable
Adjustable footrest
Excellent customer service
Cons
No shock absorbers
Short seat back
8. Hiboy HC-01 Hoverboard Kart Seat Attachment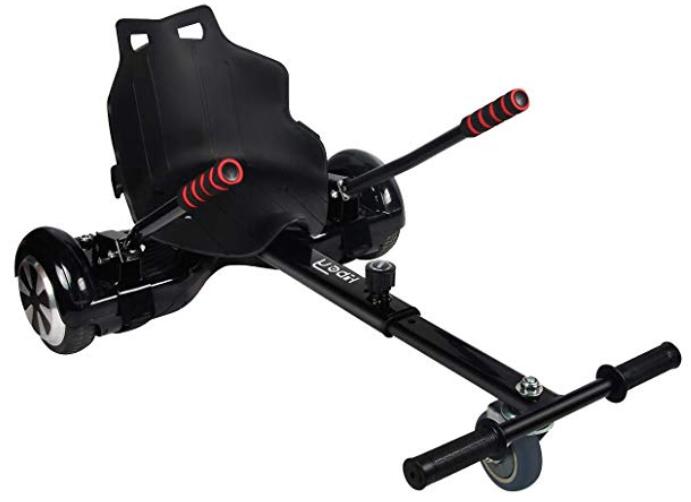 Turn your self-balancing scooter into a hoverkart with this cost-effective hover seat by Hiboy. This seat attachment fits 6.5'', 8'' and 10'' hoverboards from all brands. HC-01 is made from solid, durable and high-quality material making it more reliable than other hoverkarts.
The ergonomic seat with easy driving control grip handles makes it ideal to use by all people even kids. No matter if you are short or tall, HC-01 features adjustable leg length from 27 inches to 35.5 inches.
This stable cart provides smooth riding performance with enhanced steering movement prevents the risk of injuries from falling during driving. This robust yet lightly built kart is very easy to install to your hoverboard with two Velcro straps. HC-01 can hold up to 270 lbs of payload.
Pros
Free accessories replacement
Fits 6 to 10 inches hoverboards
Easy to control
Adjustable footrest
270 lbs max load capacity
Sturdy light-weight frame
Cons
No rear suspension
No shock absorbers
Conclusion
Get ready to convert your hoverboard into go-kart in a matter of few seconds by choosing the best hoverboard cart that suits you most.
Like it? Please share with your friends! Thanks!