Once you notice that your hoverboard battery doesn't last as long as it did before, it's probably time to buy yourself a  brand new hoverboard charger.
This shouldn't only boost your hoverboarding experience but also save the battery of your device which is very important. However, how to choose the right hoverboard charger?
If you start searching for the best hoverboard charger online, you will come across many different items by different brands which may force you to drop your independent search.
I'm here to help! Today, I will review some of the best choices. But first, let's take a look at the key traits of hoverboard chargers that you need to consider.
How to Choose the Right Hoverboard Charger?
When shopping for a hoverboard charger, you need to pay attention to certain traits to pick the proper one. The next tips apply in scenarios where you buy a charger that doesn't match the brand of your toy. That said, let's learn how to choose the right hoverboard charger.
You must buy a battery charger that responds to the requirements of the battery in your hoverboard. If the specifications don't match, issues or damage will likely occur.
Buy a charger with a warranty
While you're on the lookout for the best hoverboard charger, you will come across affordable chargers. And usually, cheap models aren't covered by a warranty.
It's highly recommended to avoid cheap hoverboard chargers and focus on a high-quality product from a reliable brand that provides a warranty on their chargers.
As with everything in life, you get what you pay for. The budget-friendly models often aren't UL listed or certified. Therefore, their quality and performance are questionable.
Additionally, they aren't covered by a warranty. I suggest that you avoid these items. Purchase a decent charger for your hoverboard. Otherwise, you may end up damaging it.
Top 8 Best Hoverboard Charger Reviews 2020
If you're looking for the best hoverboard charger, look no further than Amazon's best-selling hoverboard chargers. They're certified, UL approved, and budget-friendly.
| Products | Output | Battery types | Characteristics |
| --- | --- | --- | --- |
| EVAPLUS Hoverboard charger | 42 V | Li-ion battery | LED light, money-back guarantee, durable composition |
| EVAPLUS Hoverboard charger: | 42 V | Li-ion battery | Goes with OEM Parts and four protection features |
| Tangsfire hoverboard charger: | 42 V | Li-ion battery | 39 inches cable and concise body |
| Futurebatt hoverboard charger: | 42 V | Li-ion battery | Budget-friendly and color-changing LED light |
| TREE.NB hoverboard charger: | 24 V | NiMH battery | 100-120 V input and distinctive functions |
| Suposun hoverboard charger: | 42 V | Li-ion battery | 100 cm cable length and three-prong plug |
| EVAPLUS 24 V hoverboard charger: | 24 V | Li-ion battery | Less power consumption supports multiple power units |
| ARyee hoverboard charger: | 42 V | Li-ion battery | Economic and prevents over-heating |
1. EVAPLUS Hoverboard charger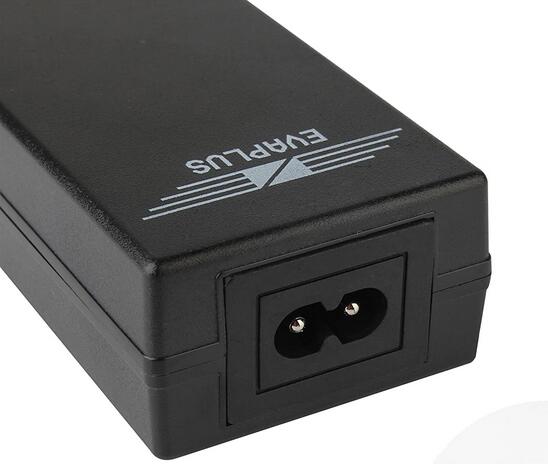 EVAPLUS Hoverboard charger counts as the best one out there, and this is for all the right reasons. Firstly, this charger works well for either hoverboards, drifting boards or scooters, etc. so this indicates its versatility. Secondly comes the quality, the power box and cable have a durable composition and would go for long years. With this, the wire may become prone to breakage on continuous twisting and pulling.
However, comparatively, the outlet wire from the adapter is much stronger. This charger depicts a LED bulb that shows the charging in progress and also gives out a warning about over-voltage and excessive burden. The EVEPLUS hoverboard charger works on a 100-240 V input and delivers 42 V output with 2.0A. This is one of the few hoverboards that have short circuit protection to save you from all the unpleasant incidents.
It carries a 0.31-inch plug diameter and weighs around 8.8 ounces. If this is your first time with EVAPLUS, you can fearlessly go ahead with your purchase because they offer you a full money-back guarantee. In addition to this, if your charger stops working or doesn't perform up to the par, you can call the company to make it up to you. The efficient customer service does best in not leaving you in the dark all alone.
Hence, all these features make this charger a mandatory investment for the hoverboard owners.
Pros:
Durable
42 V output
31-inch plug diameter
Money-back guarantee
Con:
The LED light gives a hard time.

2. Wyness hoverboard charger
For this hoverboard charger, let us first start with the innovations the company has come up with. Primarily, the Wyness hoverboard charger has overcurrent protection to save itself and your hoverboard from the explosion.
The battery polarity error protection and the overvoltage guard keeps an eye on the output delivered. Rather than going with only a single color for the LED bulb, they have made it easier for us. The red light means your hoverboard is still charging while the green one indicates the time to disconnect the charger.
Wyness provides fast but safe charging which lets you ride your hoverboard in the shortest span possible. This charger has two separate input voltages while the main one works on the 100-240 V.
It delivers the 42 V output and efficiency that is indispensable. It weighs only 10.4 ounces and is as light as a feather that you may carry it in your sachet wherever you go. The best thing about this hoverboard charger is the way it shows immense friendliness with the city switch polls.
Next, this charger is fully compatible with OEM parts and has four protection features all in one. Wyness does offer you a money-back guarantee with one year of immediate customer service. All you have to do is to dial them up if the charger stops working or is incompatible with your hoverboard. One aspect that is slightly discouraging is the way charging speed decreases with time.
Pros:
42 V output
4 ounces weight
Compatible with OEM parts
Four protection features
Cons:
Charging speed decreases gradually.

3. Tangsfire hoverboard charger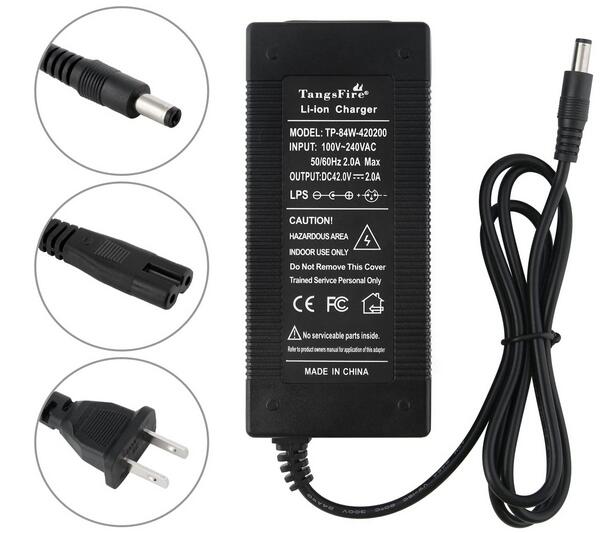 Since the hoverboard made it to the market, there have been numerous fire incidents. The research showed that the reason behind these incidents was the cheap material used in the Li-ion hoverboard charging apparatus. This means that which charger you use does have an impact on the longevity of your hoverboard. That's why Tangsfire has kept your protection as the epicenter of their performance and have come up with a charger that offers four-level security.
It's normal for chargers to become hot after charging the Li-ion batteries for too long. Tangsfire acknowledges that this can be worrisome for the clients so for this concern their product instead of emitting extreme heat, just gets a little warm, this also shows its reliability factor.
The most distinctive thing about this hoverboard charger is that it doesn't have three-prong output, so it supports a little variety, but if it does pair up with your hoverboard, this can be an irreplaceable addition. Let us talk about the cable length.
The charging apparatus is concise so you can easily fit it in your bag but the cable length is other-worldly. They have made it to be 39 inches which means you need not stick at one place and can have the whole room to yourself.
It weighs around 11 ounces, which is pretty light so you can consider it your traveling partner as well. It gives out 42 V output with the input of 100-240 V.
Pros:
Reduces fire incidents
No three-prong output
Concise
39 inches cable
Con:
The LED light seems quite challenging.

4. Futurebatt hoverboard charger
Futurebatt is one of the well-renowned companies that come up with the best hoverboard chargers for its audience almost every year. The specialty about their chargers is that within a narrow budget range you get the same features that you'd expect from a high-end one. Beginning with the output, it is 42 V like a standard hoverboard charger, and the same goes for the input which is 100-240 V. This depicts no difference in the major power outlets.
Secondly, nothing takes off the burden like a LED light. It is because hoverboards are quite sensitive to over-charging, if you don't disconnect the charger in time, this can lead to an explosion in no time. For this, they have installed a color-changing LED light that becomes red when the battery isn't fully charged and shows green to indicate the time to unplug the charger. This makes your life easier than ever, no need to stick with the switch anymore.
This hoverboard charger has short circuit protection and especially its efficiency in coping with the ever-changing current value is commendable. You get a year warranty that lets you use it to the maximum to figure out if it is compatible with your hoverboard or not. The thing that impressed us the most about Futurebatt is that their company offers 24/7 email support that ensures there's no lacking in guiding you the fullest usage of the product.
Apart from all this, you still get a money-back guarantee, if you observe any burning smell from the charger or even if the LED light doesn't signify properly.
Pros:
Budget-friendly
Color changing LED light
24/7 email support
42 V output
Con:
Goes with a little variety of overboard.

5. NB hoverboard charger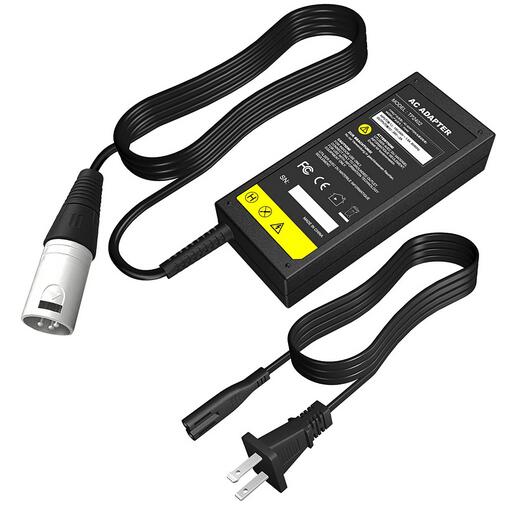 This is the most unique hoverboard charger, if you have a hoverboard that doesn't need much power output, this one is probably for you. It is because it takes a little input 100-120 V rather than 100-240 V like the ones mentioned above. Despite such a low input, it manages to give an output of 24 V that is pretty impressive. For the people who don't use a hoverboard regularly, this hoverboard charger would suffice well.
Most of the time, people get often confused that the expensive charger but doesn't work with their hoverboards. Let us share with you the most common mistake that you can't afford to make at any cost. Before going for any charger, do check out the type of your hoverboard's battery to see if it's a Li-ion one or NiMH one. For the former, there are tons of chargers, but for the latter one, there are seldom any.
TREE.NB hoverboard charger can support the NiMH hoverboards proficiently. You needn't hunt any other charger to suit your hoverboard's battery anymore. Yes, since its purpose is slightly different, it won't support the Li-ion hoverboards.
The LED light is great at telling you the current status of the charging. Like the modern ones in the market, it works on the same red and green light formula to keep you updated about the hoverboard's energy.
To seal the deal, the company offers you one year guarantee with 30 days money-back offer.
Pros:
Best for NiMH batteries
100-120 V Input
24 V output
Distinctive functions
Con:
The flickering light can be problematic.

6. Suposun hoverboard charger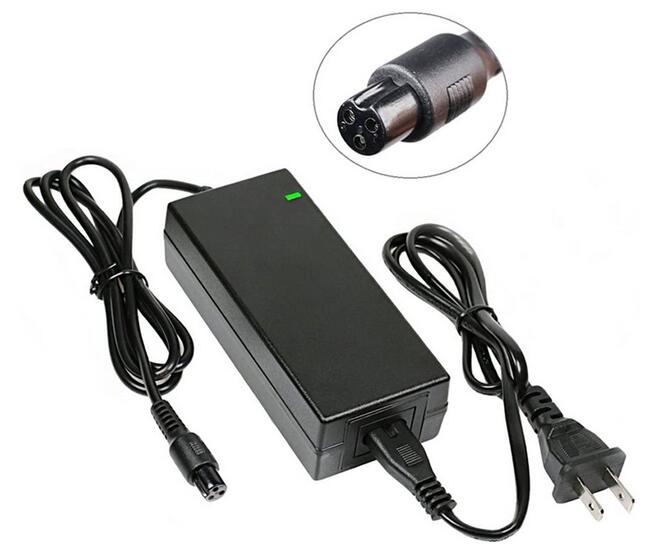 The foremost feature of this hoverboard charger is that it goes with several vehicles like a dirt bike, hoverboard, and ATVs also. This makes it more versatile and at one cost, you get various opportunities.
Other than this, it has 100 cm cable length so you need not stick with the charging point anymore. You can roam freely in your room and place the hoverboard at safe distance from the switch. The phenomenal aspect of this company is the upgraded protective additions.
You get short circuit protection that ensures in case of any mishap, your hoverboard remains safe. Moreover, this charger has an in-built system top cope with the changing current, so any instant increase/decrease doesn't affect your hoverboard.
A hoverboard is a vehicle that can be rather sensitive to over-heating, many costly chargers get so heated up that this can cause an explosion. The Suposun hoverboard charger keeps you safe from any such accident as it hardly gets any warm during its working.
It has a three-prong plug and you may use it to charge even the electric skateboards and they would work just fine. This charger doesn't cost you a fortune but the features it depicts are no less in performance. You get a working LED light that comprises two colors, red and green. You also get overload protection to keep the circuit issues at bay. The one thing that we'd suggest you keep in mind about this one is that it has fragile wires.
Pros:
Best for many vehicles
Three-prong plug
100 cm cable length
42 V output
Con:
The wires are flimsy.

7. EVAPLUS 24 V hoverboard charger
EVAPLUS is a need that needs no introduction when you step into the world of 21st-century vehicles. This company has come up with tons of hoverboard gadgets but their chargers are a must-have for every hoverboard owner. This one is sort of a mini-charger as it offers 24 V output rather than 42 V. If you are a seasonal hoverboard rider, you need nothing more than this charger. It would fit your outdoor evening rides perfectly and won't let the vehicle drain out.
Since with hoverboards, there's always this fear of running out of battery power while riding it and that's why there are tons of switching units in the cities. This charger goes well with multiple kinds of switching units, bringing peace to your life.
Pros:
24 V output
Goes well with multiple switching units
Trustworthy brand
Less power consumption
Con:
It won't suit regular hoverboard riders.

8.  ARyee hoverboard charger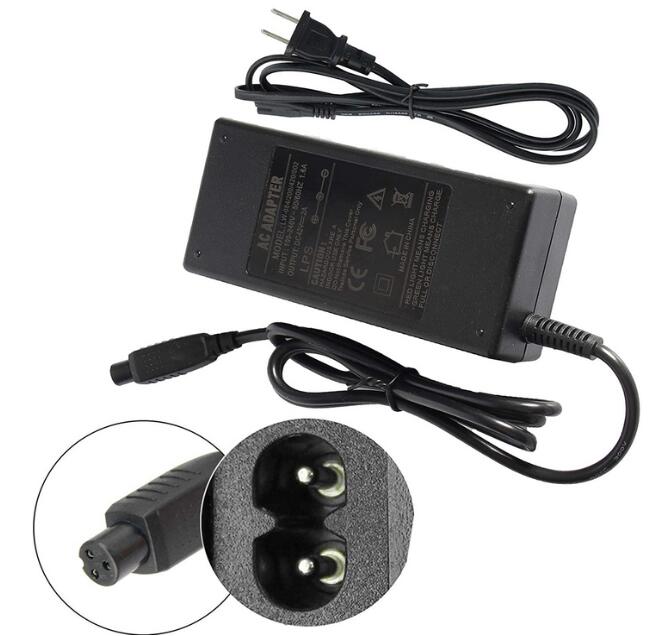 Presenting you the ARyee hoverboard charger that has a three-prong power adapter that is easy to connect. It has 100-240 V input and 42 V output that you can use to charge the electric skateboards, dirt bikes, and electric scooters.
The charger has a high-efficiency guard to keep the overloading to the minimum. Moreover, if you live in humid areas, you need not fear the material wearing out because of the humidity. It has a strong composition.
This is the best hoverboard charger to charge your hoverboard faster than ever. The charging mechanism is so designed that it makes your battery sustain the power for a longer time.
If you are really into riding the hoverboards, this charger can be an amazing purchase to start with. It has a 39 inches cable length that gives you the freedom to roam about your room. The wires are great at resisting all the twisting and excessive pulling.
Coming to the query that always confuses a beginner's mind, does this charger gets heated up too soon? The answer is no, it can do great without heating up too quickly but long-time usage can affect it. Since it is more economic, it saves your money but there's one aspect that requires your compromise. The LED light sometimes becomes tricky to deal with which can be irritating in the beginning, otherwise, all these features in one package are quite a deal.
Pros:
100- 240 V input
42 V Output
More economic
Best for humid areas
Con:
LED light flickers a lot.

Frequently Asked Questions about

Hoverboard Chargers
1. How Do Hoverboard Chargers Look Like?
They look like any normal charger. Usually, hoverboard chargers have a regular AC adapter. This adapter is plugged into your electrical outlet.
The adapter often outputs between 29.4V and 42V at 1.2A and 2A (amps). Usually, the output is a three-prong inline that you import into your device.
2. How Does Hoverboard Charger Work?
Although charging your hoverboard may look like the easiest thing to do, there might be details that you need to pay attention to such as the following.
The main part when charging your device is using the proper charger. Ensure that the charger has the same voltage and power output that your unit needs.
Then, plug your hoverboard charger in a wall socket. Find the LED indicator on the adapter. It should be green when you connect it to the electrical outlet and turn on the button.
Connect your hoverboard to your charger. Find the proper charger port on the body of your device. It's where you will insert your new hoverboard charger.
The light on the charger should turn red since your device that's connected to it's low on battery. Don't take it off until your hoverboard is fully charged.
Once your device is fully charged, you will be notified by the light on your charger. It will become green. Remove the hoverboard charger from the wall plug.
3. Are Hoverboard Chargers Universal?
Hoverboard chargers are often 36 or 42 volts. It's important to buy one that meets the specifications of your hoverboard. Apart from the voltage, they're pretty much universal.
4. Are All Hoverboard Chargers the Same?
No, each hoverboard charger is different. Most chargers utilize a regular AC adapter setup. However, the output power voltage can differ.
Also, some hoverboard chargers include protection while others don't. The build quality is also different, depending on the model and brand.
When shopping for a hoverboard charger, check for moisture-proof chargers. Also, don't forget to check if the model you want offers protection.
Most cheap chargers don't offer protection. Therefore, I kindly suggest that you stick to the ones that do for the sake of not melting your unit.
5. What Happens if You Charge Your Hoverboard Too Long?
Make sure that your hoverboard is turned off when charging for safety reasons. Some hoverboards will have safety traits in place so they can't switch on when charging.
Overcharging your hoverboard can be dangerous. In most cases, the scare-tales of hoverboards catching fire or blowing up is a result of overcharging. This is easily preventable.
Simply don't charge your hoverboard if you aren't present to watch over it. Turn off the charger once it's fully charged. It's safe and extends the lifespan of your battery.
6. How to Repair Hoverboard Charger?
Hoverboard chargers may malfunction when the power socket breaks down. Or it becomes disabled to charge your device. If you can, buy a new replacement charger.
However, if you want to fix it, please apply the following tips. You can purchase a few crimps and repair it with the wires instead of utilizing the same prongs of the plug.
If it doesn't get fixed, you need to switch the spot of the negative and positive prong. It will likely start working. Let's check some common hoverboard charger issues.
7. Why is my hoverboard charger blinking red?
If your charger is blinking red, it may have suffered an internal circuit fault. A professional technician can repair your charger. However, it's not wise to fix a broken hoverboard charger. It's cheaper to buy a new one.
8. Why is my hoverboard charger blinking red and green?
A charger that's functioning properly won't blink green and red. It will have a stable green when plugged into the power outlet. Then, it will turn to stable red when plugged into your device (unless the device is charged by which it will show a stable green).
If it's blinking red and green, your charger may have suffered an internal circuit fault. Instead of taking it to the technician, buy a new one. It's cheaper.
9. Why is my hoverboard charger hot?
If your charger becomes hot to the touch, then ensure that it's doing so only when it's giving a charge to your hoverboard. Otherwise, it could have safety problems.
Or be defective. Also, check the safety of your charger by searching for a UL logo on the case. If there's a UL symbol, then the technology utilized to make it has been certified.
When shopping for a hoverboard charger, be aware. Fake hoverboard chargers do exist.  If your charger is getting hot too often, I suggest replacing it with a new one.
10. Why is my hoverboard charger not working?
The light of the hoverboard charger should flash red if the battery of your device is working properly. If it doesn't flash red but remains green, then the battery is faulty or 100% full.
Take a look at the wiring inside your device. Pay attention to the port wiring and where it plugs into the motherboard. Make sure it's plugged in properly. Unplug it and plug it back in.
11. How to fix the hoverboard charger port?
Sometimes, your hoverboard charger doesn't show light because its charging port is damaged or broken. In that case, buy a new one. If you want to fix it, follow this helpful guide.
12. How Much Does a Hoverboard Charger Cost?
Different models come in different price ranges. However, you can find a decent hoverboard charger for as little as $15. I suggest that you don't just opt for the cheapest charger.
13. Where to Buy Hoverboard Charger?
Hoverboards are popular among both kids and adults. Therefore, it's no wonder that parts like chargers can be easily found at both in-person and online stores such as Amazon.
Summary
A replacement charger for your hoverboard may be needed sooner or later. It's not a surprise that some items will malfunction eventually and choosing the right one matters.
You can choose from a lot of cheap options on the market. However, I strongly suggest that you invest in a sturdy hoverboard charger with safety features in place and a 1-year warranty.
A good idea is always to contact the official supplier of your hoverboard to find out if they provide parts. That way, you will be ensured to buy something compatible with your specific model.
Hopefully, my article has taught you how to choose the right hoverboard charger.  What's your opinion on these products? Have you ever used any of them? Drop a comment below.
Like it? Please share with your friends! Thanks!