Hoverboards have become a popular mode of transportation and entertainment for people of all ages and genders. However, finding the right hoverboard for girls can be challenging as they might have different preferences regarding design, features, and performance. In this article, we will introduce some of the best hoverboards for girls available in the market today.
We will also discuss some important factors to consider when choosing a hoverboard for girls, as well as the safety measures that should be taken into consideration.
Is a hoverboard safe for girls?
Yes, hoverboards are generally safe for girls as long as they follow safety guidelines and wear appropriate safety gear. It is essential to choose a hoverboard with safety features such as UL certification, robust build quality, and sufficient training before using it.
Additionally, girls should wear a helmet, knee pads, and elbow pads to ensure their safety while riding the hoverboard. It is always better to practice safely before taking it to the streets or uneven surfaces.
How to ensure safe for girls to play with hoverboards?
Here are some tips to help ensure safe hoverboard riding for girls:
Always wear appropriate safety gear such as helmets, elbow pads, and knee pads. This will help protect from injury in case of falls or collisions.
Start with a lower speed setting and gradually increase as your riding skills improve.
Practice in a safe and open area, away from traffic or obstacles.
Be aware of your surroundings and look for hazards such as potholes, uneven surfaces, and other obstacles.
Always follow the manufacturer's guidelines for charging and maintaining your hoverboard.
Avoid riding in wet or slippery conditions, as this can increase the risk of falls.
Make sure to use a hoverboard appropriate for your weight and size.
How to choose the best hoverboards for girls?
The market is loaded with tons of hoverboards having different features and specifications. A hoverboard that meets the girls' requirements is not easy to find. There are a few things to consider before buying the best hoverboard for females.
1. Size and Weight
The size and weight of the hoverboard are crucial factors to consider when choosing the best hoverboard for girls. Ensure the hoverboard is lightweight enough for the girl to carry around easily. The size of the hoverboard should be appropriate for her age and height. Usually, hoverboards range from 4.5 inches to 10 inches in wheel size, so choose the appropriate size that will fit her.
2. Safety
Safety is a significant factor to consider when choosing a hoverboard for girls. Check if the hoverboard has proper safety certifications and features such as UL certification, a sturdy and durable frame, and non-slip foot pads. Ensure that the hoverboard has a speed limit appropriate for her age.
3. Battery Life
The battery life of the hoverboard is another critical factor to consider when choosing the best hoverboard for girls. Look for hoverboards with long battery life and short charging time, preferably ones that can last at least an hour of continuous riding.
4. Design
Girls tend to be more particular about the design of their hoverboards, so look for hoverboards with a design that appeals to them. Choose from the various colors and patterns available in the market, such as pink, purple, or floral patterns.
5. User-Friendliness
Choose a hoverboard that is easy to use and control, especially for beginners. It should be responsive and easy to maneuver, with clear instructions on how to use it. Some hoverboards have additional features such as Bluetooth connectivity, LED lights, and built-in speakers, which can make the riding experience more enjoyable.
6. Price
Price is another essential factor to consider when choosing the best hoverboard for girls. Ensure you get the best value for your money by comparing prices and features before purchasing. Look for hoverboards within your budget with all the necessary features for a safe and enjoyable ride.
7 Best Hoverboards for Girls in 2023 Review
We have reviewed below the top hoverboards that every young woman will love to make easy for you.
1.Swagtron Swagboard Pro T1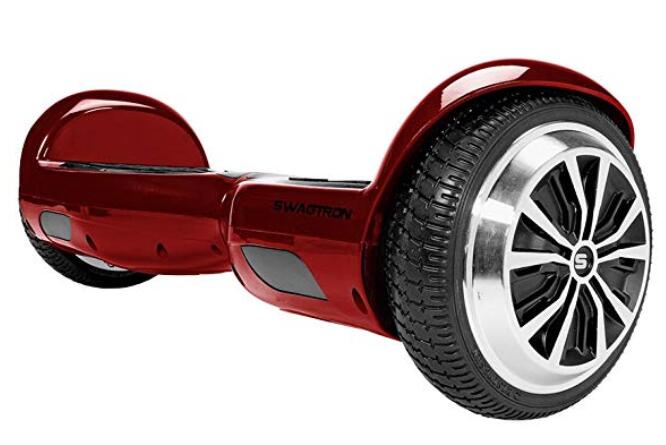 This stylish red-colored swag board by Swagtron is for everyone. Not only is it stylish, but the Pro T1 is safe for girl users as it is UL 2272 certified. As a result, it has undergone the highest safety tests.
Don't worry if you are a beginner; this hoverboard has a lower-speed learning mode for all newbies. It comes with two riding modes: learning and standard. In addition, the T1 offers a speed boost of 8 mph with a weight-holding capacity of 220 lbs.
All in all, this 2 wheels scooter is a perfect choice for downhill traction because its powerful 250-watt motor offers excellent gear stabilization for steep slopes 30ₒ climbing capacity.
Moreover, with no overheating or short-circuiting, the lithium-ion multi-layered battery by SentryShield smart battery management provides extreme hoverboard protection. Furthermore, it requires only 1 hour of charge time giving you a 7-12 miles range on a single charge.
With the bright LED headlights, you can also enjoy riding this self-balancing scooter at night. For easy info about the battery left, a five-light battery indicator alerts you about charge levels and errors.
Pros
Pros
Incombustible sturdy frame
Learning mode
UL approved
Safe stop technology
Lithium battery protected with Sentry Shield
Battery and system indicators
LED headlights for night use
30ₒ climb capacity
Suitable for all ages
Cons
Cons
Plastic body
Poor instructions manual
Not scratch resistant
Easily breakable charging cords
2. Swagtron Swagboard T5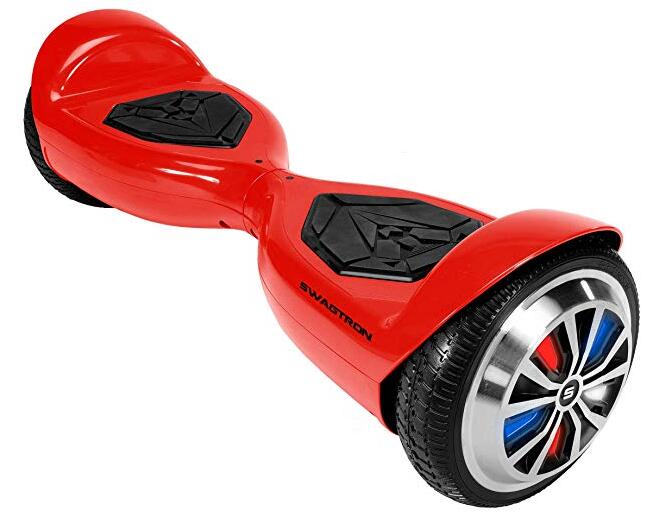 T5 is another self-balancing hoverboard by Swagtron that is an ideal choice for beginner riders. You can choose from 3 beautiful colors, i.e., red, black, and white. Also, this lightweight hoverboard can carry up to 187.4 lbs.
Do you want a safe hoverboard that is free from any battery errors? The Sentry Shield multilayer battery protects against overheating, overcharging, and short circuits.
It comes with a learning mode that restricts the speed of inexperienced riders and a standard mode to enjoy a freely moving ride. So, you can enjoy the max speed of 7 mph with 30 degrees of hill-climbing capacity to reach new heights.
Furthermore, safety is considered for every feature; the board comes with non-slip foot pads for better stability and traction. As a result, it lets you know the battery status and life of the system and battery indicators. Moreover, the T5 features many improvements, including bright LED lights and Bluetooth connectivity to the SWAGTRON companion app for easy touch control.
So, you can ride with complete confidence on any hard or rough terrain as this hoverboard has two 200W hub motors and 7 inches rubber tires with aluminum rims.
Pros
Pros
Safe; UL approved
Dual 200-watt hub motors
Withstand water splashes and contact
30ₒ inclining capacity
Battery and system indicators
Bluetooth app connectivity
Sturdy aluminum frame with rubber tires
Lithium battery patented protection
Rubber non-slippery foot pads
Cons
Cons
Charging time is 2 to 3 hours
Frame prone to scratches easily
No protective cover
3. Swagtron Swagboard Outlaw T6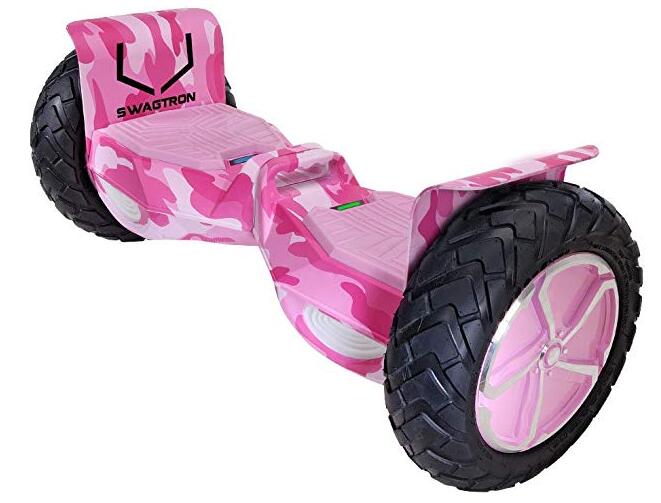 The pink camouflage-colored T6 by Swagtron is one of the most powerful and high-speed hoverboards in the market for girls. Moreover, T6 has the highest weight capacity of 420 lbs. Ride as fast and far as you like with a maximum speed of 12 mph and 7 to 12 miles on a single charge.
Isn't that amazing? Furthermore, SentryShield technology provides ultimate robust battery protection from overheating. Also, durability is guaranteed with an aluminum and ABS-strong plastic frame.
You can easily travel through mud, grass, gravel, or any rough, rugged landscape due to its 30 degrees climbing capacity, non-skid rubber foot pads, and 10'' rugged air-filled tires for superior stability and off-road traction rides.
The tires are infused with nylon for additional comfort, so you feel no shocks or jerks on uneven terrains. You can get in complete control of the T6 by connecting the smart app via Bluetooth from Android or iOS phones to check battery level, travel speed, and more.
Pros
Pros
UL 2272 certified
Fast; the max speed of 12 mph
High weight capacity; 420 lbs
12 miles range
Air-filled, nylon-infused 10'' pneumatic tires
Mud and water-resistant
Bluetooth connectivity
Ultimate battery protection
Powerful 300-watt dual motor
Carrying handles
Cons
Cons
Not scratch resistant
Heavy
Poor app control
Bluetooth speakers are not loud
No learning mode
4. EPIKGO Self-Balancing Scooter Hover
The all-terrain powerful hoverboard by EPIKGO has solid 8.5" inch high-tread rubber tires with alloy wheels to go anywhere you want. This self-balancing hoverboard is IP56 waterproof certified.
As a result, you don't need to be scared of any water splashes. Moreover, 30 % larger tire and foot space increase stability, maneuverability, and control. Furthermore, the battery is UL certified for industry-leading safety with a 150-point inspection.
A potent dual 400-watt motor with an inclining angle of 18 degrees while covering up to 10 miles on a single charge makes it one of the top balance hoverboards. Lastly, this stable ride takes only 1 hour to charge fully and offers 240 lbs of weight capacity.
Pros
Pros
30% larger foot space
Power dual 300 W motor
8.5'' rubber tires
The aluminum alloy frame body
Waterproof; IP56 certified
Safe ride; UL certified
Cons
Cons
No headlights
No App Connectivity
13+ age recommended
No scratch resistivity
5. Razor Hovertrax 2.0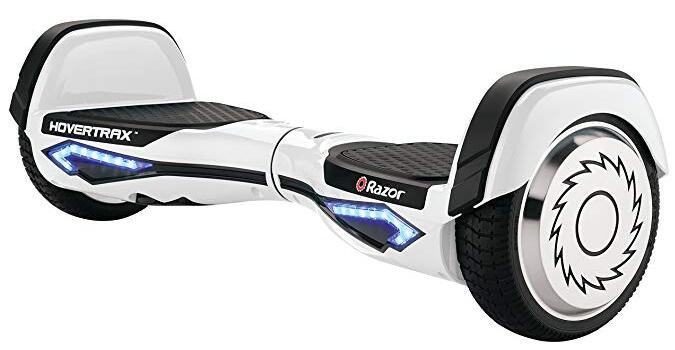 Experience the fun of a highly smooth ride with the Hovertrax 2.0, which has a solid dual hub 350-watt motor that is super-quiet in operation.
Moreover, UL 2272 certified; passed all the electrical safety test standards, so there is no danger of overheating and short circuits. Thus, you can enjoy eight mph speed with a 1-hour of runtime. Not only that, but this white smart electric scooter carries a weight load of 220 lbs with cool features like fender bumpers, LED lights, and battery indicators.
No more bumpy rides, as the 2.0 are constructed from a shatter-resistant polymer frame. Furthermore, Hovertrax is for everyone as it comes in 2 two modes, training and normal.
Ride it on a rough surface with strong rubber tires having aluminum wheels. In addition, it operates on a 36V lithium-ion battery pack that includes LG cells for an easy and safe battery change. Overall, it is a smoothly balanced and easy mount ride is what this hoverboard promises with the auto-levels feature for safety.
Pros
Pros
No assembly needed
Easy charging LG cells battery
Fender bumpers
Anti-slip foot pads of rubber
Two riding modes
The shatter-resistant frame, along with rubber tires
Silent dual motors of 350 watt
The system, as well as LED bar lights
Auto-levels for easy balancing
Suitable for everyone
60 minutes runtime
Cons
Cons
No Bluetooth app connectivity
Not waterproof
Not scratch resistant
90 days limited warranty
6.HOVERZON S Series Self Balance Hoverboard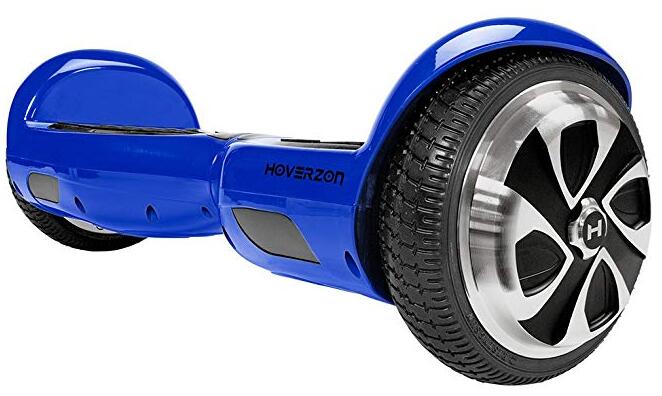 Your personal transport is designed for precision control, safety, easy self-balance, and comfort! The horizon hoverboard uses gyroscopic technology to maintain the dynamic equilibrium for self-balancing by using body weight for shifting.
Furthermore, the dual 250-watt motor offers a maximum speed of 8 mph with excellent body balance for steering and acceleration.
In addition, the S series hoverboard covers 11 miles on one single charge. With performance, protection is also kept in mind. Also, it features an LED indicator for the battery, non-slip rubber-made footpads, and two riding modes: one for beginners and one for normal use.
Rubber-sturdy tires with aluminum alloy wheels speak for their durability. As if that wasn't enough, it meets all the safety standards. As a result, the battery is protected by the Aegis Armor system.
Pros
Pros
UL 2272 Certified
Aegis Armor battery protection
Non-slip footpads
Dual 250-watt motors
It also includes gyroscopic technology for balancing.
Range of 11 miles per charge
Cons
Cons
Not scratch resistant
Not water or dirtproof
No App Bluetooth connectivity, as well as poor customer service
7. MEGA WHEELS Hoverboard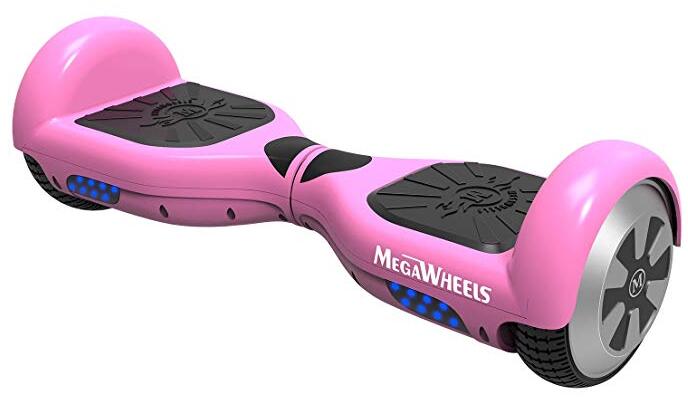 A fun, stylish pink hoverboard, especially for young girls that is very easy and quick to learn. Also, this product by Mega Wheels allows cool riding with bright front LED lights with rainbow-colored light options that keep you safe in the dark.
So, you can enjoy a 7.5 mph speed with dual 250w solid brushless motors. Furthermore, the super silent hoverboard comes with anti-slip foot pads made of rubber for better control and stability and prevents slipping. For a smooth ride experience, this self-balancing scooter has hard vacuum anti-skid 6.5 inches sturdy tires.
In addition, the high-quality hoverboard has a UL-certified battery and anti-fire heavy-duty shell that adds to safety and durability. So, riding around with music is a lot more fun! Not only that, but this fun hoverboard has a built-in Bluetooth speaker that offers crystal-clear sounds.
Pros
Pros
Built-in Bluetooth speaker
360-degree freestyle rotation
Rainbow LED lights
5 minutes of learning mode
Anti-skid hard tires
UL 2272 certified, as well as a Silent dual 250 Watt motor
Cons
Cons
Not dirt and waterproof
Frame not scratch resistant
Conclusion
The above is the most suitable hoverboard for girls on the market. When buying, consider security issues and other factors, including color, size, style, etc. I believe this will be the best gift for your girl.
FAQs
1. What size hoverboard is best for girls?
It depends on the age and size of the girl. For younger girls, a 6.5-inch hoverboard is usually a good fit, while older and taller girls may prefer a 7 or 8-inch hoverboard.
2. Are hoverboards suitable for all ages of girls?
No, hoverboards are not suitable for all ages of girls. Most hoverboards have a minimum weight limit of around 44 pounds and a maximum weight limit of around 220 pounds. Girls who are under or over these weight limits may not be able to safely use a hoverboard.
3. How long do hoverboards last?
The lifespan of a hoverboard depends on various factors, such as the quality of the components, frequency of use, and maintenance. Generally, a high-quality hoverboard can last up to 3 years or more with proper care and maintenance.
4. Can girls use hoverboards indoors?
Yes, Girls can use hoverboards indoors if they have enough space and a flat, smooth surface. It is important to avoid obstacles and be cautious of potential hazards, such as stairs or furniture.