In previous years, buying a new hoverboard can be challenging, especially for heavy people with 300 lbs & 250 lbs. Fortunately, hoverboards have been upgraded and improved. Nowadays, they're durable, UL 2272 certified, affordable, and, most importantly, able to accommodate many ages, heights, and weights.
Today's hoverboards have a declared weight limit deemed suitable for heavier riders. They can handle up to 300 lbs. Therefore, you no longer have to worry about it. This article will review six top-notch hoverboards that can handle heavy riders with 300 lbs & 250 lbs.
What is the Weight Limit for Hoverboards?
To ensure your safety, manufacturers have spent much time and money testing their units to improve and determine each model's maximum weight capacity.
Different factors are crucial in the maximum weight capacity, such as wheel size, construction, motor capacity, and battery power. Together, these determine every hoverboard's upper and lower weight limit, maximum speed, and acceleration.
For instance, aluminum handles heavier loads than polycarbonate. Or ABS plastic. Similarly, stronger and larger wheels withstand larger weights than smaller wheels.
Lastly, units with higher battery power and stronger engines have higher maximum weight than others. Let's discuss the minimum/maximum weight limit.
Minimum weight limit
Most hoverboards have a declared minimum load capacity of 44 lbs. Therefore, if you weigh less than 44 lbs and jump on any hoverboard on the market, it will probably not respond.
Hoverboard manufacturers recommend self-balancing hoverboards as suitable for children over 12. According to Cincinnati Children's Hospital, 4-year-old females weigh 25-44 lbs, whereas males the same age weigh 30-44 lbs, so it's safe to say that 4-year-olds can ride a hoverboard.
At age 12, the average female weighs 68-136 lbs, and the male weighs 66-130 lbs. Therefore, both genders can handle activities like riding a self-balancing hoverboard at this age range.
Maximum weight limit
Most hoverboards for adults have a maximum weight limit of 220 lbs. However, some models weigh less, whereas others can handle much heavier loads.
One of the hoverboards in the following reviews handles as much as 420 lbs. So, whether you weigh 250 lbs or 420 lbs, you should find a suitable model.
What if I'm over the maximum weight limit?
If you're over the maximum weight capacity of your hoverboard and still decide to give it a try, expect it to become very slow, even on plain surfaces.
Also, you can forget about climbing hills. The worst part? The battery life won't last as long, and you will experience a noticeably decreased performance.
Exceeding the load limit will destroy the hoverboard's motor over time. Therefore, it's essential to pick a hoverboard that matches your weight.
Best Hoverboard for 300 lbs & 250 lbs Reviews
The best hoverboard for heavier riders features a sturdy construction and never feels flimsy. It also looks like it was made with high-quality materials.
Typically, hoverboards for heavier riders also feature larger tires with treads for the harshest riding conditions. They also provide a good-quality battery pack.
The unit won't be handy if a heavy-duty hoverboard doesn't have a good battery pack that can power the ride correctly. The same goes for the motor power.
Now that you know what an excellent heavy-duty hoverboard should provide, let's take a closer look at some of the best hoverboards for 300 lbs & 250 lbs.
1. Swagtron Swagboard Outlaw T6 Off-Road Hoverboard(Best Overall)
The Swagtron Swagboard Outlaw T6 doesn't play games!
This beast can easily handle grassy plains, muddy terrains, and mountain roads, thanks to the 10-inch tubeless tires. The ABS plastic and aluminum interior protect the parts of the device well.
However, what I like most about this hoverboard's its maximum weight capacity. Swagtron Swagboard can handle up to 420 lbs without any problem, making it a perfect option for overweight riders.
I also appreciate the lithium battery range that allows the device to cover up to 12 miles per charge. There's also a Bluetooth option to connect your hoverboard to your smartphone easily.
This gives you access to different features, such as checking battery levels, changing riding modes and speed, and playing music. Besides, Swagtron Swagboard is powered by a dual 300-watts motor. Lastly, it's UL 2272 certified, so it's safe to ride.
Things we like
Waterproof
Non-slippery pedals
A maximum load capacity of 420 lbs
High-speed range of 12 miles per hour
Bluetooth connectivity and LED lights
10-inch tubeless tires
Dirt-resistant
Things we don't like
Complex controls
Highly sensitive
Watch this Video: Swagtron Hoverboard T6 Features, Unboxing, and Reviews

2. Gyroor Warrior 8.5-inch All-Terrain Off-Road Hoverboard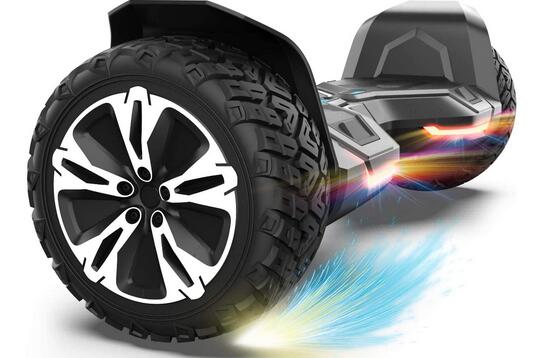 The Gyroor Warrior packs dual 350-watts motors and LED lights for night use. It's well-built, so it's great for riding smoothly over sand, bumpy pavements, dirt paths, and gravel.
The ABS plastic and aluminum design protects the hoverboard parts and ensures a smooth ride on different surfaces. The best part? This hoverboard can handle up to 265 lbs.
They mean that it's suitable for both lightweight and heavier riders. This warrior can tackle uphill climbs thanks to the incline of 30°. Gyroor Warrior also provides extended battery life to ride at most 9.5 miles and 7.5 miles. The maximum speed of this device is 9.95 miles per hour.
You will also get built-in speakers for listening to podcasts or playing your favorite music as you ride with Bluetooth connectivity (4.0 Pro Bluetooth speaker for better sound).
What I like most about this hoverboard is the solid rubber build finish on the design of the 8.5-inch tires. It's also UL 2272 certified, so you can ride without worrying about safety.
Things we like
Powerful motors
Suitable for bumpy surfaces
A maximum speed of up to 9.95 miles per hour
A whole load limit of 265 lbs
UL 2272 certified
Things we don't like
Sometimes shakes when in use
Bluetooth connectivity problems
Watch this Video: Gyroor Warrior All-Terrain "Off-Road" Hoverboard Unboxing and Review

3. Gyroor Self-Balancing Off-Road Hoverboard(Best Budget)

If you're looking for a hoverboard for 300 lbs, look no further than the Gyroor G-F1 self-balancing unit. It's one of the most stylish hoverboards for heavier riders.
However, most importantly, it's made so anyone can enjoy a ride. Buying this model will be one of the most excellent experiences ever as it ensures outstanding performance.
But here's the real kicker. It's also budget-friendly! As I stated at the start of this review, Gyroor can handle up to 300 lbs due to the 8.5-inch tires and dual 350-watt motors.
Thanks to the powerful electric motors, you can easily climb inclines up to 30 degrees. This unit goes up to 12 miles per hour and requires only 1.5-2 hours for a full 100% charge.
The speed synchronization and intelligent sound system provide a feel of running a racing car. However, you can also turn off the racing sound if you don't need it.
Things we like
Children protection mode
Maximum weight capacity of 300 lbs
A brilliant app that provides access to different settings
Compact battery design for easy charging
F1 racing car-inspired design
Things we don't like
Available in only yellow and silver color
Watch this Video: Gyroor F1 Hoverboard – Should You Buy One?

4. HYPER GOGO 8.5-inch Smart Self-Balancing Hoverboard
The HYPER GOGO makes a perfect choice for heavier riders thanks to the 8.5-inch tires and outstanding performance. It's UL 2272 certified, so you can safely ride your new toy.
The acceleration sensors, professional gyroscope, and alloy wheels provide a comfortable ride. A reliable and powerful LG battery can handle up to 9 miles per charge.
HYPE GOGO packs LED lights for night use and a dual 800-watts motor to get a maximum speed of over 9 miles per hour. You can also enjoy your music while riding.
This unit comes with high-quality Bluetooth speakers that release clear and powerful sound. Finally, you will receive a free carrying pouch for effortless transportation after use.
Things we like
Reasonably-priced
High-quality construction
Maximum weight capacity of 264 lbs
User-friendly smartphone app
UL 2272 certified
Things we don't like
Watch this Video: Overpriced or Overlooked? HYPER GOGO Hoverboard Review

5. EPIKGO All-Terrain Smart Self-Balancing Hoverboard(Best Off-Road)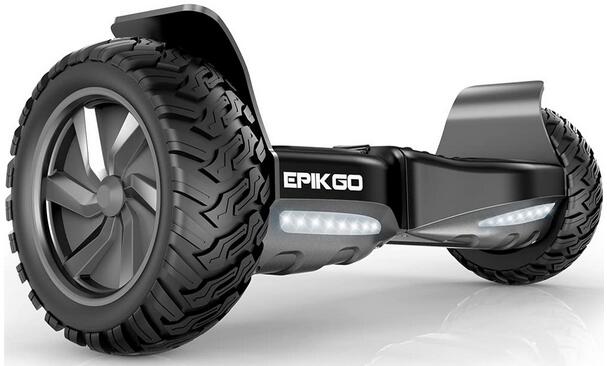 The EPIKGO self-balancing hoverboard isn't your average hoverboard. It's the future of hoverboards and comes at a great price. It's also UL 2272 certified, so it's safe!
According to the manufacturer, the EPIKGO self-balancing hoverboard has passed about 150 tests and meets all the safety regulations, so there are no potential fire hazards.
Besides being safe, EPIKGO is also durable. Thanks to the sturdy construction, this model can handle any obstacle. You can safely ride it through mud, grass, dirt, sand, and bumpy or hilly terrains.
It's loaded with dual 400-watt motors that help it climb hills as steep as 18 degrees. With this all-terrain and self-balancing hoverboard, you will get 1 hour and over a 10-mile range per charge.
Thanks to the rubber tires, you can ride the EPIKGO anywhere! They're water-resistant and well-crafted. The minimum weight limit is 44 lbs, and the maximum is 240 lbs.
Things we like
Bigger and better
One-year limited warranty
Stable ride and more control
Two times more powerful and 30% larger than other models
A maximum load limit of 240 lbs
5-inch solid rubber tires
Extra foot space
Things we don't like
Watch this Video: EPIKGO – Getting to Know Your Self-Balancing Board

6. XPRIT All-Terrain Off-Road Hoverboard w/Bluetooth Speaker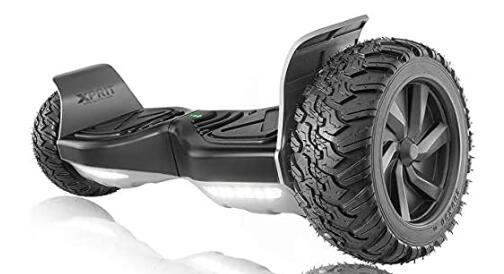 The dual 250-watts motor, 8.5-inch tires, and a built-in wireless speaker make the XPRIT a perfect choice for heavier riders. The maximum weight limit is 264 lbs, and the minimum is 32 lbs.
Charging this hoverboard's li-ion battery takes 2-3 hours and provides 6 miles per charge. The maximum climbing angle is 15 degrees. However, what I like most are the bright white front LED lights.
They ensure safe night use. I also like the durable bumper panels that provide stability. With a UL 2272 certification, you will get this model and non-slip rubber treaded tires for a smoother ride.
Things we like
UL 2272 certified
A maximum load limit of 264 lbs
Durable bumper panels for extra stability
Excellent off-road performance
Portable and fun
Things we don't like
Watch this Video: XPRIT Hoverboard Blogger Review: 6.5″ and 8.5″ Boards

How to Choose a Hoverboard for Heavy Adults?
Knowing what to consider when shopping for a heavy-rider hoverboard will make your decision much easier. This section will discuss the crucial features that help you make an intelligent buy.
When buying a hoverboard, make sure it's UL 2272 certified. There have been times when hoverboards caused harm to people because of the explosion of their batteries in them.
However, today's hoverboards undergo different safety tests and have UL certification. Thus, if a unit doesn't have this certification, don't buy it and continue your search.
Hoverboards aren't the fastest means of transportation. However, they're still fast. Therefore, consider the speed of a hoverboard before making a final decision.
Opt for a unit with a speed range of 6-15 miles per hour. Anything over 10 miles per hour is considered a high-speed unit and a good buy if you can take it.
If you're overweight, buying a hoverboard that can handle your weight is your best choice. Opt for a unit that can hold between 200 and 300 lbs (some models can even hold 400 lbs).
Anything under 220 lbs isn't suitable for heavier riders. Some models might have other cool features, but you're better off with something simpler to quickly handle your weight.
The range represents a hoverboard's travel with a fully charged battery. High-quality hoverboards have a range of 7-15 miles per hour. Units that exceed 15 miles cost more.
The wheel size also matters! Larger and sturdy wheels will ensure a more comfortable ride and a better distance between you and the floor. Therefore, opt for something with 6.5-inch or 8.5-inch tires.
Lastly, hoverboards for heavier riders usually feature a declared International Protection rating for water resistance. With a self-balancing and water-resistant hoverboard, you won't have to worry when it's wet outside. Therefore, opt for something water-resistant and self-balancing for a much safer ride.
Additionally, best-selling hoverboards pack anti-slip footpads, larger rubber wheels, battery indicators, a carrying handle, excellent sound quality thanks to high-quality Bluetooth speakers, and a free app. Make sure you buy a model with a sound braking and battery management system.
Considering all these considerations, the best hoverboard for heavier riders is a sturdy, off-road model with larger wheels, UL certification, non-slip foot pads, and powerful motors that can withstand a larger load. Do you have experience with off-road hoverboards? Share your suggestions below!
Is There a Minimum Hoverboard Weight for Kids?
Usually, the recommended minimum weight is about 44 lbs or 20 kg. Also, manufacturers state that your child should be at least eight years old to ride a hoverboard.
However, some kids will develop more and faster than others. Therefore, if your kid isn't eight but weighs about 44 lbs, they can ride a hoverboard without any problem.
If your kid is under this weight, they may not be capable of riding the hoverboard safely. Opt for a beginner mode that's easy to control and balance for children.
Final Words
The best hoverboard for 300 lbs & 250 lbs comes with a high weight capacity. It's also UL 2272 certified, so there's minimal risk of overheating and fire.
Do you have a favorite hoverboard yet? Drop a comment below! Let's chat about hoverboards and exchange advice, opinions, and suggestions.