How to keep comfortable when you are riding a hoverboard for a long-distance? An electric scooter with a seat is an excellent choice for you, especially for kids or older people.
Electric scooters have taken over the world in recent years. They're a fun and eco-friendly way of transport. The best part? New models have integrated or detachable seats. This makes scooters an excellent choice as a personal electric vehicle (PEV) for individuals with mobility issues or for people who prefer a more stable, adjustable, and comfortable riding position.
Many older people enjoy utilizing a scooter with a seat because it provides greater freedom. Regular electric scooters have lower-speed capabilities while being heavier than new scooters. In today's buying guide, I will take a closer look at the best scooter with seats for adults and kids. They're compact and lightweight. But here's the kicker. They're also user-friendly and cheap.
How to Choose the Right Electric Scooter with Seats?
Choosing the best scooter with seats can be overwhelming with so many units on the market. However, the following few factors can help you make a wise and informed purchase.
1. Style and design
Electric scooters with seats come in different designs. You can choose a model with two wheels, three wheels, or four wheels. Scooters with more wheels provide more excellent stability.
Take an excellent choice for beginners. You can also find a scooter with a foldable design easy to store and transport. It all depends on your riding needs and preference.
2. Scooter motor
Another important thing you need to consider is the motor. This part of the scooter usually determines performance. Opt for a scooter with a rating of not less than 500 watts.
3. Battery performance
The battery is a crucial feature to consider when shopping for a scooter. You don't want to go back to your home because it has drained the battery in the middle of your journey.
Choose a scooter with a battery that provides a range of at least 15 miles. This range should get you to a supermarket, workplace, and other nearby places and back to your home.
4. Speed and construction
Opt for a scooter with a sturdy and tough frame. The frame should handle a decent weight capacity and make the electric scooter suitable for individuals of various weight capacities.
Also, look for a scooter that goes fast enough. Keep in mind that higher speeds (30-40 mph) cost more. If you're not searching for a fast scooter, choose something at least ten mph.
3 Best Electric Scooters with Seats for Kids Review
Electric scooters with seats for kids aren't the same as electric scooters for adults. Let's review the following top 3 electric scooters with seats and pick something that will make your child happy.
1. Hurtle 3-Wheeled Scooter for Kids
The Hurtle scooter has a lightweight design and makes a fun toy for kids to play with. It's a 2-in-1 scooter that challenges regular scooting more fun manner.
Hurtle 3-Wheeled Scooter is loaded with a removable flip-out seat and foot pad that enables kids to ride sitting and standing up. It's also portable, so your child can easily store or take their scooter to the park.
But here's the kicker. It has glowing power wheels. Your kid will love the LED light-up wheel technology. There's also a handlebar with three height adjustments. With the adjustable easy-grip handlebar, your child can easily control and lean their little unit while improving coordination and balance.
If you're looking for a durable and smooth machine that accommodates both feet, look no further than this 3-wheeled unit. It's perfect for both soft and bumpy surfaces.
Watch Video: Hurtle 3-Wheeled Scooter for One year old & Up Unboxing
Product Specifications:
Brand: Hurtle
Wheels: 3 wheels
Seat: Removable flip-out seat
Color: A wide array of colors
Handlebar: Adjustable
Key features:
Extra-wide deck
Adjustable handlebar
Comfortable footrest
Lean-to-steer technology
Multicolor wheel chart
Sit or stand design
Pros:
Fun experience
Power glowing wheels
Lightweight and portable
Adjustable handlebar
Safe and sturdy
Cons:
It doesn't steer properly

2. VIRO Rides Vega 2-in-1 Electric Scooter
Your child will love this 2-in-1 electric scooter because they don't have to choose to stand or sit while riding. They can do both and enjoy a carefree, comfortable ride.
You can quickly transform this scooter into a minibike. You need to push a button or fold it up for easy transport. The scooter has intuitive controls, a safe design, and footpegs.
There's a comfortable thumb-control throttle for speeds up to 10 mph and lever-activated rear brakes for ultimate performance and precision braking. However, what I like most about this scooter is its safe design. The fully enclosed motor and chain drive keep wandering fingers secure.
The heavy-duty foot pegs show up when you need them and hide when you don't. You will also get dual kickstands that will keep your scooter upright in either scooter or mini bike mode.
This machine is suitable for ages 8+ and can handle up to 120 pounds. It's portable and stylish. However, it's not expensive. On the contrary, it's budget-friendly and super-versatile.
Watch Video: VIRO Rides – VEGA 2-in-1 Bike/Scooter
Product Specifications:
Brand: VIRO Rides
Wheels: 2 wheels
Seat: Adjustable seat
Color: Green, red
Handlebar: Adjustable
Key features:
2-in-1 electric scooter and mini bike
Height adjustable handlebar with thumb control throttle
100 watt DC motor with chain drive
Pros:
Safe design
Intuitive controls
Kickstand and footpegs
Strong and stylish
6-mile range
Cons:

3. Razor FlashRider 360 Caster Trike
If you're looking for a scooter that provides the ultimate spinning action, look no further than Razor 360 caster trike. It has dual-inclined caster wheels and a stylish design.
The FlashRider spins and drifts but also adds a Spark Bar. Your child can both spin and spark! Other great features include a large hi-impact front wheel with a flat tire for easy pedaling.
This wheel provides complete control of the drive. The casters enable resistance-free spinning and drifting. It makes an excellent choice for both kids and teens. They will adore the steel design.
An MX-style handlebar also boosts the appearance and adds a stylish touch. The adjustable handbrake and rubber grips deliver the necessary support and hold.
Watch Video: Razor FlashRider 360 Tricycle Ride Video
Product Specifications:
Brand: Razor
Wheels: 2 wheels
Seat: Plastic integrated seat
Color: Red
Handlebar: Adjustable
Key features:
Super-soft rubber grips
Welded steel fork and frame
Free flat tire and ii-impact front wheel
Spark Bar with replaceable Spark cartridge
Dual-inclined rear caster wheels
MX-style handlebar
Pros:
Exciting and fun birthday gift for older kids
Easy to drive, smooth ride, great color, and well-made
The 360-degree movement is cool and unique
Cons:
The back wheels wear down quickly

6 Best Electric Scooter with Seat for Adults Review
If you have any type of back problem, leg pain, or you just prefer to sit while riding your scooter, look no further than the following three best-selling scooters with seats for adults.
1. Razor E300S Seated Electric Scooter
Razors is a company known to provide class-apart vehicles to its customers. As the name suggests, the looks of this company's products are razor-sharp and defeat all its competitor's products in their efficiency and affordability.
Being quite a reliable manufacturer amongst its customers, the company has managed to have a huge share in the market.
Being relatively lightweight, it can be said that the 220 lbs weight of the scooter is quite manageable for a person with an average built. It is quite easy for him to take it from one place to another, even if, in some cases, he has to drag it.
The scooter's performance is highly efficient as it can move up to 15mph and provides 40 minutes of continuous use. This speed is quite a good one to opt for in terms of a scooter.
It's powered by a rechargeable 24V seal battery system (12 hours of recharge time). The battery charger is also included in the purchase. The maximum charging time is 24 hours. Remember that the run time depends on the climate, proper maintenance, and riding conditions.
It is quite a long-lasting battery, and the user doesn't have to worry about the scooter stopping midway owing to the lack of energy. Charging the battery once will help you use the scooter for around twelve hours.
This scooter takes excellent care of its users in terms of safety. The hand-operated brake at the backside of the scooter makes it a safe option to have. The tires used in this product are 10 inches wide, further adding to the user's comfort level. There's also a seat post and padded seat easily removable for a safe stand-up riding experience.
Watch Video: Razor E300S Electric Scooter Dos & Don'ts
Product Specifications:
Brand: Razor
Wheels: 2 wheels
Seat: Removable seat post and padded seat
Color: Matte grey
Handlebar: Fixed
Key features:
Speeds up to 15 miles per hour
Up to 40 minutes of continuous use
Removable seat post and padded seat
Extra-wide 10-inch pneumatic tires
Rechargeable battery mechanism
Pros:
Chain-driven motor
Comfortable and appealing
Twist grip throttle and hand-operated brake
Cheap replacement batteries
Retractable kickstand
Cons:
Slows down horribly
Hard to put air in the rear tire
Long recharge time

2. Drive Medical Spitfire Scout 4 Travel Scooter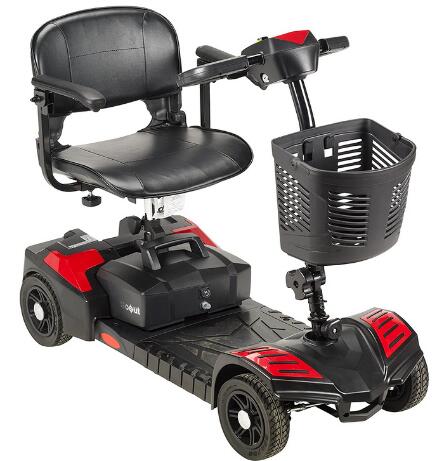 The Drive Medical Spitfire Scout travel scooter has a colorful and customizable exterior. It's compact and lightweight. The best part? It's easy to disassemble into five pieces.
This makes the scooter ideal for both travel and daily use. If you're searching for a scooter with four wheels that provides stability on both smooth and rougher outdoor terrains, this unit is for you.
It comes with a delta-shaped steering handle and a technologically advanced quick-connect battery pack for effortless use. Even if you have limited strength, you will ride this travel scooter.
But here's the kicker. It packs stylish and interchangeable color panels in blue and red. They protect your scooter against rim scratches and scuffs. There's also a convenient free-wheel release knob.
The scooter can handle 300 pounds. The maximum speed is 4.25 miles per hour. You will also get a quick connect 12ah battery and charger providing up to 9 miles of range.
Watch Video: Drive Medical Scout DST 4 Wheel – Portable Scooter
Product Specifications:
Brand: Drive Medical
Wheels: 4 wheels
Seat: Adjustable integrated seat
Color: Black
Handlebar: Adjustable
Key features:
300 pounds weight capacity
Height-adjustable swivel seat with fold-down backrest
Ergonomic throttle control with easy freewheel operation
Padded and adjustable armrests for extra comfort
Easily adjustable delta tiller
Pros:
Easy to assemble
The battery lasts long
A powerful motor
Cons:
Weak control circuit
Overheats after climbing a very gradual hill
No backup batteries

3. Razor EcoSmart Metro Electric Scooter
If you're looking for a sturdy, economical, and eco-friendly scooter, look no further than Razor EcoSmart. It's loaded with an expansive bamboo deck and soft padded seat for a stylish, easy ride.
The air-filled 16-inch tires deliver a smoother and safer riding experience on both smoother and rougher terrains. The hand brake and comfortable twist-grip hand throttle provide ease of control.
With this model, you can shop for books, groceries, and bags thanks to the removable rack and basket. It also has a powerful and fast, chain-driven motor. This scooter goes up to 18 miles per hour.
The 500-watt motor ensures a 40-minute ride (12 miles). However, I like most about this scooter is the soft padded seat. It's both stylish and comfortable. This is the best-looking scooter so far. The fact that it's environmentally friendly makes it even more valuable! The tubular steel frame adds to the durability of the scooter. There's also a 36V rechargeable battery mechanism.
The best part about this scooter with seats is the three-month warranty that comes with it. This means that, for three whole months, you can take this scooter to the manufacturing company and get it repaired no matter what kind of issue has been raised. This adds to the reliability of the company. Furthermore, the cost of the tools assembled is a part of this warranty.
If you are looking forward to having a high level of comfort, this scooter is especially for you. The well-padded seat of this scooter makes it possible for the rider to sit on it for long hours. Thus, even if you have to travel to a far-off place, you will not fear tired or dullness. This seat is also detachable, which means that you can take it off if you want to add some luggage at the rear side of the scooter.
To add to the safety levels of the user, the company has given this scooter a unique pneumatic tube. This tube is attached to the wheels of the scooter. Thus, the chances of an accident are reduced to a high level. Apart from this, the user offers a varied range of speed options. This makes it possible for the user to select the speed at he feels comfortable and safe.
Watch Video: Razor EcoSmart Metro Scooter – Unboxing, Assembly, Review
Product Specifications:
Brand: Razor
Wheels: 2 wheels
Seat: Soft padded seat
Color: White
Handlebar: Adjustable
Key features:
Removable rack and basket
Economical, eco-friendly, and powerful
500-watt, high-torque chain-driven motor
Soft padded seat and expansive bamboo deck
16-inch pneumatic tube tires
Pros:
Sit and ride
Safe and stable
Fast and powerful scooter
Smooth handling
Cargo carrier
Cons:

4. NANROBOT X4 8″ 350W Motor Powerful Adult Electric Scooter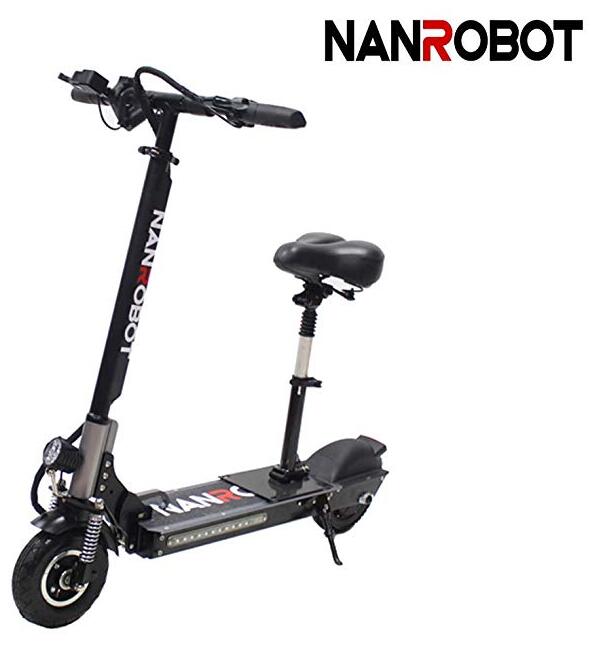 Carrying heavy vehicles is indeed challenging. Therefore, most people prefer purchasing lightweight cars that they can carry around easily.
One of the most lightweight and highly portable electric scooters that a person can have is the NANROBOT X4 8″ 350W Motor Powerful Adult Electric Scooter. However, being light is not its ONLY advantage.
The motor of this electric scooter is quite powerful, with a power of 350 watts; this motor works quite well and keeps the user extremely satisfied.
The lightweight, coupled with heavy motor, makes a lethal combination. The speed of the electric scooter thus gets to around 22 MPH. However, do not worry. If you do not want your ride to be that fast, it can move for 15 MPH.
The scooter also comes with a powerful battery, along with a powerful motor. The kind of battery utilized in this scooter is extraordinarily sophisticated and has a capacity of 36V. Once you charge it well, it will keep you riding it for around twenty miles. Apart from this, it will get complete set in just four to six hours.
The design of the electric scooter is quite revolutionary. It is easy to fold makes it a vehicle worth having. This also adds to the portability of the bike. To add to the safety of the riders, the electric scooter comes with rear brakes. These rear brakes make the riding experience of the user extremely safe.
The tires that come along with this electric scooter are 1 inch long. Thus, the rider is safe from accidents, and the rider can utilize this feature to ride for many hours. The warranty that comes with this scooter is for two years. The battery comes with a warranty of one hundred and eighty days.
If you have finally decided to get your hands on this scooter, you would be pleased to know that it will be shipped to you within a week of your order.
Pros:
Powerful battery
Sensitive brake system
LCD headlights
LED display
Cons:

5. NanRobot D5+ Foldable Lightweight 2000W Electric Scooter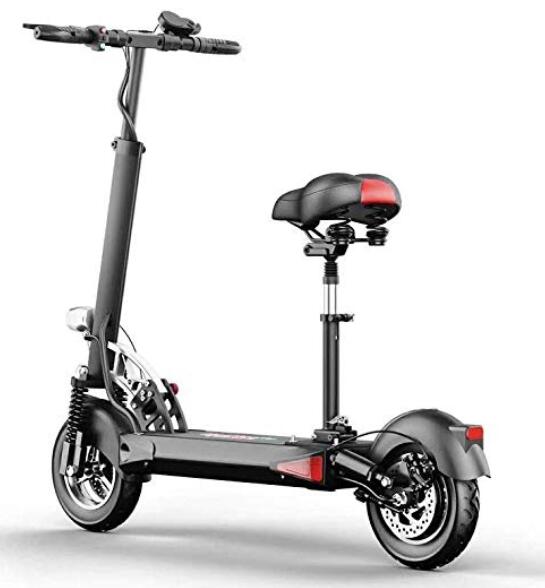 If you are someone who loves to ride high-speed vehicles, the NanRobot D5+ Foldable Lightweight 2000W Electric Scooter is undoubtedly for you. With a maximum speed of 40 MPH, this scooter is quite a favorite of the youngsters.
However, if safety is what you look forward to having, you can utilize the speed variation option of the scooter as this vehicle provides you with the facility of choosing the speed of your own choice.
The distance, at the maximum, that the product is going to cover for you is around 50 miles. However, you need to make sure that the vehicle's battery is fully charged, for that matter.
The lithium-ion battery of this scooter requires you to spend ten hours in its charging. However, once the battery is charged fully, the scooter will work efficiently.
The tires used in this vehicle come in the 10″ size, and thus one can say they make the ridding a lot easier. They not only make the ridding safer; they also ensure the scooter adapts to all the different kinds of roads it runs on quickly.
Adding to the rider's safety, the brakes used in this vehicle are of supreme quality. They are present both at the front and the backside of the vehicle and keep the rider fully protected from all kinds of potential accidents.
The motors used in this electric vehicle are also two in number. With the help of the dual-motor facility, the vehicle can move much more efficiently, and a single push of the button can change the mode of working of the motors. Thus, adjusting the grip of the accelerator becomes easy. All you need to know is the right manner of using the handles to control the motors and accelerators.
The efficiency of the NanRobot D5+ Foldable Lightweight 2000W Electric Scooter is relatively high and makes it worth having a vehicle. Owing to all the fantastic features that it comes with, today's youth prefers spending its money on an electric scooter with seats rather than buying a car which is quite challenging to maintain. The cost of this scooter is also relatively minimal compared to the car and is highly proficient in working.
Pros:
A lightweight option
It comes with two motors
Has front and rear brakes
Extremely safe and reliable
Cons:
Assembling is a bit tough

6. RASSINE City Hopper 1000W Electric Scooter with Turbo Motor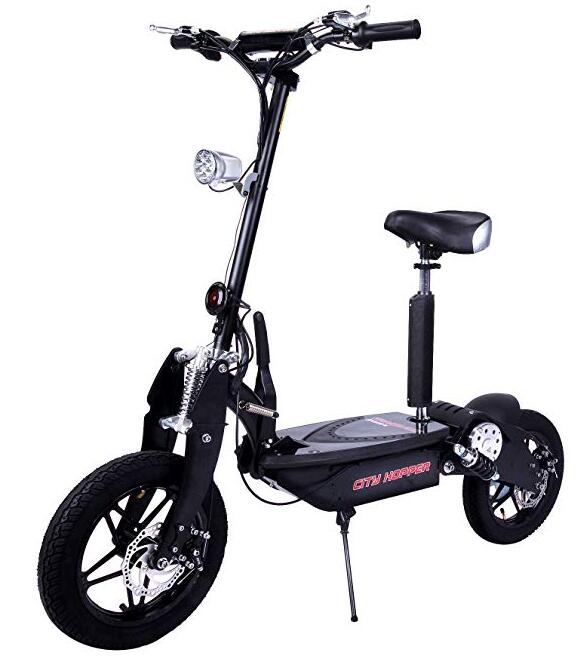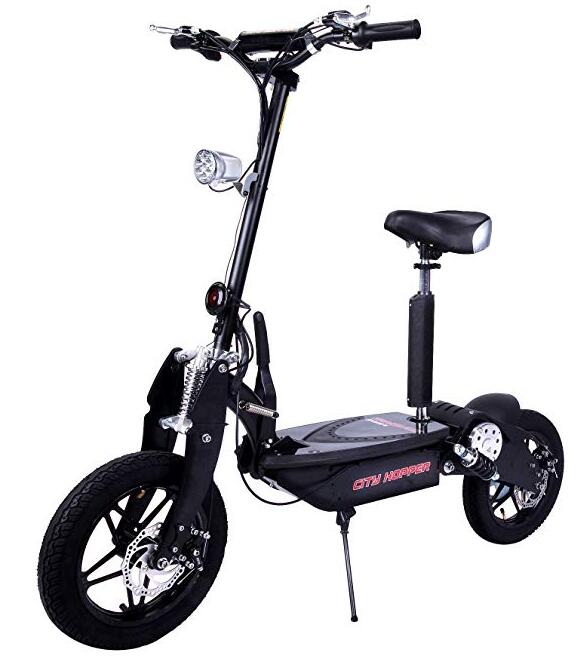 The right kinds of tires add to a motor's efficiency, precisely what is done by the manufacturers while producing the RASSINE City Hopper 1000W Electric Scooter with Turbo Motor. The tires used in this electric vehicle are 14″, undoubtedly praiseworthy.
Owing to this vehicle feature, it turns out to be much safer and comfortable compared to its contemporaries.
Thanks to this vehicle feature, you can switch from one kind of road to the other quite swiftly. Also, it reduces the chances of you hitting your electric scooter in any other vehicle running on the road.
The motor used in the manufacturing of this vehicle is quite an advanced one. This motor is chain-driven and helps the scooter reach a range of 35mph speed in a single go.
However, if you want to reduce this speed, you can easily do it as multiple speed options are available for the rider.
Along with this, the building of this electric vehicle is quite sturdy. Made up of steel of excellent quality, the vehicle turns out to be quite a durable one. You won't need to get it repaired time and again owing to some faults. However, if some error appears, you can easily claim a warranty from the manufacturing company for two whole years.
The design of this electric scooter is quite stylish. Compared to the other options available to you, this one surely wins. It doesn't only look trendy but, at the same time, is quite helpful as well.
The carriage that comes with it can easily carry things from one place to the other. Apart from this, the facility of choosing a battery of your own choice also makes it different from the other available option.
According to your requirements, you can choose either a lithium battery to be added to this vehicle or an acid battery. You can make a choice just according to your preference, and the company will custom-build your bike.

Why Should You Choose Electric Scooter with Seats?
It's simple! A scooter with a seat is easier and more comfortable to ride. It's also fun and convenient for kids. If you're traveling to work for long distances, opt for a scooter with a seat.
One of the critical things to buying an electric scooter with seats is that most scooters come with a removable seat. They're also very lightweight, compact, and super-versatile.
However, if foldability is your priority, opt for a cheap foldable scooter. The more you remove or fold things, the bigger the wear and tear and the risk of malfunction in mechanical parts.
The suspension mechanism will also play a large role. Your body will feel the lack of shock absorption if you travel on smooth surfaces only. Otherwise, it's essential.
Opt for a scooter with a sound suspension system if you travel on smooth and bumpy roads. Weight capacity is also essential. Opt for something that can handle any weight capacity.
Also, keep in mind that the higher the cost, the better the quality. This golden rule applies to almost any product on the market. Lastly, pay attention to the size, durability, and warranty.
Electric scooters with seats Related Questions:
Q: Are electric scooters with seats more comfortable?
A: A seat will provide you with a comfortable and easy ride. However, it's not a key factor when buying a scooter. Things like weight capacity, battery life, and shock absorption also matter.
The shock absorption can affect the comfort of the seat. If you travel on smooth and bumpy roads, buy a scooter with a sound suspension system, an adjustable handlebar, and a strong motor.
Q: How to choose a suitable sit-down model?
A: When picking the best scooter with seats, pay close attention to durability. It's just as important as the price. Also, consider the suspension system, motor, handlebar, price, and warranty.
Opt for something made of durable and waterproof material—the battery life, range, and speed matter as well. Buy a scooter with a longer battery life that takes no longer to recharge.
Q: Which battery is best for electric scooters?
A: Lithium-ion battery is best for electric scooters. This battery is lighter than most battery types and lasts three times longer than a regular sealed lead acid battery. This is why scooter manufacturers prefer Lithium-ion batteries, although they cost more than other batteries.
Wrap Up
Regardless of your preference, a scooter with a seat is always a good option. It delivers a safe, easy ride. The best part? You can always rely on your scooter.
With the best electric scooter with seats, you no longer have to stress about getting stuck in traffic. Using some of the best-selling scooters with seats is also a cheap and eco-friendly transport.
Hopefully, this buying guide can help you find the right electric scooter for you or your children and efficiently get the transporter to meet your needs.